What a wonderful performance!
Tiago Splitter
put on a show yesterday in the ACB League, playing his best official game since he has been in Spain. Take a look at this stat line: 27 points on 11/15 from the field and 9 rebounds in barely 24 minutes of playing time, against the #1 team in the ACB at the moment,Etosa Alicante. Isn't it beautiful?
Splitter's paint dominance on the offensive end became even more ridiculous during some stretches of the game. Everytime he had a decent position in the low post he easily beat his matchup. He perfectly took advantage of many pick & roll situations and played a great game without the ball to gain good positioning near the basket. And he was always fearless fighting for the offensive rebound.
Nevertheless, this game can't come as a surprise. We have seen a highly improved version of Splitter since the very begining of the season. He already was one of the best scorers of the preseason in Spain, the seventh, to be more precise, with 17.6 points per game. And if you think this is a meaningless fact, considering it wasn't official competition, take into account that all six players that scored more points than him in the preseason are currently ranked among the top 7 in scoring in the ACB League.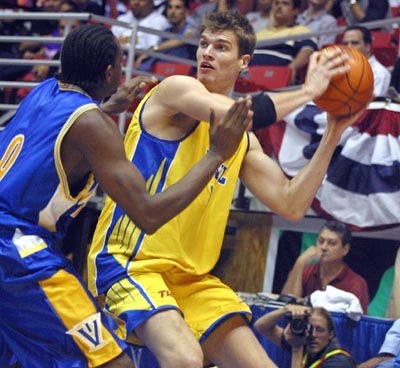 But the Brazilian couldn't keep it up as the season started. He had taken advantage of several injuries in Tau Vitoria's roster, but the competition he faces in his team is huge, with
Luis Scola
,
Kornel David
and Andrew Betts fighting with him for minutes. When all were back and healthy, coach Ivanovic decided to place Tiago at the end of the rotation. Early in November, Splitter suffered a minor injury from which he didn't fully recover until recently. Now, I think Ivanovic will have to reconsider his strategy regarding his big men rotation (besides, he better enjoy the kid now, because Splitter won't be around beyond this season).
Anyway, it's truly amazing how much Tiago has improved since last season. And there's a key word to explain it: contact. That's right. We had last year a teenager who was avoiding contact on the offensive end because he wasn't able to properly deal with it. The few times he got dirty in the paint the outcome usually was a turnover or a bad shot. It wasn't a problem of attitude, but of poor efficiency in those situations. Right now, he's a paint animal. He looks extremely comfortable and you will rarely see him losing a ball in the key even with heavy opposition.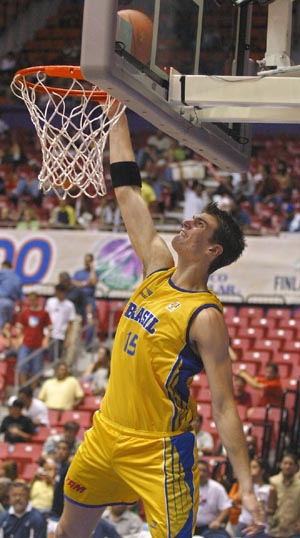 Tau Vitoria's efforts to move his game near the basket are already paying off (a few years ago, his jumper was his main source of scoring production; ironically, his main objective now should be gaining consistency with his mid-range shot). As he showed in this game, he's money in the bank in the low post, displaying very good footwork and taking advantage of his quickness, and he's a blessing for any PG's assist figures, as he's very effective playing without the ball in cuts and pick & roll situations. We can't forget his great ability to finish near the basket with both hands, which is extremely useful for him. And he looks as fast as always, running up and down the floor like a deer. Defensively he's as good as always, being agressive and using his size and quickess.
With those credentials, Splitter can't be anything but one of the better bets for the upcoming draft. Unlike most of the top international prospects, this guy is not just about potential. In my opinion, he's a no brainer for the top-10, being a top-5 pick the most likely scenario for him. But we can't totally rule out even the first pick. When talking about possible top picks, he hasn't been getting all the attention he deserves from some media. It doesn't matter. You can count on him to shine in the next draft.