Top Draft-Eligible Performers in the Euroleague Regular Season
Arvydas Macijauskas, 6-4, Shooting Guard, Olimpiacos, 1980
19.3 points, 2.3 rebounds, 2.1 assists, 2.0 turnovers, 2.2 steals, 61% FG, 42% 3P, 28 minutes
After sitting out most of last season with a torn Achilles,
Arvydas Macijauskas
seemed to be back at full strength early on in the Euroleague season, putting up some of the most impressive numbers of his entire career. Unfortunately he suffered an ankle injury that kept him out of the last 4 ½ Euroleague games, but should be good to go once the Top-16 stage kicks off. To highlight his importance to his team, Olimpiacos went 6-3 in games that he played, and 1-4 with him on the bench. Would his head coach Pini Gershon have been fired had "Macas" managed to stay healthy all season? That's a question Gershon would probably like an answer for himself.
There's no question that Macijauskas is the go-to guy for his team. His team realizes his importance and looks for him excessively for on-court leadership, and Macas seems to have no problem stepping up and providing it himself. Besides being one of the best perimeter shooters in all of Europe, Macijauskas is simply outstanding at moving off the ball, in full-sprint mode, and finding himself open looks and easy baskets at the rim. Olimpiacos runs him off plenty of curls to take advantage of his textbook stroke, and also likes to run him off flex and backdoor cuts to put him in a position to finish at the rim, which he can do equally with his left or right hand, despite his lack of size and explosiveness.
He is also very intelligent in transition, again putting in a great deal of effort to be one of the first players up the court, and being extremely crafty once he gets the ball to put it in the net. Although his first step is nothing to write home about, he's outstanding at unbalancing his defender in the half-court with a series of head and shot-fakes and getting to the basket using either hand. He also has an incredible knack for getting to the free throw line, either by getting his man to bite on his pump-fake and then creating contact when he's on the way down, or by flailing his hands demonstratively and screaming bloody murder anytime someone lays a hand on him. The refs give him a great deal of respect, which partially helps explain how a slow and stocky shooter like him is second in the entire competition in free throw attempts per 40 minutes.
Defensively, Macijauskas will always be limited by his unattractive combination of poor size, length and lateral quickness. That can be masked to a certain extent at this level, though, particularly with the matchup zone defense that Olimpiacos likes to play. Macijauskas does a pretty good job in it, mostly thanks to his effort and terrific timing. He's a pretty crafty guy, and will get in the passing lanes from time to time as well. He will always be susceptible to being Iso'd out on the perimeter, though, particularly by a quick guard with excellent shot-creating skills.
All in all, there is no question that Macijauskas is one of the top shooting guards in all of Europe. From what we've been told, despite the terrible experience he had under
Byron Scott
in New Orleans, he has not totally shut the door on playing in the NBA down the road, although it will have to be in the perfect situation. That's going to be hard to find, though, as he's already stretching himself physically in terms of the production he's able to get at the Euroleague level, and probably would be relegated to too small of a role in the NBA to make sense for him compared to what he can make (he's on the second year of a 4-year, 9 million Euro contract) and accomplish in Europe. Stranger things have happened, though.
Ramunas Siskauskas, 6-6, SG/SF, CSKA Moscow, 1978
13 points, 2.7 rebounds, 1.4 assists, 0.8 turnovers, 51% FG, 41% 3P, 82% FT, 27.5 minutes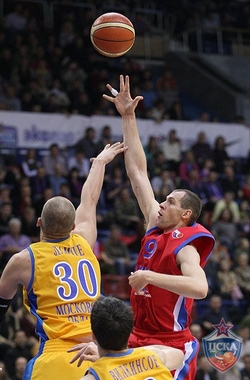 Like a fine wine, that continues to get better with age,
Ramunas Siskauskas
is having a career year in his new CSKA Moscow uniform, under the tutelage of Ettore Messina. Don't be deceived by the extremely slow pace that CSKA plays.
Siskauskas' numbers
(points, rebounds, assists, steals, blocks, free throw attempts, FG%) are up across the board per-40 minutes pace adjusted, while his turnovers are down. He also ranks as one of the most efficient players in the Euroleague this season.
Siskauskas is a player without a position, as you will see him at anywhere from the 1-4 on any given night, depending on what his team needs from him. He's a terrific ball-handler, a lights out shooter, an excellent passer, and arguably the smartest player in all of European basketball. Not possessing great athleticism (to say the least) he has "figured out" how to maximize himself on the court, as he simply plays the game at his own pace. He has an old man's game, with plenty of tricks up his sleeve, including excellent footwork, fluid body control, crafty finishing ability with either hand, deceptive use of shot-fakes, or even some back to the basket skills. He can also create his own shot fairly well, despite not having a great first step, and is absolutely superb running the pick and roll. An outstanding teammate, he does a great job creating shots unselfishly for others. Siskauskas' average pull-up jumper (he doesn't create great separation from his defender) might be the lone chink in his armor, besides the fact that he's not a very explosive leaper.
Defensively, Siskauskas is outstanding, which is somewhat surprising when you consider his fairly average physical tools. He makes up for his lack of lateral quickness with a phenomenal combination of timing, effort and awareness, reading his matchup extremely well, and often being one step ahead of him to contest his shot. This is how he picks up a surprising number of blocks, as well as draws a fair amount of charges.
To emphasize just how much value Siskauskas has in Europe, consider that his current team, CSKA Moscow, went out and paid 1 million Euros to buy him out of his contract with (defending Euroleague champions) Panathinaikos, and then gave him over 2 million Euros per season as his salary. Siskauskas has one more year on his contract after this, but from what we're told, will be able to leave for the NBA for free if CSKA is able to win the Euroleague. Depending on the circumstances, he could have some interest in the NBA if the situation is right, but it probably will take a pretty good offer considering the type of money he's making right now.
Marc Salyers, 6-9, SF/PF, Roanne, 1979
21.8 points, 6.6 rebounds, 1.6 assists, 2.3 turnovers, 1.6 steals, 47% FG, 35% 3P, 34 minutes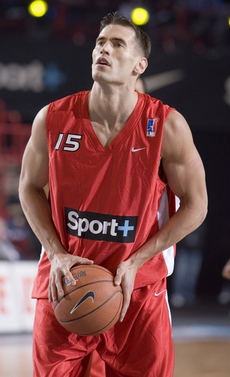 It's been a long road for
Marc Salyers
on his way to establishing himself as one of the top scoring threats in all of Europe. A graduate of Samford University in 2001, Salyers has bounced from Italy, to France, to Turkey, to Korea, cutting his teeth at virtually every level of International basketball until he reached the point he's currently at. Salyers just goes to show you that the term "upside" is a very relative thing, as he's improved considerably every year, even as he nears his 30's…
We're talking about a supreme scorer here—a hybrid forward who plays the 4-spot primarily, but likes to do most of his damage facing the basket. He's got pretty nice tools to play the game, standing 6-9, with a good frame and pretty nice athleticism for the European level—showing good quickness, a solid first step, the ability to get off his feet and finish strong around the rim, and nice all-around fluidity in his movements.
Salyers is a very tough player to defend because of his incredible versatility as a scorer. He loves to put the ball on the floor and beat guys off the dribble, as is a very advanced shot-creator with excellent footwork, smooth ball-handling skills with either hand, or a nice array of jab-steps and shot-fakes. He can finish with a variety of floaters and unorthodox running hooks, or pull-up off the dribble somewhat well for a mid-range jumper.
He's also an excellent shooter, with a quick release, superb range and absolutely no conscious to fire away at any given moment. At times Roanne will post him up on the block and let him go to work with his back to the basket, where he shows decent footwork and a nice jump-hook shot, although this is clearly not his biggest strength.
In short, Salyers is a scorer through and through, and a very hungry one at that. He has a go-to mentality, and wants the ball in his hands constantly, although he can play team basketball too--even if this might not always be his first inclination. His shot-selection can be extremely poor at times, taking bad shots from well beyond the European 3-point line. He's a fairly smart player, though, and that shows in his turnover ratio, which
is very low
considering that he leads the entire Euroleague in usage rate.
On the negative side, Salyers is an average rebounder and an even worse defender. He shows poor fundamentals on this end of the floor, putting in very little effort seemingly, and clearly lacking purpose and awareness when he does. For a power forward, he has average size, strength and lateral quickness, and it's not rare to see players posting him up and shooting right over him. In the NBA (hypothetically) he would have to spend some minutes at the 3 most likely, and judging by how effective he is guarding the perimeter, that isn't going to go over too well. It's pretty obvious that he's stuck between positions, although players in his mold are definitely becoming more en vogue these days.
Turning 29 later this month, and coming off a career year that will undoubtedly make him one of the most sought after free agents on the European summer market, it's hard to envision an NBA team wanting him enough to be able to compete with the 7-figure offers that are likely about to come Salyers' way from Russia and other countries. Stranger things have happened, though, and in the right spot, he could fit in quite well we believe.
Will Solomon, 6-1, Point Guard, Fenerbahce, 1978
17.8 points, 3.2 rebounds, 4.4 assists, 2.4 turnovers, 1.3 steals, 46% FG, 33% 3P, 86% FT, 31.6 minutes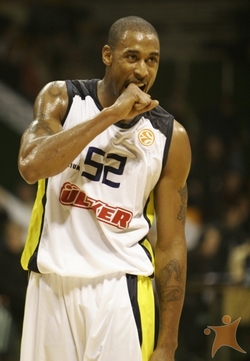 One of the top scoring guards in European basketball has taken his game to a whole new level this season, at the ripe age of 29. All the years of experience at this level seem to have come together and produced a much more mature player, as his numbers are up across the board individually, but he's also lead one of the youngest teams in the competition to the Top 16 stage as well, which is not a bad feat.

We're talking about an outstanding athlete who is blessed with terrific scoring instincts. Solomon is a very quick and explosive guard who can put the ball in the net in many different ways. He's a terrific ball-handler with either hand, and is particularly adept at using the pick and roll. He has a nice mid-range game, able to create separation sharply off the dribble, and can create a shot for himself out of nothing on a broken play, with the greatest of ease—sometimes to finish with a powerful dunk. Solomon is a very good shooter with his feet set, but the pure volume of shots that he takes really kills his percentages from behind the arc. In short, Solomon is a scorer through and through, and that's what he's always been known for.

This year, more than ever, though, Solomon has proven himself as at least a decent playmaker as well. He has very good court vision, and can really move the ball around with purpose, even if he doesn't have very much talent at all besides him. Watching his film, it was hard not to notice how many times a good pass of his would go unrewarded with an assist because of a turnover, brick, or bobbled catch by one of his extremely young teammates.

With that said, Solomon isn't immune to making mistakes himself. He doesn't always let the game come to him, trying to thread the needle on some impossible passes at times, taking bad shots early in the shot-clock, over-dribbling, and running into brick walls. He's been known his entire career for his mental lapses, and even though his turnovers are at a career low this season (while his assists are at a career high), this is still a problem that plagues him at times.

Defensively, we see some of these same problems as well, just on the other end of the court. Solomon has excellent lateral quickness and an unbelievable wingspan (measured at 6-9 ¼ at the pre-draft camp in 2001) for a player his size, but he lacks strength, focus and awareness. He can play some pretty good on-ball defense when he puts his mind to it, but as a team defender he often looks lost, gambling for steals and struggling to fight through screens on the pick and roll.

Players like Solomon—athletic, creative, experienced, aggressive--are an invaluable commodity in Europe, and are duly compensated as such. Solomon is rumored to be making 1.7 million dollars net for this season alone, and after the career-best year he's having, that number won't be going down any time soon. There are clearly worse players than him in the NBA, particularly at the backup guard position, but at age 29, it's hard to envision him making the jump back over (he was drafted in 2001), unless a team really decided to step up with a big offer.
Dimitris Diamantidis, 6-5, Point Guard, Panathinaikos, 1980
8.2 points, 5 rebounds, 3.4 assists, 1.8 turnovers, 2 steals, .9 blocks, 48% FG, 45% 3P, 29 minutes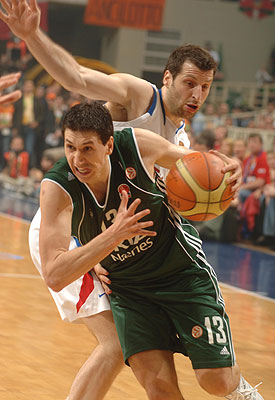 It's obvious that at 12-2, tied for the best record in the Euroleague, Panathinaikos needs to have at least one player on this list. Considering just how incredibly deep they are (
Sarunas Jasikevicius
,
Vassilis Spanoulis
,
Mike Batiste
, etc) the best bet is probably to go with the one player who plays more minutes than anyone else—their point guard
Dimitris Diamantidis
.
Diamantidis is no stranger to readers of this site, as we've written about him numerous times in the past. He's one of the more unorthodox players you'll find around, a gangly looking Greek who is nicknamed "Octupus Man," because of the length of his arms. He's the type of point guard who plays the game at his own pace, showing great patience, terrific ball-handling skills, excellent body control, and your typical funky European moves (jumping off the wrong foot, using long and drawn out hesitation moves, throwing in an extra step after penetrating for a layup, etc).
He's not a scorer, and probably even can't be described as being particularly athletic in a traditional way, but he has a lot of different wrinkles to his game, which make him hard to defend. Diamantidis can post-up, create a shot for himself off a nice crossover, hit a spot-up 3-pointer with terrific accuracy, and especially run an offense. He's incredibly unselfish, and sees the floor extremely well from his very high vantage point, standing 6-5. He knows when to push the ball and when to slow down, and is a pretty mistake free guy considering that he runs one of the fastest paced teams in the entire Euroleague. Scoring is not something he's particularly concerned about, though, as you can guess by the 8.2 points he averages per game. Most of his shots come from behind the arc, in simple spot-up, wide-open fashion with his feet set. Simple is probably the best way to describe his game actually.
Defensively is where Diamantidis really earns his paycheck. We can't describe his efforts here any better than our very own Luis Fernandez already has last summer…"A nightmare match-up, Diamantidis' strong 6-5 body and his endless arms are usually all over his opponents. He's not an athletic freak, but he's still nice in this area and a player who makes the most of it. Extremely active, and extremely smart in his efforts, his positioning is close to perfect, being equally good in man-to-man defense or team defense. He's awfully hard to beat given his length and lateral quickness, he stays physical on his opponent, but doesn't get obsessed with his match-up and gladly helps his teammates, either on the perimeter or the paint, but at the same time he's capable of recovering to his man very quickly. Not risking his positioning, he's always alert enough to come up with a steal in the passing line, while he's also not a bad shot-blocker (leading his team in the Euroleague this past season in this department)."
At the end of the day, it's hard to see Diamantidis making it over to the NBA anytime soon, although you can never say never. If he does ever decide to change his mind, he should have some suitors, even if his game doesn't look like it might translate that well on first glance. There is no question that he can help someone, though. He will be trying to win his second straight Euroleague championship this May, and then needs to guide Greece through a qualifying process in Athens to reach the Olympics once again.