We continue our coverage of the top NBA draft prospects in the non-BCS conferences with scouting reports on players ranked 14-17:
Mamadou Ndiaye
,
Vince Hunter
,
Joel Bolomboy
and
Larry Nance
.
The Top 20 NBA Draft Prospects in the Pac-12 Conference
The Top 20 NBA Draft Prospects in the Big 12 Conference
The Top 10 NBA Draft Prospects in the AAC Conference
The Top 22 NBA Draft Prospects in the SEC Conference
The Top 10 NBA Draft Prospects in the Big East Conference
The Top 20 NBA Draft Prospects in the Big Ten Conference
The Top 26 NBA Draft Prospects in the ACC Conference
Top NBA Prospects in the Non-BCS Conferences, Part One
(#1) R.J. Hunter (Scouting Video)
Top NBA Prospects in the Non-BCS Conferences, Part Two
(#2) Rashad Vaughn (Scouting Video)
Top NBA Prospects in the Non-BCS Conferences, Part Three
(#3) Domantas Sabonis (Scouting Video)
Top NBA Prospects in the Non-BCS Conferences, Part Four
(#4) Shawn Long (Scouting Video)
Top NBA Prospects in the Non-BCS Conferences, Part Five
(#5) E.C. Matthews (Scouting Video)
Top NBA Prospects in the Non-BCS Conferences, Part 6
(#6) Ron Baker
(#7) Fred VanVleet
(#8) Keifer Sykes
(#9) Briante Weber
Top NBA Prospects in the Non-BCS Conferences, Part 7
(#10) Przemek Karnowski
(#11) Alan Williams
(#12) Christian Wood
(#13) Treveon Graham
#14, Mamadou Ndiaye, 7-4, Sophomore, C, UC Irvine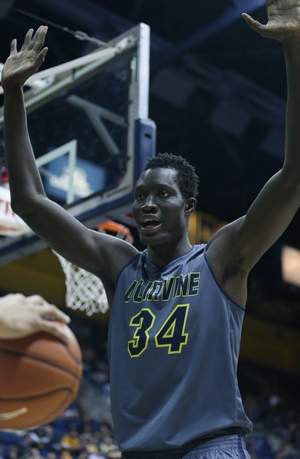 Josh Riddell
Born in Senegal, 7'4" Mamadou Ndiaye came to America in 2010 to attend high school and pursue his dream of playing professional basketball. Shortly thereafter, he received a health scare as doctors found a
tumor on his pituitary gland
, which threatened not only his basketball future, but his overall health long-term. Doctors were able to remove the tumor and Ndiaye went on to attend UC Irvine, where he averaged 15 points, 11.7 rebounds and 6.0 blocks per 40 minutes pace adjusted in 21.8 minutes.
Ndiaye was measured at 7'4" in 2012 along with a wingspan of 8'1",
the longest in our database
. While his size and length puts him on draft radars, the rest of physical tools may not measure up in today's NBA. As many players of his size are, Ndiaye struggles to get up and down the floor effectively, particularly after being in the game for more than a few minutes at a time. Once he's over the half-court line, his mobility is solid for a player his size, but his conditioning needs a lot of work and it's unclear whether the vastly different rules in the NBA (shorter shot clock, defensive three second rule) and much quicker pace of each possession will allow him to remain effective. He also needs to bulk up and add strength and has plenty of room to do so on his 290 pound frame.
Using his tremendous size advantage in the Big West, Ndiaye was able to score in the post almost at will and showed some nice footwork in the process. He's so big and long that he can dunk the ball without even jumping as long as he catches it reasonably close to the paint.
As the only seven footer in the conference (with the second biggest player who played at least twenty minutes measured at 6'10"), Ndiaye often was able to just turn and shoot an easy hook shot over his opponent when he got position. He needs to improve his touch around the rim, as many of these hook shots had too much power and clanged badly off the rim. While he was effective when gaining deep post-position on the block, he was too easily pushed away from the rim because of his lack of strength. Beyond that, Ndiaye doesn't currently possess the skill-level necessary to score when he was not directly around the basket, but considering how new to the game he is, that isn't particularly surprising.
Ndiaye struggled when matched up against fellow seven footers and major conference big men in several matchups against Pac 12 competition. He struggled to score against big men of similar height, especially Arizona State's 7'2" Jordan Bachynski. When defenders were tall enough to challenge his shot, he struggled to find other ways to contribute with the ball in his hands. UC Irvine has only one major conference matchup this season as Ndiaye will face seven footer Kaleb Tarczewski, so a nice showing by Ndiaye will certainly go a long way.
One area he can improve on to make him a more efficient post player is his passing out of the post. Ndiaye generated just six assists in all of last season in 696 minutes of action, with a 1.8% assist percentage that ranked as the fourth worst rate in all of college basketball. Historically speaking, only a handful of college players have been drafted the past 15 years after posting such a poor assist percentage, and all of them were one (or usually more) seasons removed from that after spending time improving their feel for the game.
25% of Ndiaye's post-possessions ended in a turnover last season, the third worst rate in college basketball among players with 100+ possessions. While he was able to hit a terrific 69% of the shots he
did
get off with his back to the basket, his outrageously high turnover rate dragged his overall scoring effectiveness under a point per possession in these situations.
Ndiaye was asked to control the paint in the middle of a 2-3 zone for UC Irvine, so we don't have a major sense of how he will be able to matchup in a man to man defense, especially guarding ball screens. He was active in the zone, moving his feet well in the small area he was asked to defend to challenge shots and stop penetration. He is slow at times to react to passes and cutters and needs to improve his awareness to see the action develop.
He did protect the rim incredibly well,
leading the nation with 6.0 blocks per 40 minutes pace adjusted
. His length allows him to wait on the shot to be released and he has good instincts to help him block shots. He is vulnerable in the post as stronger players can back him down and draw fouls as Ndiaye committed 5.5 fouls per 40 minutes pace adjusted last season.
It will be interesting to watch Ndiaye's development in his second season and see how he grows as a player. Despite being just a sophomore, he is already listed at 21 years old and would be one of the oldest players in his class. The Arizona matchup in the second game of the year will provide a nice baseline for Ndiaye's progress in the offseason and could be a launching point to a strong season.
While Ndiaye's unprecedented combination of height and length will draw the attention of scouts, he will have to answer questions regarding his strength and conditioning, skill level, and health to become a serious draft prospect. As a sophomore, Ndiaye hopes to lead UC Irvine to its first ever NCAA tournament bid after falling short in the conference tournament last season, while continuing to learn the game.
#15, Vince Hunter, 6-8, Sophomore, SF/PF, UTEP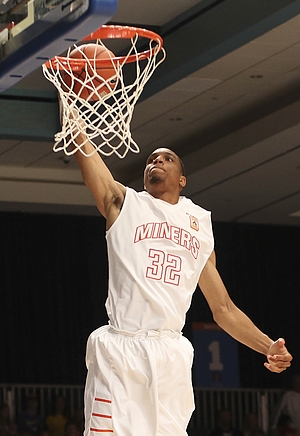 Jonathan Givony
The 129th best player in his high school class according to the RSCI, Vince Hunter played a significant role for UTEP last season en-route to winning Conference USA Freshman of the Year honors, as well as being named Second Team All-Conference.
The team overcame kicking their top scorer and two rotation players out of the program early in January due to gambling allegations, which significantly changed the way they played. Hunter moved to playing heavy minutes at small forward, and the team exceeded expectations, finishing 12-4 in-conference play.
Measured at 6-8 in shoes with a 6-10 wingspan this past summer at the Nike Skills Academy, Hunter has excellent size for a small forward and can get by seeing some minutes at power forward as well, despite weighing just 200 pounds. He has a frame that should continue to fill out, and has very nice athleticism, being quick off his feet, explosive around the basket, and very fluid and mobile overall.
Hunter was one of just a handful of freshmen last season to average over 19 points per-40 pace adjusted with a 58%+ true shooting percentage. The key to that lies in his ability to get to the free throw line, where he took nearly 10 attempts per-40 last season (second best among freshmen prospects), even if he converted just 62% of his attempts once there.
Hunter's touches come in a variety of ways, be it moving off the ball in UTEP's deliberate motion offense, posting up, running the floor in transition, or crashing the offensive glass.
He does a terrific job in the open court, thanks to his excellent speed and aggressive nature, finishing 75% of his field goal attempts in these situations according to Synergy Sports Technology, while drawing a foul on 30% of his possessions. He's very effective on the offensive glass for the same reason, as he's very competitive and is constantly in the mix for loose balls.
Hunter has solid ball-handling ability, particularly if only asked to attack in a straight line from about 15-17 feet. His first step is extremely quick, and he's not afraid to drive right into contact, while showing good touch to finish off plays around the basket, making a solid 59% of his attempts around the rim.
He's also a pretty solid passer on top of that, and shows a very nice feel for moving into open spaces operating off the ball, which was essential for UTEP's ability to manufacture offense playing with such oversized lineups. To make the next step in his development as a shot-creator and take on a bigger share of UTEP's offense next season, Hunter will need to continue to develop his advanced ball-handling skills, particularly with his left hand, which he tends to avoid on both drives and finishes at the moment.
Hunter's biggest shortcoming from a NBA standpoint at the moment revolves around his jump-shot, as he didn't make a single 3-pointer last season and converted just 62% of his free throws. Hunter sports a long, ugly, deliberate shooting stroke from the perimeter, releasing the ball from the side of his head, with sloppy footwork, and zero ability to pull-up off the dribble. Hunter's stroke lacks much in the way of fluidity, which is somewhat discouraging as he absolutely will have to develop some shooting range to make it in the NBA at his size.
Defensively, Hunter shows very nice versatility, being asked to guard anywhere from 2-4 depending on the matchup for UTEP last season. He has good physical tools for a small forward, showing terrific mobility staying in front of quicker players and even recovering and making plays at the rim after getting beat.
Despite that, Hunter suffered from many of the problems most freshman do last season, being too quick to get out of his stance in the middle of possessions, biting on pump-fakes, gambling in the passing lanes, and losing his focus off the ball. His awareness and fundamentals are just average at this stage, things scouts will want to see him improve on as he continues to get stronger and gains experience.
While still in a very early stage of development, and certainly a bit stuck between positions, Vincent Hunter shows the type of athleticism, motor, frame and productivity NBA teams like to see in young prospects his size, making him someone plenty of scouts will be following to see how his skill-level is coming along. He'll have to improve his jump-shot to make it eventually, which may take a while based on the preliminary results, but he's done a very good job of putting himself on the radar early in his college career.
#16, Joel Bolomboy, 6-9, Junior, PF, Weber State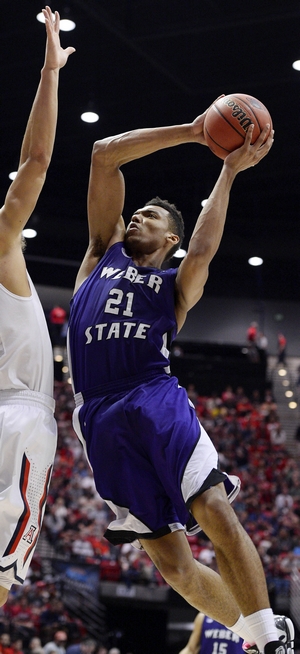 Josh Riddell
The Big Sky Defensive Player of the Year as a sophomore, Joel Bolomboy was invited to try out for Mike Fratello's Ukrainian National Team for the FIBA World Cup. However, a bone bruise forced him out of training, but will not be serious enough to cause him to miss time for Weber State. Bolomboy returns to the Wildcats fresh off a trip to the NCAA tournament and will look to lead them to a second straight appearance, despite losing their top two leading scorers to graduation in Davion Berry and Kyle Tresnak.
Bolomboy's strengths come from his physical skill set, as he is an explosive, high-flying and quick 6'9" power forward. He has an impressive wingspan, but is still relatively thin, which causes him to be bullied by larger opponents in the paint. He moves around the court well and has a high motor to complement his physical tools. He has a nice combination of length and quickness, which means he could likely hold his own athletically in the NBA.
Although Bolomboy has an impressive arsenal of athletic tools, his skill set hasn't quite caught up through his first two seasons. Bolomboy likes to post up but hasn't demonstrated the footwork needed to score on physically gifted defenders on a regular basis. He also isn't as physical as many players his size, which makes it difficult for him to gain position on the block. This forces him to start his moves from outside the paint, which leads to tough attempts. If he wants to become a better post scorer, he will need to get stronger and start playing more physically, while also improving his footwork.
What Bolomboy brings to the table for NBA teams is elite rebounding skill. He averaged
4.9 offensive rebounds per 40 minutes pace adjusted
last season and
9.9 defensive rebounds per 40 minutes pace adjusted
, giving him a total of 14.8 per 40 minutes pace adjusted which ranked
tied for third best among all collegiate players last season
. He is committed to rebounding on both ends and uses his combination of physical tools to chase down loose balls all over the court. While he will likely need more than just rebounding to contribute at the next level, this skill is a nice one to build on as he works to impress NBA teams.
When Bolomboy gets an offensive rebound, he is usually able to either finish or draw a foul. He converted 55.3% of his attempts around the rim, according to Synergy Sports Technology and was also able to shoot 5.9 free throws per 40 minutes pace adjusted, an impressive mark for
a power forward
. He needs to work more on finishing through contact, as his offensive rebounds and put-backs netted him only ten and-1 opportunities.
Bolomboy didn't provide much offensive value outside the paint, which he will likely need to do both as a power forward and someone who may not be able to handle the physicality of most big men at the next level. He attempted only sixteen jump shots according to Synergy Sports Technology and looks uncomfortable shooting with his long arms. While he won't need to become a true stretch four, being able to knock down a mid-range jump shot will help him draw defenders away from the rim and provide further offensive value.
Defensively, Bolomboy has the physical tools to be an impact defender, but struggled on this end of the floor last year against better competition. His court awareness and defensive IQ are below average, which puts him at a disadvantage from the start as he doesn't always see all of the action developing around him. He compounds this by not always being in a defensive stance, which takes away the impact of his physical skills, including his quickness, and leaves him vulnerable to dribble penetration. He only managed to provide 0.7 steals and 1.1 blocks per 40 minutes pace adjusted, very low numbers for a player of his length and quickness, particularly considering the competition he played against in the Big Sky. He did block 3.1 shots per 40 minutes pace adjusted as a freshman, so he did flash some potential in this area in the past. His lack of strength hurts him on this end as well, as he is easily backed down when guarding the post.
Heading into this season, Bolomboy is a player to keep an eye on because of his physical tools and his rebounding ability. However, he will need to show some skill improvements as well as an increased ability to play physical, which he will need in order to succeed at the next level. Bolomboy has a ways to go before he becomes a legitimate draft prospect but he has a nice foundation to build on going into his junior season.
#17, Larry Nance Jr, 6'8", Senior, PF, Wyoming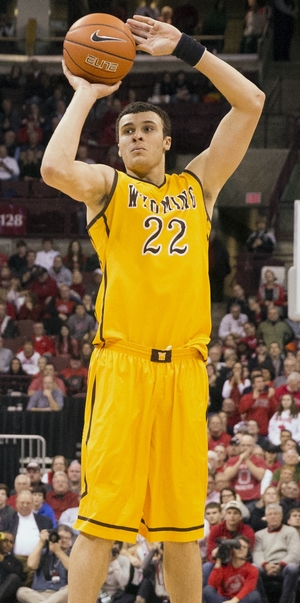 Derek Bodner
The son of former NBA player Larry Nance, Larry Nance Jr's gradual transformation at Wyoming was halted when he tore his ACL last February against Fresno State, ending his season.
Nance had continued his gradual progression as a player, first becoming a full time starter during his sophomore season, then growing to become Wyoming's leading scorer during his junior campaign, where he saw his scoring average increase from 14.2 points per 40 minutes pace adjusted to 19.1. He also increased his production elsewhere, with his defensive rebounding jumping substantially from 6.6 defensive rebounds per 40 minutes pace adjusted to 9.2, while blocking the most shots of his career, at 2.8 blocks per 40 minutes pace adjusted. The overall jump in productivity led to an outstanding 27.6 Player Efficiency Rating.
The biggest evolution in Larry Nance Jr's offensive game has been in the post, which now makes up over 28% of his offense, according to Synergy Sports. Nance has a strong base, which allows him to established good post position and have success backing his man down. Nance shows an ability to execute a jump hook over either shoulder, and does a good job in recognizing what the defender is giving him, with the ability to perform a strong drop step to seal off his defender in either direction. He also shows early signs of a developing turn around game, although his consistency and overall effectiveness in this aspect is still a work in progress. Nance is also an improving passer out of post-up situations, able to find an open cutter or set three point shooter, which makes it tough for defenders to double team him.
The rest of Nance's offense primarily comes off the ball, on a combination of pick and rolls, offensive rebounds, and cuts to the basket. He has good, soft hands, makes strong cuts to the basket, has a strong upper body that allows him to finish through contact, and has solid explosiveness around the hoop. While his excellent efficiency finishing around the rim will no doubt take a bit of a drop as he goes up against better athletes at the next level, his ability to score without plays being called for him is something that should help his draft stock as teams look at whether he can transition away from being an offensive focal point, a luxury he is unlikely to enjoy at the next level.
An area that it would be nice to see further development from Nance would be as a jump shooter, where he still remains largely inconsistent in his results. He seems to have made strides in making his release and delivery more consistent, and he shoots a good percentage from the line as a big man, but this hasn't yet translated into game action, as he's shooting only 32.1% on jump shots, per Synergy Sports, and hasn't yet show much range beyond 10-12 feet.
One area that has seen considerable improvement in Nance's game is on the defensive glass. Last season was the first one that Nance played without Leonard Washington, who Wyoming lost due to graduation. Washington was a force on the defensive glass, and Wyoming needed Nance to step up in his absence. Nance responded, increasing his defensive rebounds per 40 minutes pace adjusted from 6.6 to 9.2 per game, with his defensive rebounding percentage seeing a similar increase, from a solid 20.4% to 24.8%, both of which represent very good numbers for a power forward. Nance shows a good nose for the ball, with a good understanding of technique and positioning and a good lower body base to hold position. This is part of his game that should translate to the next level.
On the defensive side of the ball, Nance's physical profile makes him a very good post defender, as he has the strength to hold his position and the length, with his 6'8" height and 7'0.v" wingspan, to adequately contest shots. He also is pretty quick off his feet, registering 2.8 blocks per 40 minutes pace adjusted, with the ability to contest both his own man and as a weakside help defender. The biggest question mark comes on the pick and roll, as his lateral mobility is only average, and he'll be forced to defend the perimeter far more at the next level than he has at Wyoming.
Larry Nance Jr's evolution as an offensive player has made him extremely valuable for Wyoming, as he has become the focal point of their offense. How much of his post game will translate remains to be seen, but his ability to score off the ball, be a dominant defensive rebounder, and defend the post should give him a shot to make an NBA roster. Whether or not he can regain his explosiveness after his ACL injury will be key to his draft stock going forward, as would his ability to show some consistency in his jump shot, something that he'll certainly need in helping his offensive game translate to the next level.