We continue our coverage on the top NBA draft prospects in the Big 12 with part seven, players ranked 13-16:
Jonathan Holmes
,
Devin Williams
,
Ricardo Gathers
and
Monte Morris
.
The Top 20 NBA Draft Prospects in the Pac-12 Conference
Top NBA Prospects in the Big 12, Part 1
(#1) Kelly Oubre (Scouting Video)
Top NBA Prospects in the Big 12, Part 2
(#2) Cliff Alexander (Scouting Video)
Top NBA Prospects in the Big 12, Part 3
(#3) Myles Turner (Scouting Video)
Top NBA Prospects in the Big 12, Part 4
(#4) Wayne Selden (Scouting Video)
Top NBA Prospects in the Big 12, Part 5
(#5) Juwan Staten
(#6) Perry Ellis
(#7) Georges Niang
(#8) LeBryan Nash
Top NBA Prospects in the Big 12, Part 6
(#9) Cameron Ridley
(#10) Marcus Foster
(#11) Isaiah Taylor
(#12) Buddy Hield
#13, Jonathan Holmes, 6'8", Senior, SF/PF, Texas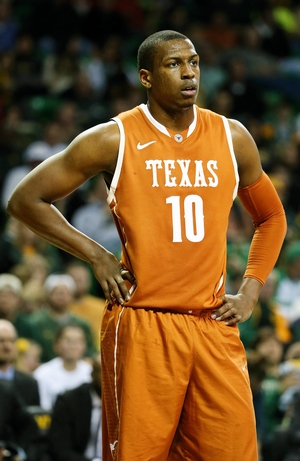 Derek Bodner
After flashing some promise as a freshman, Jonathan Holmes struggled to make the step forward many expected during his sophomore season. In fact, by all accounts he took a step backwards. His scoring fell, from 13.0 points per 40 minutes pace adjusted down to 12.0, his PER dropped from 17.2 to 15.3, and his efficiency suffered as well, from a 56.7% true shooting percentage down to a disappointing 51.8%.
Holmes turned things around in a major way during his junior season, which saw the 6.8" forward assume a much bigger role in the Texas offense. While Holmes only saw a modest up-tick in playing time, up to 24.3 minutes, from 20.2, his per-minute scoring jumped drastically. Holmes scored 20.3 points per 40 minutes when adjusting for pace this past season on tremendous efficiency. Whether looking at his PER (which jumped to 26.4), true shooting percentage (59.8%), points per possession (1.23), or offensive rating (118.3), Holmes had an incredibly productive season from a per-minute standpoint, while doing so at an extremely efficient level.
An area of Holmes' game that has seen considerable growth over the years is as a jump shooter. The overall amount of jump shots that he takes hasn't changed all that much over the years, but the effectiveness of the shot has. That improvement is most evident in his development as a three point shooter. While he's still not consistent from the collegiate three point line, his 33.3% shooting at 2.6 attempts per game was by far the best of his career.
However, the area where this improvement has made the most positive impact may be in Holmes' post-game. Holmes flashes a relatively simple, but effective, back to the basket arsenal. He fights for and establishes position well, presents a good window for the entry pass, and has good touch on a hook shot over his left shoulder, which he is able to shield the ball well and get it off over bigger defenders.
Holmes supplements his hook shot by utilizing his improving jump shot in post-up situations. After establishing deep post position to put himself in position for a high percentage shot, Holmes uses this position for both a turnaround jump shot over his right shoulder, and also by facing up, where he is able to either get off a clean look at a very make-able jump shot or, if his man is aggressively guarding him, can use his quickness to put the ball on the floor and get to the rim. Holmes' significantly improved effectiveness as a jump shooter, combined with his quickness, creates a fairly effective face-up threat.
The rest of Holmes' offensive game is still somewhat of a work in progress. His effectiveness as a jump shooter has led to more involvement in the pick and roll game, another area that could become a staple of his as he continues his development shooting the basketball. While he shows good promise as a face-up threat, and is able to be a weapon from 15 feet and in, his ball handling still needs improvement to fully take advantage of these opportunities, as he struggles to change direction and react to the rotating defense. He does move well off the ball, able to both find the weak points in a zone and also make himself available for passes from driving guards.
Holmes is able to make himself a factor on the glass on both ends of the court, where his pace adjusted output of 4.4 offensive rebounds and 6.9 defensive rebounds are both very good marks. On the offensive side, Holmes shows very good effort and pursuit fighting for position on the glass, and his athleticism, strength, and tenacity allow him to convert at a good clip after gathering these rebounds. On the defensive side of the ball, he shows good technique and timing.
On the defensive side of the court, Holmes generally gets in a good stance on the perimeter, and moves his feet relatively well for a player his size, while his strength allows him to hold his own down low. Although not an incredibly explosive leaper off of two feet, he shows good timing when going for blocks, allowing him to block 2.0 shots per 40 minutes pace adjusted. Perhaps most importantly, Holmes got his foul problems somewhat under control during his junior year. At 4.0 personal fouls per 40 minutes pace adjusted it's still somewhat of a problem, particularly on a young Texas squad that will need the senior Holmes to stay on the court, but it's a drastic improvement over the 6.1 and 5.7 fouls per 40 minutes pace adjusted that he committed during his freshman and sophomore seasons, respectively. He could still stand to avoid some of the reach-in and over-aggressive fouls that he tends to picks up, but last season was a positive step forward in that regard.
After a disappointing sophomore season, Jonathan Holmes had the kind of junior season that put him back on the map as a prospect, including big games towards the end of the season against talented front courts such as Kansas, Iowa State, West Virginia, and Baylor. It will be interesting to see how much he is able to build off of the improvements he made in his jump shot last year, whether he is able to become more consistent from the collegiate three point line and beyond, and whether he can continue to refine his ball handling skills to fully take advantage of the opportunities his improved shooting give him as a face-up threat. With his strength, quickness, emerging threat shooting from the perimeter, and ability to contribute on the glass, he could garner some interest from NBA teams next June, particularly if he shows more ability to operate as a full time small forward, which would likely be his natural position at the next level.
#14, Devin Williams, 6'9", Sophomore, PF, West Virginia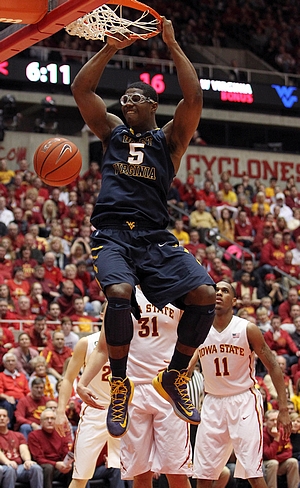 Derek Bodner
Joining a West Virginia team desperate for size, Devin Williams was able to step right in during his freshman season and provide the Mountaineers with an inside presence. The 6'9" big man scored 8.4 points to go along with 7.2 rebounds in 23 minutes per night during his freshman season, helping West Virginia bounce back from their disappointing 2012-13 campaign.
The thing that stands out first when watching Williams play is his imposing physical presence. Standing just a shade under 6'9", with a 6'11" wingspan, broad shoulders, and a well-developed frame, Williams looks the part of an NBA big man. His physical strength is a key part of his game on both ends of the court, as he's willing and able to bang in the paint, using his size and strength to gain and hold position.
On the offensive end, post-up opportunities represent over a quarter of his offensive possessions, per Synergy Sports Technology. He flashes some skill in this regard, with decent touch over his left shoulder, improving footwork, and ability to use his size and brute strength to establish good position and to dislodge a defender to get a look at the basket.
There are a few issues when trying to project this as a major offensive part of his game, though. He still needs to refine his left hand, as he's a little bit uncomfortable going over his right shoulder, which tends to make him predictable. He compounds this by not being the best at reading the defense, and his moves frequently seem predetermined, and he struggles to adjust.
His biggest problem when projecting his post-up game, particularly to the next level, is his lack of explosion around the basket. He's relatively earth-bound, playing largely below the rim in the half-court, and struggles to finish over length. This shows up not only in the post-up game but also when trying to finish offensive rebounds, where, while he pulls down a very impressive 4.1 offensive rebounds per 40 minutes pace adjusted, he struggles to convert. According to Synergy, he shoots only 24.2% in post-up situations and 45.5% when converting off offensive rebounds, both well below average. Considering these situations use up over 46% of his possessions, his struggles converting around the hoop are a major contributing factor to his inefficiency, as he shot only 41.4% from the field and had a true shooting percentage of only 45.5%, both far below average for a big man who operates largely in the paint.
The one positive around the rim, though, is his ability to draw fouls. As such an imposing physical presence, one who seeks out and is able to play through contact, Williams is able to draw nearly 7 fouls per-40 minutes. This helps his efficiency somewhat, although not enough to fully make up for his struggles finishing around the rim—considering he makes his free throws at just a 57% clip.
Williams offers more than just brute strength around the rim, though, as he flashes an intriguing skill set away from the hoop. While not a huge sample size, Williams showed an ability to step away from the paint and hit shots at an impressive clip. Williams shot 45.2% on jumpers per Synergy Sports, yielding 0.903 points per possession, including an excellent 0.963 points per possession from midrange. His form, particularly when he's shooting in rhythm, looks good, and this does appear to be something that he can make a consistent part of his game. His ability to hit shots will be a key for him going forward, and it will be interesting to see whether he is able to maintain efficiency as this becomes a bigger part of his game, and whether he is able to extend this to three point range in a few years from now.
On the defensive side of the court, Williams does a good job holding his own on post-ups. He has no problem fighting for, and holding, position down low, and uses his length well to contest shots. It becomes a little bit more adventurous away from the hoop, as he can struggle to change direction laterally, both on pick and rolls or when being asked to defend a big man who can play on the perimeter. He compounds his lack of lateral foot speed by frequently being too upright on the perimeter, and there's a chance he can make some strides defensively with improved technique, although his foot speed will likely always be a question mark. While he rotates relatively well from the weak side, his lack of leaping ability limits what he can offer as a weakside shot blocker, as he blocked only 0.4 shots per 40 minutes pace adjusted.
Another area where he makes a significant contribution is on the defensive glass, as he pulled down an impressive 7.9 defensive rebounds per 40 minutes pace adjusted, something West Virginia desperately needed. He does a great job anticipating rebounds and putting himself in position, shows good box-out technique, a high effort level, great physical strength and ability to hold position, and a good job of getting the ball at its highest point, all of which makes him a very good defensive rebounder. He's also a good outlet passer, able to get rid of the ball quickly and make good decisions doing so.
Devin Williams will be an interesting prospect to watch for the Mountaineers this season, with very defined positive attributes, but also some very clearly defined weaknesses that could be difficult to overcome. He has the ability to combine a throwback big man, with an imposing presence in the post and on the glass, with a burgeoning jump shot, which could create an intriguing inside/outside combination. A tough and physical rebounder who can also step away from the hoop is something virtually any team could use.
However, while his physical profile in terms of size and strength form the basis of part of his intrigue, his physical profile also provides perhaps his biggest question marks, this time in the form of a lack of explosion around the rim and struggles with lateral foot speed away from the hoop, which becomes a bigger concern at the next level. How well he is able to combat these problems will be key when trying to project how legitimate of a prospect Williams is going forward.
#15, Ricardo Gathers, 6'8, Power Forward, Baylor, Junior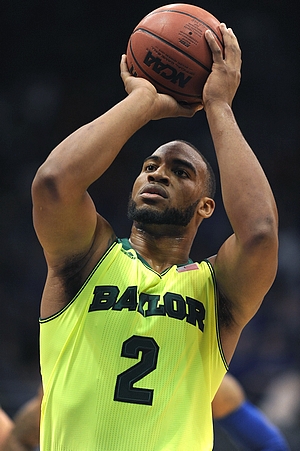 Kyle Nelson
As a high school player, Ricardo Gathers earned the reputation of a tough, physical and versatile post scorer on his way to being ranked as the #34 recruit in the Class of 2012. Thus far at Baylor, Gathers has been a role player, albeit on one of the nation's most talented frontcourts, but nonetheless an important contributor on a team that made a run to the Sweet 16. Baylor is now in rebuilding mode, having lost its
two most productive post players
in Isaiah Austin and Cory Jefferson. Now, Baylor needs Gathers, in particular, to take a significant step forward in order to survive a difficult Big 12 conference slate and try to make a second consecutive trip to the NCAA Tournament.
Gathers is clearly undersized for the power forward position, standing around 6'7 or 6'8 with an average 6'9.5 wingspan, but makes up for it with a rugged 270-pound frame. Furthermore, he is a solid athlete, as he runs the floor well while displaying decent agility and quickness in the paint, as well as the ability to elevate at times around the basket when given a head of steam. Slimming down could help him maximize his athletic tools, as he isn't quite as explosive as you might hope from an NBA standpoint considering his lack of size and length, but physically speaking, Gathers has little trouble competing at the collegiate level.
In his first two seasons at Baylor, Gathers was neither a particularly productive nor efficient player offensively, averaging 14.3 points per 40 minutes pace adjusted on a subpar 46% 2P% last season.
Gathers doesn't really have a consistent means of scoring, as he lacks the size, athleticism or skill-level to be a major factor inside the post, showing average shooting touch and poor decision making ability. He struggles to use his left hand, and takes a lot of contested, low percentage shots, trying to bully his way to the basket, and having a difficult time getting his shot off against bigger and more athletic defenders. Gathers struggles equally in both in post-up (39% FG%) and non-post up situations (50% FG%) around the basket, due to his lack of size, length and leaping ability from stand-still positions.
Gathers doesn't really seem to know his limitations, as he is somewhat of a black hole inside the paint, only dishing out 14 assists so far in his career in nearly 1300 minutes, or one every 92 minutes of action he sees. Only five college basketball players in our database (min. 15mpg) who went on to get drafted have posted an assist percentage lower than Gathers' rate of 1.9 percent since 2002.
Gathers' bull in a china shop style of play does not come without benefits. On the one hand, his ability to draw contact with his sheer brute strength in these situations results in him attempting a very impressive 8.6 free throws per 40 minutes pace adjusted. On the other hand, he shoots just 58% from the free throw line, which means that many of these attempts end up going to waste. Gathers doesn't show much promise outside of the paint so developing his shooting stroke and at least becoming a reliable mid-range shooter could improve his prospects.
That being said, one area where Gathers absolutely shines is rebounding his teammates' misses; his impressive 6.0 offensive rebounds per 40 minutes pace adjusted ranked
sixth
among all college prospects in our database last season, exemplifying just how scrappy and aggressive that he can be in that area.
As good of a rebounder as Gathers is, he has some serious shortcomings defensively that he'll have to overcome. Gathers possesses neither the size or length most teams look for in a big man, and isn't long or explosive enough to be much of a rim protector. In addition to that, he looks like somewhat of a fish out of the water when forced to step out onto the perimeter, which makes it difficult to project him as a full time power forward either. He did a capable job of guarding the interior as a sophomore, especially when he was able to hold his position on the block, even though he sometimes gave up early on plays. Along these lines, his physical limitations are exacerbated by the fact that he neither looks like the most focused nor fundamental defender. Perhaps case is in point is the fact that Gathers is one of the
top rebounders
among prospects in our database, in the same league as bigger and more athletic players. Though not the tallest or most athletic player, his productivity on the boards can be chalked up, in part, to grit and fundamentals—so it will be interesting to see if he can translate this hustle to other parts of his game as well.
After two seasons as a reserve, Gathers' junior year will offer scouts a much better sense of his NBA prospects. In particular, scouts will be watching to see if he can make the most of the increased playing time and possessions that he will almost certainly receive as the most seasoned member of Baylor's returning frontcourt. That being said and though there is a lot to like about Gathers' potential, he has a long way to go before getting there. While Gathers may not grow, he can offset his physical limitations by continuing to diversify his game on the offensive end, particularly working on his left hand and developing a reliable jumper, and by working harder on the defensive end of the floor. A breakthrough season could go a long way in resolving some of scouts' concerns about his future and boost his stock as an NBA Draft prospect.
#16, Monte Morris, 6-2, Sophomore, Point Guard, Iowa State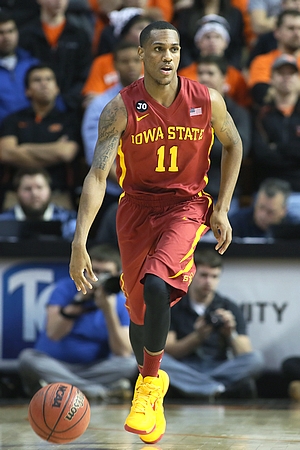 Matt Williams
The 96th ranked player in the high school class of 2013 according to the RSCI, Monte Morris had an extremely efficient freshman year for the Cyclones in a very compact role, averaging 6.8 points and 3.7 assist per-game while shooting 41% from three-point range in just under 30 minutes per-game.
Standing 6'2 with nice length, but a narrow frame he'll need to improve in the coming seasons, Morris is a lean shooter who has the quickness to attack a bit off the dribble and the speed to be a factor pushing the ball himself in the open floor.
Skill-wise, Morris does the majority of his damage by virtue of his tremendous shooting touch. A terrific set shooter who knocked down 43.1% of his catch-and-shoot jump shots in Fred Hoiberg's NBA-style offense, Morris was the beneficiary of the attention defenses paid to Melvin Ejim and DeAndre Kane.
With Kane and Ejim moving on to the professional ranks, the onus will fall on Morris, among others, to pick up their production in other areas. Morris did quite a bit of scoring in transition a year ago, but his shot selection left something to be desired. He finished at a below average rate around the rim, and shot a surprisingly poor percentage pulling-up off the dribble against a set defense in limited attempts, two areas to keep an eye on as Morris likely transitions into a much higher usage role as a sophomore.
A capable passer, Morris averaged 4.9 assists per-40 minutes pace adjusted a year ago despite playing primarily off the ball. Lacking great explosiveness, Morris is not a prolific drive and dish threat, but he's an unselfish facilitator in the half court. Feeding the post, swinging the ball, and making the simple pass in the two-man game, Morris could provide Iowa State with some relief as it looks to replace Kane's dominant presence. His passing ability, combined with his tremendous proficiency for avoiding turnovers, helped him post one of the best pure point and assist to turnover ratios for a freshman in the past 15 years of college basketball.
Defensively, Morris plays with nice intensity and possesses solid lateral quickness, but his lack of strength is a concern long-term. He makes some mistakes from time to time like most freshman, whether it is helping or closing out too-aggressively, but he played with a desire, especially in the post season, that should help him become a very capable defender at the college level.
With players like Morris, it's ambitious to look too far past that. Playing such heavy minutes but such a small role as a freshman, Morris showed some potentially interesting tools, but he's still a ways away from being a viable draft prospect. Nonetheless, he's a player whose growth is worth monitoring.