We continue our coverage of the top returning NBA prospects in the AAC with part two, players ranked 2-5:
Russ Smith
,
Joe Jackson
,
Chane Behanan
and
Michael Dixon
.
Incoming freshmen have been excluded from these previews, as we'd like to wait and see what they have to offer on the NCAA level before we come to any long-term conclusions.
-
Top 30 NBA Draft Prospects in the ACC
-
Top 15 NBA Draft Prospects in the Big Ten
-
Top 10 NBA Draft Prospects in the Big 12
-
Top 15 NBA Draft Prospects in the Pac-12
-
Top 15 NBA Draft Prospects in the Big East
-
Top 15 NBA Draft Prospects in the SEC
-
Top NBA Prospects in the AAC, Part One
(#1) Montrezl Harrell
Video Scouting Report
#2, Russ Smith, 6'0, Senior, PG/SG, Louisville
One of the last players we wrote about during the 2012-2013 season, we'll wait for Smith to suit up as a senior rather than rehash many of the same things we included in our
last report
.
#3, Joe Jackson, 6'0, Senior, Point Guard, Memphis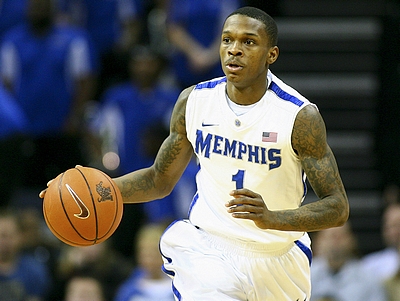 Matt Williams
Named Conference USA Player of the Year as Memphis went undefeated in league-play, Joe Jackson rebounded in a major way from difficult freshman and sophomore seasons as a junior. He finally had the type of year that was perhaps unfairly expected from him as an underclassman after his lauded high school career. Improving his efficiency as both a scorer and a passer, Jackson made significant strides as an upperclassman, emerging unscathed from the criticism and transfer rumors that haunted his sophomore season. One of the top senior prospects slated to take the floor in the American Athletic Conference's inaugural campaign, Jackson still has plenty to prove as he looks to build on a breakthrough season.
Often maligned for his lack of consistency prior to last season, Jackson dwarfed his previous career highs by shooting 52% from 2-point range and 45% from beyond the arc. After making subtle improvements as a sophomore, his development as a player was obvious both on paper on the floor as a junior, especially with regards to his scoring efficiency.
Perhaps the most obvious area Jackson showed progress was a shooter. With more and more of his shots coming from the perimeter as he's matured and cut down on the often overaggressive dribble-drives that made him an exciting prep player but turnover prone freshman, Jackson seemed to find his range last summer.
Knocking down a respectable 39% of his jump shots, Jackson is still not a great shooter, looking rigid at times and struggling to hit shots off the dribble with the type of consistency he'll need to in order to keep defenders honest playing the pick and roll at the next level, but he's become much more adept at making the most of his looks from the outside, especially with his feet set. Considering nearly 70% of his field goal attempts in the half court are jumpers and he only made 28% of his jump shots a year ago according to Synergy Sports Technology, there is no discounting what the continued development of Jackson's jumper will mean for him as a senior and to his NBA outlook.
Closer to the rim, Jackson was opportunistic as a junior. His quickness and ball-handling ability make him difficult to contain at times in the half court, and his 65% shooting in finishing situations is representative of how much he improved at picking and choosing his spots. In the same vein, his impressive speed and leaping ability make him a dangerous threat to take the ball coast-to-coast in transition.
As much of an impact as Jackson has been able to make with his athleticism, his quickness remains a curse at times. He still forces the issue on occasion, and remains a work in progress in terms of knowing how to operate at different speeds. Though he is not as prone to mistakes as he once was and turned the ball over just 3.3 times per-40 minutes adjusted as junior –down from 5.4 as a sophomore, he's still overaggressive at times, dribbles himself into trouble unnecessarily, and has a hard time making plays in traffic due to his lack of size.
Though Jackson is still a bit careless with his dribble at times, he has made headway with his decision-making as a passer. He showed improved patience in the half court a as a junior and did a better job making reads on the pick and roll.
The challenge for Jackson moving forward is just how prolific he can be creating for himself and others efficiently in the two-man game and in transition, and can he do so in a way that will allow him to make a smooth transition to the next level. Standing just 6'0 with a 174-pound frame, Jackson's size and strength raise concerns about just how effectively he can create against NBA talent.
Similarly, they raise similar concerns about his ability to hold his own defensively. Jackson has great lateral speed, gets in a low stance, plays with good intensity, and can be a pest defending the ball at the college level. However, his lack of size hurts his ability to contest shots and defend stronger guards.
A year ago, Joe Jackson was one of the most enigmatic prospects from the high school class of 2010. The former McDonald's All-American righted the ship as a junior. His size is an obvious obstacle and he still has plenty of room to grow as a playmaker, but if he can build on last season and not take a step back, Jackson could certainly move up draft boards with a strong senior season.
#4, Chane Behanan, 6'7, Junior, Power Forward, Louisville
Behanan was the recipient of an
extensive evaluation
last year in the lead-up to his sophomore season. Unfortunately his progress seemingly stagnated, as not much appears to have changed since then. This, combined with the fact that he is currently suspended indefinitely, leads us to believe that we should wait for another opportunity to analyze his NBA prospects.
#5, Michael Dixon, 6'1, Senior, Point Guard, Memphis
Dixon was the recipient of an
extensive evaluation
last year in the lead-up to his senior season at Missouri. Just days after our report, he was forced to leave the school after being accused of sexual assault for a second time. Dixon will now attempt to restart his career at Memphis after being granted immediate eligibility by the NCAA. Considering he didn't see a minute of playing time since our last evaluation, there is not much new to report on the court.