We continue our coverage of the top returning NBA prospects in the Big East with scouting reports on players ranked #2-5:
Michael Carter-Williams
,
Gorgui Dieng
,
Rakeem Christmas
and
Jerian Grant
.
Incoming freshmen have been excluded from these previews, as we'd like to wait and see what they have to offer on the NCAA level before we come to any long-term conclusions.
-Top 20 NBA Prospects in the Big Ten-Top 20 NBA Prospects in the ACC-Top 11 NBA Prospects in the Big XII-Top 15 NBA Prospects in the Pac-12
-
Top NBA Draft Prospects in the Big East, Part One
(#1) Otto Porter Video Scouting Report
#2, Michael Carter-Williams, 6'5", Sophomore, PG/SG, Syracuse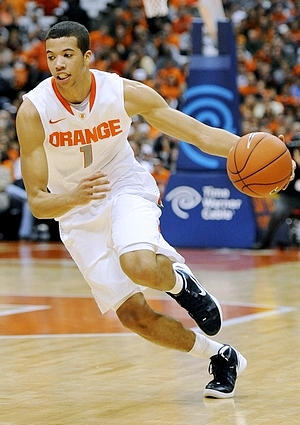 Derek Bodner
A highly rated recruit coming out of high school, Michael Carter-Williams struggled to find playing time in Jim Boeheim's deep backcourt rotation during his freshman season at Syracuse. Despite the limited playing time, Carter-Williams showed enough during the time he was on the court to maintain a good amount of intrigue as a prospect.
A big time scorer in high school, Carter-Williams played more of a facilitator's role during his freshman year, and with pretty good success. His 8.1 assists per 40 minutes pace adjusted would have rated in the top-5 of our top-100 rankings if he had enough minutes to qualify, as would his ratio of assists per possessions.
Beyond the numbers, Carter-Williams did a very good job of playing in control, especially for a young player who had previously been required to create so much of his team's offense. Carter-Williams rarely looked out of sorts, not dominating the ball for extended stretches, limiting his turnovers, and taking quality shots.
While he wasn't asked to get overly creative in the confines of the Syracuse offense and his relatively limited role, he showed good instincts and overall court vision, getting the majority of his assists off pick and roll kickouts to open shooters and off attention he received on dribble drives.
Carter-Williams' dribble can sometimes appear high, but he appears to have good control over it, and wasn't turnover prone in the least, posting a 3/1 assist to turnover ratio. He has a quick first step and does a good job of changing speeds and direction with the ball in his hands, showing a good ability to get into the lane at the collegiate level.
Once he's in the paint, he has an impressive array of floaters and runners in the lane, and has good enough body control and touch around the hoop to be a good finisher despite his very slender frame.
As a shooter, Carter-Williams has good form on his jump shot and has range out to the collegiate three point line and beyond. Very comfortable in catch and shoot situations, Carter-Williams gets good elevation and has a high release point, allowing him to hit at a good clip even when the shot is well contested.
His effectiveness as a shooter off the dribble wasn't quite as good, but the sample size is low enough that this isn't necessarily representative of his skill set, and he could see big improvement going forward as he gets more opportunity, as the form is there. Showing the ability to hit pull-up and mid-range jump shots will be one of the keys to watch going forward, and will make him even more difficult to defend if he establishes himself as a threat to do so.
On the defensive side of the court is the area where it may be hardest to project Carter-Williams and, outside of the overall depth in the Syracuse backcourt likely the single biggest reason for his limited minutes as the season progressed.
Despite his average wingspan, Carter-Williams has the size and foot speed to be a disruptive force on the perimeter, and he did do a good job of forcing turnovers during his freshman season. His overall dedication on this end can be in question, as he at times appears to lose focus. He's also not particularly good at working through screens, something he'll have to work to improve going forward, especially with his size.
His weight, listed at 176 pounds according on Syracuse website, is a big detriment for him on the defensive side of the ball as well, particularly if he's asked to defend shooting guards at the next level. Whether or not he has the frame to add substantially more weight to his skinny frame is one of the things to watch going forward.
While it wouldn't be prudent to draw too many conclusions from a player who played such limited minutes during his freshman year, what Carter-Williams was able to show as a facilitator was very encouraging. With Syracuse having lost Dion Waiters, Kris Joseph and Scoop Jardine from last year's rotation, Carter-Williams will have an opportunity to assume a much larger offensive role. With his versatility as a scorer and play maker, he could definitely be in line for a breakout year.
#3, Gorgui Dieng, 6-10, Junior, Center, Louisville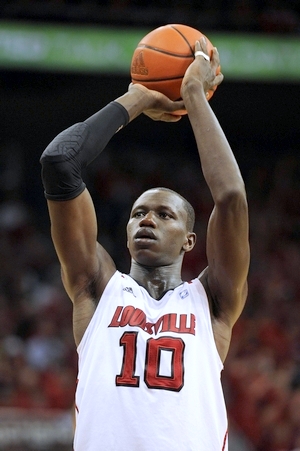 Joe Treutlein
After a promising freshman season where he excelled in a limited role, Gorgui Dieng clearly took his game to the next level as a sophomore, more than doubling his minutes per game while developing into one of Louisville's most important players.
Dieng's physical attributes –standing 6-10 with a reported 7-6 wingspan-- remain his strongest selling point, and he's an even more attractive prospect from that perspective than he was the last time we profiled him. Dieng has significantly filled out his frame and added strength since he stepped foot on campus, and reportedly made even more gains this summer based on the way he looked at the Adidas Nations in August.
While Dieng's increased mass will certainly help him better contest physically inside on both ends of the floor, it's also been relieving that he hasn't sacrificed any athleticism or mobility for it, still being all the athlete he was two years ago.
On the offensive end, Dieng's game is still a work in progress, and some of his numbers actually took a step back this season in response to his larger workload. His increased touches and scoring opportunities led to his field-goal percentage dropping significantly from 61.8% to 52.5%, and his issues with touch and at time even his hands have become more apparent around the basket.
Dieng is at his best offensively in the pick-and-roll game, where his great size and excellent mobility often allow him to get open with a head of steam going to the basket. He finishes with authority and is continually improving here, something that will certainly be attractive projecting to the highly pick-and-roll oriented NBA.
Dieng shows more troubles in other situations, specifically finishing on cuts in crowded areas, where he doesn't always deal with increased defensive attention well. He doesn't have much ability to put the ball on the floor and can get into trouble bringing the ball down low before going up for a finish, which can lead him into compromised positions where he isn't capable of putting up consistently high efficiency shots. Still, by virtue of his tools, he remains a good finisher overall, capable of scoring with finesse or power around the basket, but has significantly more potential if he cleans up his rough edges.
Dieng's back-to-the-basket game is another work in progress, as he shows flashes of effective hook shots, turnaround jumpers, and lay-ups, but is still inconsistent with his touch, specifically when he gets farther away from the basket. His mid-range jumper is less impressive, as he made just 11 of 31 attempts on the season according to Synergy Sports Technology, but he did see a noticeable bump in his FT% from 53.8% to 67.6%, which could translate to live action this season.
While Dieng's scoring abilities are coming along slowly in most areas, he actually has a surprisingly good feel for the game for a player with his background at his stage of development, and he consistently finds ways to contribute offensively when he isn't putting the ball in the basket. Constantly moving off the ball, especially when shots go up, Dieng does a good job moving in the offense and getting open while being a huge asset on the offensive glass. Dieng uses his size, mobility, and incredible length very well to track down offensive rebounds, showing a very strong nose for the ball. He also has developed into a subtly good passer in the flow of the offense, serving as a useful cog with the ball, especially from the high post.
The defensive end is where Dieng really makes his impact, however, and where he made significant strides as a sophomore. While Dieng's blocks per pace adjusted 40 minutes fell this past season, so too did his personal fouls, allowing him to play a very impressive 32.8 minutes per game for a defensive-oriented big. His overall defense didn't take a hit either, as he actually improved in most areas and allowed him to anchor the #1 ranked defense in the country according to kenpom.com.
Dieng was already a threatening team defender as a freshman by virtue of his shot-blocking prowess, but he really took his man-to-man defense to the next level as a sophomore, both in the post and on the perimeter. Down low, Dieng's added strength and improved fundamental base allowed him to more easily stay in front of and contest opponents, though he still relies heavily on his outstretched length to contest shots. His improvements on the perimeter were perhaps even more decisive, specifically in the pick-and-roll game where he has an incredibly unique combination of tools. Dieng's combination of mobility, size, length, and change-of-direction ability make him a menace shutting down pick-and-rolls, specifically with his ability to block shots from behind on drives in the lane.
Looking forward, Dieng clearly made some excellent overall strides as a sophomore, but the drop-off in his scoring efficiency around the basket is concerning. His combination of defense, rebounding, and pick-and-roll prowess already make him an intriguing prospect from an NBA perspective, though he can certainly take his game to the next level by continuing to get stronger, developing a reliable mid-range jumper, or becoming a more consistent finisher around the basket, all of which is well within his reach.
Turning 23 this January, Dieng is significantly older than most of the juniors in his class, which may increase the pressure on him to leave school a year early if he has a strong year. It will be interesting to see how much more he's able to improve this season, as it's not out of the question that his learning curve is much different than most Americans his age considering his
unique background
, having only arrived in the US in 2009 weighing 187 pounds.
#4, Rakeem Christmas, 6'9, Sophomore, Center, Syracuse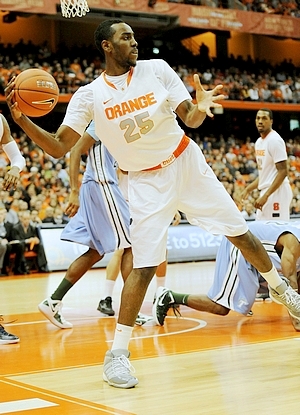 Matt Williams
A McDonald's All-American and consensus top-25 recruit coming out of the Academy of the New Church in Pennsylvania, Rakeem Christmas played a fairly small role for the Orange as a freshman. Plugged into the middle of Jim Boeheim's zone for 11.5 minutes per-game, the 6'9 post struggled with foul trouble, but showed promise in a number of areas. With Fab Melo moving on to the NBA, Christmas will compete with junior Baye Moussa-Keita and incoming freshman DeJuan Coleman for minutes in the post for one of the nation's most talented teams.
Standing 6'9 with a 7'3 wingspan, Christmas has good dimensions for a power forward, but functioned primarily as a center last season. A very good athlete with a frame that has terrific potential to carry more muscle, Christmas, at the very least, passes the look test. As he evolves as an offensive threat, he could emerge as a more viable prospect at the power forward position, which he'll likely need to in time.
At this point, Christmas's offensive arsenal is mostly limited to catch and finish opportunities. Able to play above the rim effortlessly in space, the freshman shot 62% at the rim in his first year of college basketball. Benefitting from the versatility of Syracuse's deep, experienced back court, Christmas still needs to improve his touch around the rim to help him finish under defensive pressure and has plenty of room to expand his versatility and role for the Orange.
Christmas also has ample room to improve his overall skill level. He was, for all intents and purposes, never asked to create his own shot or make plays away from the rim. He did not attempt a single jump shot last season according to Synergy Sports Technology and lacked the polish to score with any consistency in post-up situations on either block. If Christmas is to reach his full potential, he'll need to find a way to contribute in back to the basket situations and become a more competent player away from the rim.
Christmas's best contributions came on the defensive end. Averaging a solid 10.3 rebounds and 2.9 blocked shots per-40 minutes pace adjusted, Christmas had some nice moments patrolling the paint last season, thanks to his terrific physical tools. Lacking discipline, seldom staying on the floor when encountering a pump-fake, and still clearly uncomfortable defending away from the rim, Christmas will have to become a more active, fundamentally sound defender to make the most of his abilities on this end of the floor. Perpetually in foul trouble, Christmas's ability to hold his own and be physical without fouling in the center of the Orange zone could be the biggest factor in his playing time this season.
Still in the early stages of his development, Christmas is a raw but intriguing long-term prospect thanks to his tremendous length and athleticism. If he's able to show significant development in a few key areas as a sophomore, he could gain some traction among scouts this season, but ultimately may end up needed more seasoning.
#5, Jerian Grant, 6-5, Redshirt Sophomore, Shooting Guard, Notre Dame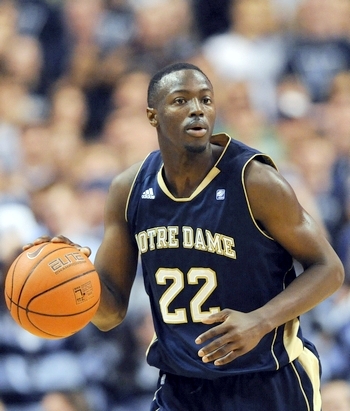 Jonathan Givony
After redshirting his first year to preserve a year of eligibility amongst a crowded Notre Dame backcourt, Jerian Grant hit the ground running, being named to the Big East's all-rookie team last season. Grant posted a sparkling near 3/1 assist to turnover ratio in his redshirt freshman season, while leading Notre Dame to a surprise 13-5 record and a third place finish in the Big East.
Now with a full season of experience underneath his belt, and plenty of talent alongside him, Grant will be expected to take the next step in his development and possibly help Notre Dame finally get out of the first weekend of the NCAA tournament for the first time in a decade.
Grant's main virtues as a NBA prospect revolve around his high basketball IQ and ability to create offense for teammates. Seeing time as both the primary and secondary ball-handler in Notre Dame's slow-tempo offense, Grant is a very intelligent passer who does a good job operating patiently out of the pick and roll. He finds teammates unselfishly and creatively with post-entry passes and on drive and kick plays, racking up an impressive number of assists (5.8 per-40p) as a freshman relative to his turnover rate (2.1 per-40p).
Also a solid outside shooter, Grant shows good mechanics on his jumper knocking down nearly two 3-pointers per game last season. At the moment he's significantly better in catch and shoot (36%) situations than he is off the dribble (25%), but he shows potential with both, something he can continue to harness to further solidify his pro prospects moving forward.
Where Grant must improve if he's to develop into a legitimate NBA prospect is as a scorer inside the arc. Half of his field goal attempts came from beyond the 3-point line, and he was only able to convert a paltry 41% of his 2-pointers last season. Possessing a narrow frame, and average explosiveness, Grant really struggles finishing in traffic inside the paint, not doing a great job creating contact or getting to the free throw line. He prefers to drive primarily left when attacking the basket, but isn't very proficient with his left hand finishing around the rim, which makes it easier for defenses to contest his shots.
Defensively, Grant shows nice potential with his solid size and length, particularly if he's able to get stronger as his career progresses. Asked to spend time guarding both backcourt positions, he moves his feet well here, usually putting a solid effort in, despite playing 36 minutes per game last season. He does a nice job contesting opponents' shots with his long wingspan, and gets plenty of steals in turn. He has some problems at times fighting through screens, but should be able to develop into a fairly versatile option here in time.
Having just turned 20 years old, it will be interesting to see what type of season Grant can put together building off his very promising freshman campaign. The son of former NBA player Harvey Grant and nephew of Horace, Jerian has the right makeup to have a solid career at the pro level if he continues to develop both physically and skill-wise.