We take a look forward at this week's TV schedule to pick out the games and NBA prospects we'll be watching intently this coming week.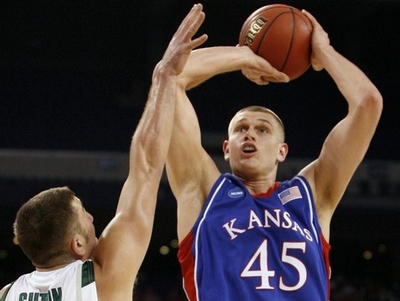 Marquee Matchups:
#2 Villanova at #6 West Virginia
(Monday, February 8th: 7 p.m. on ESPN)
After being outplayed by Georgetown, Villanova needs to have a good showing against 19-3 West Virginia in this battle of top-10 ranked Big East titans. Scouts will be watching West Virginia combo-forward
Devin Ebanks
, who could use a standout performance to show scouts that he belongs in lottery discussions.
The same goes for
Scottie Reynolds
, Villanova's point guard, who has to find a way to score against West Virginia's perimeter defense and show NBA teams that he's a legit prospect.
This is also a good chance to catch West Virginia big man
Deniz Kilicli
, who has played just one game thus far for the Mountaineers, but might emerge as a prospect down the road, and fellow frontcourt mates Da'Sean Butler and
Kevin Jones
.
#1 Kansas at #10 Texas
(Monday, February 8th: 9 p.m. on ESPN)
There are no shortages of storylines in this matchup between the Big 12's best. Texas did not have a great January and after falling to Oklahoma, desperately needs to right the ship in order to catch up to Kansas at the top of the Big 12.
In terms of NBA prospects, this is by far the top match up of the week and the only chance to see these two teams face off this season, unless they meet in the Big 12 conference tournament.
In the middle is Kansas's
Cole Aldrich
and Texas's
Dexter Pittman
. Aldrich needs to continue to be assertive and absolutely must have a big game against Pittman, who's draft stock has plummeted, but nonetheless remains interesting to scouts and is desperately in need of a break out performance.
Combo-forward
Damion James
, whose consistent play is earning him added respect in draft circles, faces off against the Morris twins, most notably
Marcus Morris
, who is averaging 16.6 points per game in 2010 and is a prospect in his own right.
On the perimeter, Texas's guards will have the unenviable assignment of shutting down one of the more lethal perimeter offenses in the NCAA, the three-guard attack comprised of
Sherron Collins
,
Tyshawn Taylor
and
Xavier Henry
. Henry has not scored in double digits in his last five games and is 15/50 from beyond the arc in his last ten. He must prove that he is more than a one-dimensional player.
Finally, Texas's freshman phenoms
Avery Bradley
and
Jordan Hamilton
need to show more consistency against top-flight talent, and this should be the perfect opportunity.
#14 Tennessee at #20 Vanderbilt
(Tuesday, February 9th: 7 p.m. on ESPN)
This is one of the SEC's deepest rivalries and with both Tennessee and Vanderbilt locked in a tie for second in the SEC East, this should be an excellent game.
On the perimeter, be sure to catch Vanderbilt swingman
Jeff Taylor
, an athletic slasher who is not having a great season but is almost surely a top prospect if he can convince scouts that he can shoot from beyond the arc. Taylor will face off against
Scotty Hopson
, Tennessee's enigmatic sophomore shooting guard who has the size and shooting touch for the NBA, but lacks the consistency and killer instinct that many believe is necessary for him to succeed at the next level.
In the post, Tennessee's sweet-shooting big man
Wayne Chism
, fresh off of a 30-point performance against South Carolina, is looking to improve his draft stock and prove that he can play a role at the next level on both sides of the ball. He will have his hands full with Vanderbilt's A.J. Ogilvy, one of the SEC's most fundamental big men and a potential draft pick in his own right in need of a big showing.
Connecticut at Syracuse
(Wednesday, February 10th: 7 p.m. on ESPN)
This is always a great match up, but this year, Connecticut will be fighting Syracuse to keep their NCAA Tournament hopes alive.
From an NBA Draft perspective, this game features one of the best matchups of the year, between star forwards and projected lottery picks
Wesley Johnson
of Syracuse and
Stanley Robinson
of Connecticut. Both players have far exceeded expectations this season and scouts will be watching to see who comes out on top.
Elsewhere, Connecticut's backcourt of
Kemba Walker
and
Jerome Dyson
, not to mention their
Gavin Edwards
and
Alex Oriakhi
-anchored frontcourt, are worth a look, as well.
Duke at North Carolina
(Wednesday, February 10th: 9 p.m. on ESPN)
North Carolina may be playing their way out of an NCAA Tournament bid, but a win against 19-4 Duke would go a long way in changing that perception.
There are quite a few interesting prospects in this game, but North Carolina center
Ed Davis
and Duke combo-forward
Kyle Singler
are the two most immediate to evaluate. Davis has been hampered by injury, but his production and overall effectiveness have waned since the beginning of the season. Scouts want to see him play more assertively on the offensive end and find a way to contribute despite the Tar Heels' youth and inexperience on the perimeter.
Kyle Singler
had a tremendous game against Georgia Tech, the peak of an otherwise underwhelming season, to the tune of 30 points on 8/10 shooting from beyond the arc, but fell back down to earth with a 12 point, three rebound game at Boston College. He must prove that he can consistently knock down perimeter jump shots in addition to scoring efficiently within Duke's offense before he is considered a first round lock.
In addition, Duke's guards continue to impress as well, and
Nolan Smith
and
Jon Scheyer
have emerged as the ACC's best backcourt. Both need to exploit North Carolina's defensive shortcomings and have great performances in this high profile match up to remain relevant in scouts' minds. So, too, does
Deon Thompson
, the North Carolina big man whose stock has fallen consistently since the beginning of the season.
Mason Plumlee
is a sleeper prospect to keep in mind for the future.
Oklahoma at Oklahoma State
(Saturday, February 13th: 2 p.m. on ESPN)
The Bedlam series returns and promises yet another thriller. Though
Willie Warren
is struggling through an ankle injury that limited his playing time in the upset against Texas and is continuing to have a nightmare of a season, he and freshman point guard
Tommy Mason-Griffin
are a deadly pair who could give Oklahoma State fits on the defensive end. More interesting perhaps is
James Anderson
, Oklahoma State's 6'6 sweet-shooting swingman, whose stock is gradually rising as he continues to dominate offensively. As always, however, scouts will be watching to see if he can prove wrong claims that he is one-dimensional and expand his scoring arsenal.
Georgia Tech at Wake Forest
(Saturday, February 13th: 8 p.m. on ESPN Full Court)
While Georgia Tech easily defeated Wake Forest the last time these two teams met, lightning rarely strikes the same place twice: especially in the ACC. Once more, the key matchup in this game is in the post, as Georgia Tech's lethal frontcourt duo,
Derrick Favors
and
Gani Lawal
, face off against Wake Forest combo-forward
Al-Farouq Aminu
, who must snap out of his recent slump and continue to show scouts better decision making alongside his versatile offensive game. Do not miss a rare second match up between projected top-five picks.
Also worth watching is the point guard duel between Wake Forest's
Ishmael Smith
and Georgia Tech's
Iman Shumpert
. Both players have glaring weaknesses, but are still of interest amongst scouts, Shumpert in particular.
Under The Radar:
Virginia Commonwealth at George Mason
(Tuesday, February 9th: 9 p.m. on ESPNU)
VCU shot-blocking center
Larry Sanders
does not face many quality big men in the CAA, but George Mason features one of the league's best frontcourts. He must continue to show scouts better instincts on the offensive end, including shot selection and awareness in the post. On defense, he must continue to block shots while proving that he can guard big men inside and outside of the post.
Morehead State at Eastern Illinois
(Thursday, February 11th: 9 p.m. on ESPNU)
Kenneth Faried
may be the most underrated player in the country, averaging 17.2 points, 13.7 rebounds, 1.7 steals, and 2.0 blocks per game. He is a scrappy, hardworking face-up power forward with the athleticism and toughness to play in the NBA. Do not miss this opportunity to catch Faried on national television as Morehead State attempts to inch closer to Murray State at the top of the Ohio Valley Conference. Making an NCAA tournament appearance will be a big key to Faried's draft stock, so his team cannot afford to slip up on the road. Can Eastern Illinois keep him off the glass?
St. Mary's at Gonzaga
(Thursday, February 11th: 11 p.m. on ESPN)
While Gonzaga point guard
Matt Bouldin
and power forward
Elias Harris
are the two best prospects in this game and hold scouts' interest whenever they step on the floor, the WCC's premier grudge match's most interesting matchup may be in the post.
St. Mary's stalwart senior center
Omar Samhan
has shown improvements that have distinguished him as a legitimate NBA prospect this season. Already averaging 21.7 points, 11.1 rebounds, and three blocks per game, he must have a big game against Gonzaga's
Robert Sacre
, the type of long big man that has given Samhan trouble in the past. Sacre is much improved this year, and is looking to gain momentum with a dominant performance on both ends of the floor in this heated match up.
Also, do not miss the chance to see St. Mary's freshman combo-guard
Matthew Dellavedova
, who has slowed down a bit recently, but is still on NBA radars thanks to his size, versatility, and skill.