Rudy Fernandez, 6-6, Shooting Guard, DKV Joventut, 1985
20.3 points, 3.2 rebounds, 4.5 assists, 1.6 turnovers, 2 steals, 47% FG, 39% 3P, 95% FT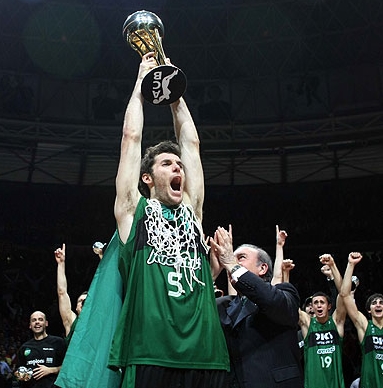 Luis Fernandez
This Copa del Rey has just confirmed that
Rudy Fernandez
is head and shoulders above any other player in the ACB League, and one of the very top performers across Europe. He has blossomed this season into a massive scorer and a nightmare for opposing defenses, particularly relying on a fantastic shooting touch that allows him to put the ball in the net from anywhere on the court. He always had showed a nice stroke whenever he was left open, but this season he's especially standing out by his ability to create his own shot (
a la Belinelli
, but the Spaniard actually makes them), being able to connect on some pretty wild jumpers.
You just can't concede Rudy any opportunity, because he will bury you with a barrage of shots in the blink of an eye. Enjoying NBA range, effective off the dribble and even fade-away moves, and extremely quick with the release of the ball, the only way to stop Fernández is to make him pay for his relatively limited ball-handling skills, especially with his left, and slashing ability. Indeed, Rudy struggles in pure one-on-one situations if he's pressured, as it was exposed particularly in the semifinal. Suffering against aggressive on-ball defenses, he struggled trying to get rid of his opponent off the dribble, and given his prominence in Joventut's offense, it almost cost his team the game.
Rudy needs to be already in motion or to enjoy some kind of advantage (a screen, an unbalanced defense, a mismatch) in order to break that first defensive opposition—but once he manages it, he's extremely difficult to stop, thanks to his long strides, good footwork, and crafty finishing ability around the rim. He doesn't need to find the layup, as he can stop somewhere in the paint to release his mid-range jumper while hanging in the air. He delivered a lot of that stuff in the final, paving his way to an outstanding 32-point outing that crowned his MVP performance in the Copa.
Having a nice feel for the game (even if he might eventually force too much trying to create his own shot, as it happened in the semifinal), Rudy can also officiate as a creator for his teammates thanks to his passing game. He sees the court pretty well, and shows a quick mind to take decisions. He did nice work here in the quarterfinal game, throwing some excellent passes, including consecutive alley-oop lobs, which fueled the spectacular aggressive and up-tempo style that Joventut likes to put in practice. He outdid himself in the semifinal, though, coming up with 9 assists to make Real Madrid pay for the defensive attention he was receiving.
Defense doesn't look like a high priority for Rudy at this point. He's not the most aggressive on-ball defender, and he's not putting much energy into stopping his matchups. Enjoying a much larger offensive role this year, he's probably saving some efforts. He's a skinny guy who might get eventually outmuscled, but his length and quickness make up for it whenever he's focused on this department. He fully takes part in the intense gambling style of defense that his team employs, staying aggressive in the passing lanes at all times to come up with a large amount of steals each game. Joventut is by a huge margin the team with the best steal/turnover ratio in the ACB league, and Rudy replicates this trend by coming up with more steals than turnovers during the regular season. However, in this Copa he caused 13 turnovers, with only 3 steals to speak of.
Already one of the very top players in Europe, Rudy seems more than ready to take the next step to the NBA. Even if he settled down as a shooting specialist (and he's capable of playing a significantly bigger role), he should emerge as a valuable piece for the Portland Trail Blazers.
Tiago Splitter, 7-0, Center, Tau Vitoria, 1985
13.7 points, 5.6 rebounds, 1.2 assists, 1.6 turnovers, 1.4 steals, .7 blocks, 63% FG, 64% FT, 26 minutes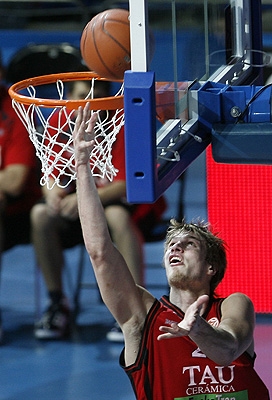 Luis Fernandez
The Brazilian center has emerged as arguably the most important player in Tau's run to the final of this Copa. It's not really surprising, because Tiago is delivering an excellent season, having become the low-post reference for the team since the departure of
Luis Scola
, while continuing to stand out on the defensive end.
His offensive production revolves mostly around the low block, spiced up with continuations towards the basket after pick-and-roll plays. If there's a skill he has consistently developed since he started to play for Tau, it's his low-post game. He keeps gaining confidence there, looking tougher when it comes to banging and staying physical with his defender, needing less space to perform his moves, while his jump-hook has gained some arc to easier avoid his opponents. His footwork is still not particularly refined, and he relies on simple moves to cash in off his soft touch around the rim. His jump-hook is a rather particular one, as it looks like something in between a hook and an actual one-handed shot. Indeed, he also uses it to finish some continuations, particularly when a defender is on his way to the basket, showing range out to around 10 feet. Anyway, he still struggles finishing against very big opponents, and the very long Fred Weis put him in real trouble in the semifinal.
Looking pretty motivated in the Copa, Tiago tried to take slower opponents off the dribble a few times, particularly searching for the baseline from mid-range distances, and forcing fouls in the process. He also tried to finish with some powerful dunks, although his opponents preferred to, again, foul him. He emerged as the defensive anchor on his team (even explicitly recognized as such by Bilbao players after the semifinal), showing excellent positioning both on his match-up and in team rotations, effectively using his length in the low post, and his mobility to prevent anybody from taking him off the dribble.
Splitter is ready to take the next step to playing with the San Antonio Spurs. Of course, he could definitely use a jumper (also more accuracy from the free-throw line), but that's apparently a lost cause. Still, he can be a very useful complementary big guy in the NBA on both ends of the court, even capable of consistently generating points by himself near the basket.
Marc Gasol, 7-1, Center, Aksavayu Girona, 1985
16.1 points, 7.8 rebounds, 1.8 assists, 1.9 turnovers, 1.3 steals, 1.3 blocks, 62% FG, 71% FT, 42% 3P, 33 minutes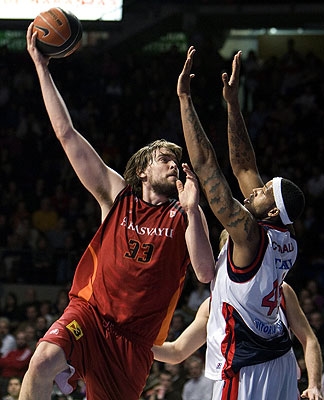 Luis Fernandez
The current leader in efficiency rating in the ACB League,
Marc Gasol
has built a pretty mistake-free style of game that helps him to emerge as a statistical standout. He's long, very strong, nicely skilled, and very smart playing the game. A menace in the low post, he shows solid footwork, a decent jump-hook and a very nice turnaround jumper. Indeed his shooting range extends out to the three-point line, while he greatly combines his scoring power with his passing game, not really looking for definitive passes, but feeding his team's offensive flow by distributing the ball from both the high and low post.
In spite of all that, his nice effort in the quarterfinal game wasn't enough for Akasvayu Girona to overcome an extremely solid Real Madrid team. Despite being regularly double-teamed, Gasol managed to amass 19 points, most of them coming off continuations towards the basket, and other off-ball stuff near the rim. The attention he delivered from Real Madrid defense didn't allow him to produce much in one-on-one plays in the low post, but he still connected on two thunderous one-handed dunks from there, one of them after capturing the baseline with an excellent spin move where he showed nice footspeed.
However, Gasol's great statistical production doesn't always necessarily reflect a dominating performance on the floor. Indeed, it didn't in this Copa. He wasn't really a go-to guy for Girona on the offensive end (mainly because of Real Madrid's double-teaming defense, that's true), but especially he doesn't make a great impact on the defensive end. His limited mobility gets exploited in pick-and-roll situations that the opponents throw at him; he's not a great intimidator, he allows smaller opponents to shoot over him; and given his superb size, he's not the best rebounder around.
Still, Pau's younger brother is one of the most promising centers in Europe, and probably an underrated piece -by the American media- in the recent blockbuster trade that involved both brothers. Anyway, he doesn't seem to fit too well with the current Memphis Grizzlies game style, but he might be a nice asset to work in a trade in the near future.
Axel Hervelle, 6-8, Power Forward, Real Madrid, 1984
8.8 points, 4.9 rebounds, .9 assists, 1.4 turnovers, .8 blocks, .6 steals, 55% FG, 74% FT, 33% 3P, 21 minutes
Jonathan Givony
The Denver Nuggets' second round pick out of Belgium in 2005 had a very nice showing here at the Copa del Rey, looking like he's continuing to make strides in various parts of his game, to the point that he might be ready to make the jump over to the NBA as early as this upcoming summer.
An undersized power forward in the
Eduardo Najera
mold, Hervelle isn't the most talented player you'll find around, but he's definitely a very useful guy to have. 6-8, with long arms, excellent hands and reasonably good athleticism, Hervelle gets most of his production through sheer hustle, whether it's running the floor, grabbing offensive rebounds, setting excellent screens, and being very physical and aggressive on both ends of the floor. He plays solid team defense, showing nice awareness in this area and even being capable of blocking a shot on occasion. His skill level seems to be getting better as well, showing a nice stroke from mid-range and behind the arc, and the ability to take advantage of spaces to put the ball on the floor if the situation calls for it. He's also a good passer, and seems to keep his mistakes to a minimum, which further helps his cause as your consummate glue-guy that every team needs at least one of.
The problem for Hervelle is that the Nuggets already have not one, but two players at his position who somewhat overlap with what he brings to the table as far as size, physical tools and skills are concerned—Eddie Najera and
Linas Kleiza
(even if they differ in various areas as well). For that reason, it might be hard to justify bringing in a third player in that mold. It's a good problem to have, though, and considering is his age and how much Najera makes, it might make sense to bring in Hervelle soon and start grooming him to take over that role soon.
Ersan Ilyasova, 6-9, SF/PF, Barcelona, 1987
3.8 points, 2.7 rebounds, .3 assists, .8 turnovers, 39% FG, 32% 3P, 12 minutes
Luis Fernandez
Nobody could expect anything but a transition season in Ilyasova's comeback to the Old Continent. He's a young guy, fairly inexperienced, stuck in an extremely demanding team in Europe (a top-4 squad in terms of budget) where he's asked to be efficient and consistent, something that is very difficult for a still immature guy like him. To make matters worse, he's likely among the ten highest paid players in all of Europe, which doesn't help ease the expectations from him.

Having started the season as a small forward, he's playing every day more as a power forward, where he can feel more comfortable exploiting his superior perimeter skills and athleticism against frontcourt players. He's big and strong enough to challenge opposing power forwards on defense, and his just-decent lateral quickness doesn't get exploited as much by the small threes you often see in Europe. It also makes sense because he's limiting his game to face-up perimeter options, trying to cash in off his three-point stroke (that is looking really inconsistent), although struggling to effectively put the ball on the floor and drive past his opponents (he's lacking some aggressiveness in this department and he's very often called for travelling on the first step). Anyway, he couldn't show anything in the Copa, having played only 3 minutes. He just received the ball in a continuation on play, but delivered a bad pass that ended up in a turnover.

He's a guy with potential for sure, but he needs time. Unfortunately for Barcelona, he might end up becoming a useful player just when his fat contract runs up (apparently in 2009). His NBA rights are still owned by Milwaukee, but that seems like a very distant option at the moment.
Fran Vazquez, 6-10, PF/C, Barcelona, 1983
4.9 points, 1.9 rebounds, .4 assists, .8 turnovers, .8 blocks, 47% FG, 67% FT, 14 minutes
Luis Fernandez
It seems pretty likely that F.C.Barcelona wouldn't mind parting ways with
Fran Vazquez
and his monstrous contract if he weren't Spanish and there wasn't any quota requirement to meet in the ACB League (5 Spanish guys per team). He's certainly playing that bad.
Vazquez has never been able to come close to his last season in Málaga, where he was surrounded and supported by a bunch of excellent team players (like
Jorge Garbajosa
) with a very structured game put in place by coach Scariolo. His style was greatly facilitated, getting regular open looks near the basket to exploit his dunking abilities, and in the mid-range distances to take advantage of his jumper.
Meanwhile, in Barcelona he seems pretty lost, exposing his great limitations in terms of basketball IQ, and nothing seems to point towards him finding himself anytime soon. His performance at the Copa was no different, as he was only able to add two points through a dunk.
Stanko Barac, 7-1, Center, Pamesa Valencia, 1986
7 points, 4.5 rebounds, 1.1 assists, 1.2 turnovers, 1.1 blocks, 51% FG, 30% 3P, 65% FT, 19 minutes
Luis Fernandez
Not being very healthy, Barac could only play a couple of minutes that went completely unnoticed. It's a pity, because he had been delivering quite a consistent season, which actually comes as a bit of a surprise. Brought to Spain from the Balkans by Tau Vitoria, the Basque team always had the intention to loan him ever since signing him. The surprise came when Pamesa Valencia emerged as the final destination for the Croatian, as they are an upper-class team in the ACB League, not that far away from Tau itself.

Still, Barac soon worked his way into the team's rotation by delivering solid outings. Although quite limited in terms of athleticism and still in need of gaining strength (which will greatly help him to become a more dangerous player in the low post), Barac is really big and he's making a productive living off of his sweet touch from mid-range distances, while he shows nice understanding of the game. He's a guy to closely follow his development in the future.