I just got done playing my fourth year in NBA summer league, which makes me a veteran huh? One thing NBA General Managers, Scouts, European teams, and others that pay close attention to summer league would say that I improve each and every year. My main goal is to keep being consistent and keep getting better year after year. That's part of my GRIND to be the best I can be. To go along with God's power and protection, I know everything shall be great.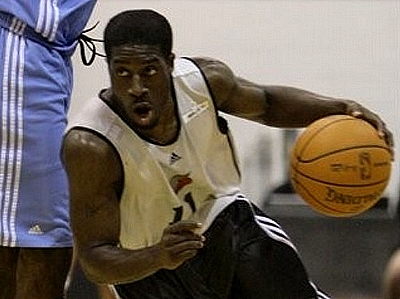 If you didn't know this already, the Lord works in mysterious way. I gave a commitment to the Portland Trailblazers after my season ended in Spain to play on their summer league team in Las Vegas. They told my agent Andre Buck that
Jerryd Bayless
and I will be the main point guards on the team.
On draft night, they traded
Sergio Rodriguez
which was good for my chances of making their roster, because most NBA teams usually carry three point guards. But in the late second round, they drafted
Patrick Mills
, who was surprisingly available at that pick. Now Portland had three point guards on their roster and I knew going into summer league that they had to play Bayless, who is guaranteed on the roster, and Mills that was a draft pick at my position. Buck tried to find another team, but everybody was packed. So I had a discussion with my parents and agent, and we decided to go Portland anyway and see what happens.
During the first day of the Trail Blazers' minicamp before summer league, I had to sit out both practices because my paperwork with the international basketball clearinghouse didn't come in yet. So I had to watch my teammates go through a series of scrimmages, drills and workouts. Since I couldn't play the first day, I just had to make the most of it, so I was over there watching, talking to coach (Nate) McMillan and the other coaches, and trying to learn the system. Even though I couldn't play that day, I tried to make the best out of the situation.
During the second practice of the first day, Patty Mills unfortunately broke his foot, which gave me more of the opportunity to show the Blazers and other teams in the NBA how much I improved from last summer. The injury ended Mills' summer league (please pray for him) but created a chance for me to take on a role as a backup to point guard
Jerryd Bayless
. The next day my paperwork came in and I was able to show the Blazers organization that I have improved on my point guard skills since my days at University of Portland. You have to remember, I wasn't really on the NBA radar when I was playing for University of Portland from 2002-2006. The only team that was really watching me were the Portland Trailblazers.
Like I told you in my last blog, I always had good summer league experiences ever since my first one in Vegas. 2006 and 2007 with the Sacramento Kings in Vegas, 2007 with San Antonio in the Rocky Mountain Revue in Utah, 2008 with Minnesota Timberwolves, and this summer with the Portland Trailblazers. Statistically, I was productive every year, but this year was the best by far. I averaged 12.6 points and 4.6 assists in five games. I came off the bench the first three games and started the last two. We played against Toronto (Roko Ukic and
Quincy Douby
), Houston (
Will Conroy
and
Mike Green
), Denver (
Ty Lawson
and
Dontaye Draper
), San Antonio (
George Hill
and
Jack McClinton
), and the NBA D-League Select (
Curtis Stinson
). My best games were against Houston (15 points and 6 assists all in the second half), Denver (15 points and 5 assists), and the Spurs (19 points and 4 assists). I also had 8 assists against the D-League Select team.
Checkout the video that we put together at DraftExpress. It came out pretty good I thought. Hope you enjoy.
It's good to have people supporting you to make your dreams and goals come true. Portland video coordinator Tim Grass (thanks Tim) sent me game films from both the Portland network and NBATV. Commentators from both parties were saying great things about me and I appreciate that. During the game when we played against the Spurs, NBATV commentators Rick Kamla and
Antonio Harvey
said they were going to start a website called getpoohintheleague.com with my performance against the Spurs guards. Those two have seen my growth since I started my pro career three years ago, and just want to thank them both for their comments.
Since summer league, I took a week off and got back to work. With the same schedule, 6 am conditioning (running the sand and hills at Kenneth Hahn Park), lifting, working out, playing open gym at the HAX, and watching film on Synergy Sports Technology. I would have to say that the runs at the HAX were the best runs in LA this summer. I know people at UCLA would probably be mad at me for that comment, but its all love.
Watching film to me is the most important because you can learn so much from your game film or watching others play at your position. These last two years in Europe, I've been studying players like
Chris Paul
,
Steve Nash
,
Deron Williams
, Ba
ron Davis
,
Jameer Nelson
, and many more on how to make the game easy. Synergy is the best…
I went to Philly for a couple days to visit my agency, workout with
Tyreke Evans
' brother (who's also named Pooh), visit my bro DeSean Jackson (#10 for Philadelphia Eagles), and play in the Rankin Anderson Pro Am against
Kyle Lowry
and
Alvin Williams
' (assistant for the Raptors) team. We lost to them by six but I finished the game with 26 points and 6 assists. Shoutout to everybody in Philly for showing me love out there. After I left Philly, I went to San Antonio to workout with the Spurs for about a week, and I'm currently in Cleveland working out with the Cavs.
I feel I'm doing what I'm supposed to be doing to be the best I can be. Sometimes the process can be frustrating and confusing, but I must stay focused, be positive, and keep proving people wrong. These last three years of my pro career, I have been one of the best point guards each year from playing in the D-League, the ULEB cup (now called Eurocup), and the ACB league in Spain. I love what I'm built like. Things can only get better. I wouldn't trade what God put inside me for nooo money. I've been through a lot things and I love every part of my GRIND.
Before I take full credit, or get full credit, I just want to say "Thank you Lord". Thank you lord for the ability, the armor that protects me during the challenges, the drive, and the opportunities that have been presented to me. I feel God is doing his part, I just need to continue to do my part.
So the question now is, what's next? Right now I'm getting ready to go to training camp with an NBA team. These last two years, I've been invited to training camps, but I didn't go because I wasn't getting any type of guaranteed money, so I went to Europe for the financial security. After a good season in the ACB and summer league in Vegas, I feel it's a good time to go to training camp and my goal is to make a roster. I'm also still hearing from European teams, so we shall see how things turn out...
I don't know what God has planned for me this coming season, I just know that I have to stay ready. I ask that you keep my family and I in your prayers in this ROAD TO VICTORY. Speaking of my family, my sister Carmelita Jeter is #1 in USA and #3 overall in the World in the 100 meter dash. Since the world games in Berlin, she is 3 and 0 against the same women who ran in Berlin. So does that make her #1 overall? She just ran a 10.67 in Greece. WHOAAA (Joey from Blossom).
A lot of people ask me who is faster between my sister and I, and my answer to all your questions is ME OF COURSE. Hahahaha. But really, I don't know. We haven't raced in years. We will do a competition with/without a basketball to see who's faster and post it on Youtube. Don't forget the Green Division motto: Get money or Get lost, WE ON!!
GRACE, PEACE, AND BLESSINGS TO YOU AND YOUR FAMILY. REMEMBER TO KEEP GOD FIRST AND EVERYTHING ELSE WILL FOLLOW. TRUE STORY.