After a sophomore season that saw him emerge as one of the top point guards in the country and one of the SEC's elite all around players, it wasn't a surprise when Florida's
Nick Calathes
decided to test the NBA waters. The Florida native led the Gators in scoring, assists, steals and was third in rebounds despite spending the overwhelming majority of his time on the perimeter. Behind their stellar floor general Florida made a run to the NIT Championship game where they eventually fell to Penn State.
Since the season ended in March, Calathes has been training at IMG Academy about three hours away from the University of Florida. His intense schedule includes more than four hours of daily work spread out over two basketball workouts and weight lifting session, all with the hopes of having him in the best shape possible before beginning individual workouts.
Calathes was nice enough to take some time out from his training schedule recently to sit down and discuss the upcoming draft process with DraftExpress.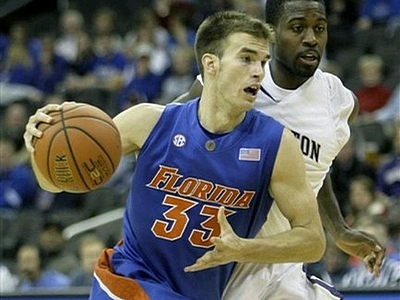 DraftExpress: How have things been working out at IMG?
Nick Calathes
: They've been real good. I started out down here for about two weeks, then I went out to LA for about nine days. Now I'm back here.
DX: What's the daily routine like for you during training?NC:
After breakfast each morning we have a tough workout. It's a lot of running, lots of ball handling, jumping drills and stuff like that. We work on coming off of ball screens and play a lot of three-on-three too. It's just a lot of conditioning and skill work. We're trying to fine tune a lot of the stuff we use in a game; changing speeds and stuff like that. We break for lunch after that before moving onto our second workout. This one is a lot of shooting drills; working on shooting off the dribble and coming off of screens. We finish up the day with a lift at night.
DX: You're getting the chance to train with Earl Clark, DeJuan Blair and Jrue Holiday; how has it been working with those guys?NC:
It's great. I've been with Jrue and Earl everywhere when it comes to training. I think with Jrue, we both help each other out because I'm a different player than he is. We bring different stuff to the table and when we guard each other I think we learn new things. Earl is just so skilled for a big man, and DeJuan, when we do pick and roll stuff it's great working with a big guy like that. I think all of those guys are individuals who bring something different to the table. We're working together to try and play at the next level, so we're helping each other out.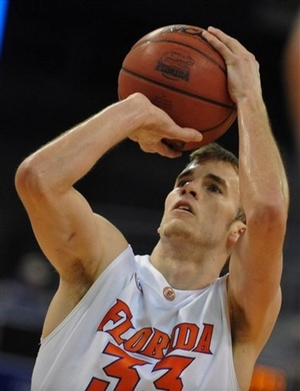 DX: Recently some NBA teams observed you and Jrue during a training session. Which teams were in attendance?NC:
The New Jersey Nets, Trailblazers and Clippers were all there. I didn't really get to talk to them that much afterwards. I just introduced myself and asked what I need to work on, but I didn't really talk to them. We just went through a workout and they came in and watched.
DX: During your time at IMG what aspects of your game are you looking to improve? Where do you feel you need to make the most strides?NC:
I think getting stronger is important; obviously lifting five times a week will help with that. I'm trying to learn different angles and how to guard quicker players better. I'm also working on my shot, getting used to the NBA three, and that's all about repetition.
DX: How much of an advantage is your size (6-5) going to help you as far as your stock as a point guard?NC:
I think it's a huge advantage. I'm probably the tallest point guard in the draft; I can see over the defense and my IQ helps me a lot. It allows me to make my teammates better and I think on the defensive end I can disrupt passing lanes and rebound well. My size also lets me shoot over a lot of players too.
DX: With the elimination of the 5-on-5 scrimmages at the Pre Draft Camp, how are you going to be able to show off your basketball IQ as a point guard in these individual workouts?NC:
I think I bring a different kind of skill. Obviously I play better in 5-on-5 than say in a 1-on-1 game, but I've been working a lot in 2-on-2 and 3-on-3 settings. I think I'll be prepared for that type of an environment at these workouts. As for my other skills, ball-handling, shooting and all that, I'll be at the top of my game because that's what I've been working on for the past month and a half.
DX: With all of the preparation that you've been doing for the draft, how has your relationship with Coach Donovan been? Are you two talking on a regular basis?NC:
Yeah, we talk. Coach Donovan and I have no bad blood at all, he said he is going to help me out and support me with whatever decision I ultimately choose to make. I want to achieve my dream and that dream has always been the NBA. He's talked to me the whole time though and helped me through things and stuff like that. He's been good. It's not like me going against the program or anything like that.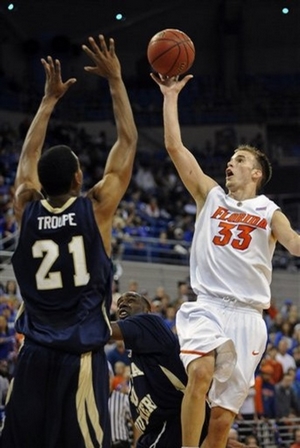 DX: This may be a tough question to answer at this point in the process, but is it a safe statement to say that you will not be back at Florida next season?NC:
I don't know, I really can't say. It is a tough question to answer because I haven't been through any workouts yet. I can tell you right now though; I'll be ready for the workouts. I've been working every day at the gym. But to answer your question, right now I have no idea, I'm just going through the process right now.
DX: Is there a particular style or system that you feel you're more suited to play in at the next level? Do you see yourself as more of an up tempo guy or more of a half court player?NC:
I think I'm an up tempo player because I've played like that my whole life being at Florida and then with my AAU team before that. I think I can change my style though to whatever a team needs me to be. I can slow down and run the half court set, but I think I've always been more of an up tempo player. I can always change though, I'm not one dimensional.