Earl Clark, 6-9, Junior, SF/PF, Louisville
13.1 points, 8.5 rebounds, 3 assists, 3 turnovers, .8 steals, 1.7 blocks, 42% FG, 28% 3P, 68% FT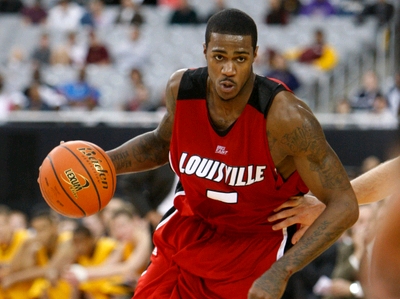 Jonathan Givony
It was at this point last year that
Earl Clark
really began to take off as a prospect, utilizing his outstanding physical tools to help spark Louisville onto a long win streak, and in the process catapulting his firmly name into the NBA draft picture. It wouldn't be a bad idea for Clark to go through a similar type of resurgence right around now, as he doesn't seem to be having the type of year many predicted from him when he announced his intentions to return for his junior season.
Clark's scoring rate is slightly down in fact from last year, as is his efficiency, and not by a small margin. His 2-point percentages have plummeted (from 54.4% to 47.6%) as he's struggled to take on a much bigger role in Louisville's offense, while he's getting to the free throw line less, rebounding worse, getting less steals, picking up less blocks, and committing more turnovers. The only improvements can be found in his 3-point shooting percentages (up from 22.7 to 27.5%), and a big increase in assists, which reflects the role he's inherited from
David Padgett
as one of the team's main facilitators from the high post.
Clark's biggest problem is that he seems to be suffering from somewhat of an identity crisis. He's a power forward at the NCAA level who wants to be a guard, particularly in the way he settles for jump-shots from the perimeter. His jumper is way too streaky for that to be effective, but you regardless see him pulling up for 19-foot fade-aways off his back heel on a regular basis. While he definitely shows a great feel for making plays for others, there is no way around the fact that his shot-selection is extremely poor right now, which only exacerbates his limitations offensively.
Clark's biggest assets—his athleticism and ball-handling skills, aren't quite polished enough to help him get regular production for Louisville. He often looks out of control by the time he gets to the basket—making him fairly turnover prone--and really seems to struggle finishing through contact, trying to get too cute flipping the ball in off the glass, instead of just going up strong and powering the ball through the rim. Rarely do you see Clark finish a play with a dunk, and after watching his film extensively, it's hard not to come away thinking that he lacks a good amount of physical toughness.
The impression you come away with from scouting Clark heavily depends on which day you catch him on. On some nights he looks incredibly active, playing extremely hard, utilizing his athleticism to its fullest, and making very good decisions. On others, he looks completely asleep, disappearing for long stretches and being very passive. Rick Pitino touched on this issue earlier this season without naming Clark specifically: "We've got a lot of guys that have mood swings, and that's why I think we're not reaching our potential right now," Pitino said. "I don't think it has anything to do with basketball, I think it has to do with psychology. That's the unfortunate thing."
With that said, you just can't ignore the tools Clark possesses and the upside he brings to the table. There are very few players in college basketball with his combination of size, athleticism and length, and very few of them can play at the top of their team's full-court press, take a rebound coast to coast, and show the type of court vision Clark does. If the light bulb ever truly comes on for him, he could be a mismatch nightmare for opposing teams, and considering that he just turned 21 a month ago, that obviously isn't out of the question.
As we've discussed in the past, the place that Clark is able to make the biggest impact at the moment is on the defensive end. Big and strong enough to guard handle most NCAA big men on the block, he can absolutely smother smaller players on the perimeter as well with his length, looking very capable of switching on pick and rolls and easily staying in front of his matchup. He tends to lose his focus at times, getting lost off the ball and letting his man blow past him, but he's so athletic that he often has no problem recovering and getting back in time to contest his shot regardless. Even though his rebounding numbers are down a decent amount, he still gets his fair share of boards (just under 10-per 40 pace adjusted) as well as two blocked shots on top of that. Louisville is an amazing defensive team, and Clark plays a big part in that.
Clark is likely to be considered one of the great riddles of this upcoming draft, as it's extremely difficult to project how he will develop over the next few years. He's probably too talented to fall out of the lottery, and with a strong NCAA tournament, could possibly even boost his stock into the top five. He'll need to play for the right coach and in the right organization in order to reach his full potential, but even he probably doesn't know how good he can be down the road.
Jack McClinton, 6-1, Senior, PG/SG, Miami
19.7 points, 3.4 rebounds, 3.1 assists, 2.6 turnovers, 47% FG, 47% 3P, 86% FT, 31.3 minutes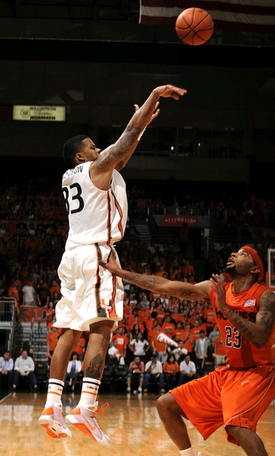 Joey Whelan
We took a look at
Jack McClinton
for the first time before the season began. The scouting report on him was an excellent shooter who does the bulk of his damage from the perimeter and possesses fantastic overall scoring instincts. Two-thirds of the way through his senior year, McClinton's game hasn't undergone any drastic changes, but he has impressively actually improved on his already phenomenal shooting numbers.
As has been previously mentioned, McClinton does not fit the stereotype of a backcourt player destined for the NBA; his scoring prowess is too good to overlook though. He has managed to extend his range even further this season, now several feet behind even the pro line, and somehow his percentages have only improved. The ACC's all time leading three-point shooter, McClinton's deadly textbook touch can beat teams in a variety of ways. The biggest change to his game this year is how he attacks defenders coming off of screens. In the past he would drive and pull up for a mid-range jumper (something he still does regularly and effectively) but this season he is fading behind the screen more often. His quick release allows this to be a dangerous weapon for McClinton, and with his good first step, defenders are now stuck in a difficult position between choosing to play him to drive or risk getting burned from deep.
The amazing thing about McClinton from a shooting standpoint is that no matter the situation he doesn't change his form. His technique stays consistent whether he is catching and shooting, pulling up off the dribble or firing off of a screen. On occasion he will force tough shots that are way beyond his range, but this is to be expected from a player of his makeup.
Despite having good handles and nice quickness, McClinton still isn't a major threat to do a lot of scoring attacking the basket. While he continues to show the ability to take defenders off the dribble, once in the lane he is often too undersized and lacking the necessarily leaping ability to finish amongst taller players. Where these attributes do help him though are in transition, where he is able to use his open floor speed to catch defenses off guard as he slices to the basket. He does show an aggressive mindset when it comes to putting the ball on the floor, and that has continually resulted in a pretty high number of free throw attempts for a player who spends so much time on the perimeter.
Worth noting is the fact that McClinton has made marginal improvements in his assist to turnover ratio this season. While he still by no means is a big playmaker, he is doing a better job of recognizing when to distribute to teammates when he draws extra attention from defenders.
Defensively, McClinton still gets by primarily on his hustle and anticipation. By no means is he going to be a stopper at the pro level, but he certainly has the ability to be adequate in the time he is on the floor. His height will always work against him though as many guards will be able to simply elevate over him.
In the long run, McClinton has the potential to be a scoring boost off the bench if he lands on the right roster. This season has only helped in terms of his draft stock as he is consistently proving to be a big time scorer with seemingly limitless range. Miami has struggled a little more than many pundits expected them to, so McClinton may not get a chance to show his stuff during March Madness, but that shouldn't take away from the year that the senior has put together so far.
Kyle Spain, 6-5, Senior, SG/SF, San Diego State
14.5 Points, 5.2 Rebounds, 1.3 Assists, 1.7 turnovers, 1.1 Steals, 43% FG, 41% 3FG, 85% FT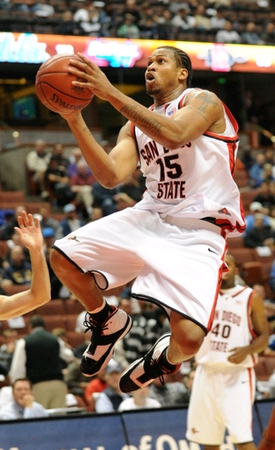 Matt Williams
The Aztecs are off to the best start in school history at 17-5 and their victory at UNLV in overtime earlier this month was easily one of the program's best wins in recent memory. A decent part of the team's success this season can be attributed to the play of senior wing
Kyle Spain
, who scored 8 of SDSU's 9 points in overtime in the road win over UNLV.
After starting the season with a few big performances with the Aztecs' other key player, senior small forward
Lorrenzo Wade
, suspended, Spain has come back down to earth to some extent in conference play, partially due to a minor injury. A strong wing player with a nice jump shot, Spain had no trouble taking advantage of a weak non-conference schedule, but has been inconsistent against better competition. Despite a couple of off-nights, he's built significantly on a solid junior campaign due to his ability to put the ball in the basket, particularly on a per-minute basis.
The first thing that jumps out about Spain's game is how productive he is when he looks to score. He currently ranks 25th in our database in points per possession at 1.25 and
13th in points per 40 minutes-pace adjusted
, two good measures of how big of an impact he makes when he's on the floor. Spain is quite a scoring threat for a player that isn't a great athlete, a dynamic ball handler, or a terribly efficient shooter from inside the arc, due to two key characteristics of his game: his catch and shoot ability and his knack for getting to the line.
Spain possesses very sound mechanics on his jump shot, as well as a very quick release, allowing him to knock down shots from three point range with tremendous consistency. Capable of hitting shots at a fantastic rate when left open, he proves equally capable of hitting shots with a hand in his face largely due to the fact that he doesn't take many off balance jumpers from the perimeter. Thus far this season he's been one of the most prolific shooters in the NCAA per-40 minutes pace adjusted, ranking 12th in three-pointers made.
Inside the arc, Spain is just as aggressive when trying to get to the line as he is with his shot selection from the perimeter. Though his quickness doesn't allow him to create much separation, at 225 pounds, Spain doesn't hesitate to go right at a defender when he can get to the rim. His tremendous strength and girth makes him very difficult to contain at this level without a foul, which allows him to get to the free throw line at a very good rate; he ranks 13th in free throw attempts per-40 minutes pace adjusted. The fact that he shoots 85% from the line certainly helps his efficiency.
Spain's strengths manifest themselves in his numbers, but so too do his weaknesses. According to Synergy Sports Technology, Spain makes under 25% of his pull up jumpers and is even less proficient when going one-on-one. His mediocre 2-point percentages can be attributed to his lack of leaping ability and non-existent mid-range game. When he does put the ball on the floor, he struggles to fully get past players that aggressively steer him away from the rim, often forcing up some tough shots around the basket. He does compensate for this inadequacy by running the floor hard in transition and attacking the offensive glass, but he's clearly more valuable for his ability to get to the line than his ability to score inside.
On the defensive end, Spain shows extremely active hands, gets in a good stance, and is willing to box out and work hard on the glass, however, he lacks the lateral quickness to make a major impact. He's slow to close out at times, but not because he isn't trying. Despite not being overly quick, his ability to anticipate helps him rebound at a tremendous rate and also force turnovers.
In terms of NBA potential, Spain is limited by his lack of athleticism and offensive versatility. At this point, Spain needs to come up big for SDSU in big games to boost his stock enough to garner more attention at the Portsmouth Invitation Tournament, while making the NCAA tournament could also be a plus. When it's all said and done, Spain seems like a player who may be able to find a spot in the NBA via training camp, but could just as well end up in Europe.