Tyler Hansbrough, 6'9", PF, Junior, North Carolina
21.4 points, 9.6 rebounds, 1.5 steals, 2.3 turnovers, 30 min, 55% FG, 77% FT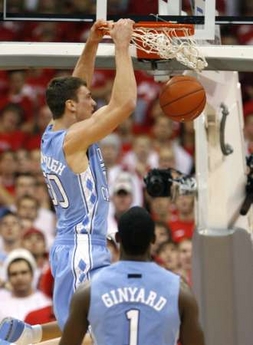 [c]AP[/c]
Joey Whelan
Tyler Hansbrough has jumped out to a fast start in his first eight games this season. The preseason All-American has seen significant increases in both his scoring and rebounding averages, while having already posted five double-doubles. As always though, the stellar numbers don't do justice to how hard Hansbrough works on the floor and how smart of a player he is.
One thing that jumps out right away about Hansbrough this season is he seems to have slimmed down and toned up a little bit in the off-season. This weight loss has added more speed to his game, particularly in the open court in transition. While this has made Hansbrough more effective at guarding the pick and roll, he still is a bit slow closing out on perimeter shooters and guarding quicker players in isolation situations. At just 6'9" and not a phenomenal athlete, Hansbrough will definitely need to continue to get quicker in order to continue his success at the next level.
Offensively Hansbrough has stuck with his bread and butter so far this season; hard nosed play in the paint. Not only is he one of the strongest players pound for pound in the country, but Hansbrough is so smart when he gets the ball inside. He keeps his pivot foot better than maybe any post player in the college game, and uses a flurry of head and ball fakes to get himself good looks inside. His most dangerous weapon this season though, as it has always been is his ability to draw contact and go to the free throw line. Hansbrough is attempting a whopping 10.3 free throws per game this season, and with a free throw percent of 77% he is doing a lot of easy scoring. In total, Hansbrough has scored 37% of his points this season from the charity stripe. While his ability to get to the line is phenomenal, there have been points this season where Hansbrough has missed out on easy baskets as a result of giving head fakes rather than going right to the basket.
Hansbrough's physical shortcomings have stuck out at a few points this season. In North Carolina's games against BYU and Ohio State, while Hansbrough had solid stat lines, it was clear to see he was having a hard time against athletic big men like
Trent Plaisted
,
Kosta Koufos
and
Othello Hunter
. All three players are longer and more athletic than Hansbrough, and often he found himself taking very difficult, contested shots. Hansbrough's great touch and feel for the post game allowed him to still be fairly effective.
Extending his range was a major area of emphasis this summer for Hansbrough. While his touch from as far out as 15-feet has improved, this still isn't a shot that he takes often, preferring to handle the ball nearer to the basket. Hansbrough still isn't much of a threat to drive to the basket. Occasionally he will attack the basket from the foul line if guarded by a slower post player, but his slashing skills are limited to straight lines to the hoop.
On the defensive end Hansbrough has continued to be a solid post presence. What he lacks in leaping ability and length, he makes up for with his strength and basketball IQ. Hansbrough is very tough to back down on the block, and his constant hustle makes him a pesky defender, leading to 1.5 steals per game so far this season. He does a nice job on help defense, often reading opponents' next moves before they make them; he picks up a fair number of charges in the process.
As a college post player Hansbrough is in an elite class, possessing the strength, smarts and touch necessary to be an All-American. As a pro prospect, he lacks great size, length and athleticism, and he needs to become more of a threat with his mid-range jump shot. Hansbrough does have tremendous work ethic though, and his constant hustle makes him a coach's dream. There's a reason he is on everyone's short list for national player of the year honors; he has tremendous post skills and a great feel for the game. Hansbrough is going to be a very nice addition to an NBA roster one day soon.
---
Richard Hendrix, 6'8", Power Forward, Alabama, Junior
21.8 points, 12.8 rebounds, 2.8 blocks, 1.3 assists, 1.7 turnovers, 62% FG, 55% FT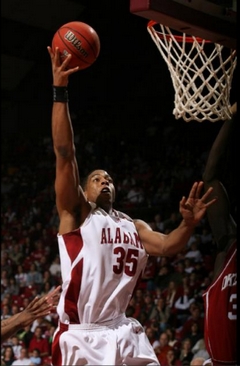 Mike Schmidt
After entering college as a well known prospect, Hendrix had solid freshman and sophomore seasons, but felt he could raise his draft stock by staying in school. Now in his junior season, the talented big man has established himself as one of the premier post players in college basketball, posting a double-double this season while shooting over 60% from the field. Alabama will rely on him throughout this season, and he really has a chance to make a name for himself playing in the SEC.
Offensively, Hendrix has both polished skills in the post as well as the ability to score facing the basket. Down low, he relies on a right handed jump hook, which can be very difficult for opposing post players to defend. The junior can spin and take a jumper out of the post as well, and displayed better patience with his back to the basket this season. Facing the basket, Hendrix can hit a jumper out to 15 feet with consistency, and sometimes takes the ball to the hoop if being guarded by a slower post player.
Defensively, the talented big man has made some strides this season as a shot-blocker coming from the weak-side. Hendrix is at his best defensively when allowed to bang against true centers, where he really uses his strong body and length as an advantage. The struggles on this end of the floor come when he has to guard a finesse big man. In these situations, Hendrix appears to be too slow-footed to keep up, making it easy for the opposing team to score.
Physically, Hendrix stands at 6'8" with a strong frame that is made for physical play in the post. Weight issues have plagued him at times in the past, but his body mass seems to be at the ideal level so far this season. Hendrix plays much bigger than his listed height, thanks in part to a 7'3" wing span. The junior big also has a powerful vertical leap.
The problems revolving around Hendrix for the NBA partially revolve around position. Defensively he's an ideal fit for the center position, but lack of height may prevent this from happening. Hendrix could also further develop his counter-moves on the low block, and develop a higher level of comfort when spinning to his right shoulder.
Richard Hendrix
already held his own against
Roy Hibbert
this season, and will have a chance to prove himself against the best big men that the SEC has to offer. Georgetown has been the only real high-major competition he has played this season, so it will be important for him to carry his current level of production over to his games against better opponents. If he can continue his current level of success, Hendrix certainly has a chance at landing in the lottery, but there is a long season ahead before we can even begin this discussion.
---
J.J. Hickson, 6'9, PF, Freshman, NC State
18.5 points, 8.3 rebounds, 2.5 blocks, 3.3 turnovers, 73% FG, 68% FT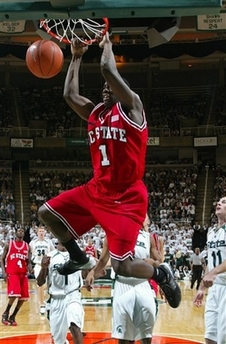 Joseph Treutlein
J.J. Hickson is off to a great start in his freshman season, averaging 18.5 points per game over six games, easily leading his team in the category. He's also doing it on 73% shooting from the field, though that hasn't been enough to cement himself a spot in NC State's starting lineup due to their crowded frontcourt, as Hickson has been shuffled in and out of the lineup, though he's played over 20 minutes in each of his first six games.

Hickson has a strong, well-built frame, good length, and is a very good athlete for a big man, though not quite an elite athlete. He runs the floor well, is quite mobile and coordinated, and shows a good second bounce on his jump.

On the offensive end, Hickson is showing off his versatility, efficiently scoring posting up or facing up, though he's kept his game mostly inside 12 feet of the basket in the early going. With his back to the basket, Hickson doesn't show many advanced post moves at this stage, but he does a good job recognizing what the defense gives him and doesn't force the issue often. He's been scoring there on simple but smart moves, or by drawing contact to get to the free-throw line. Hickson, with his strong frame, takes contact very well, and often is able to absorb the blow and still put up a high percentage shot attempt.

Hickson also has a crafty face-up game inside 15 feet, where he can pull up for a smooth jumper or put the ball on the floor for one or two quick dribbles going to the basket. He does a good job using fakes and not selling what he's going to do, taking what the defense gives him by either pulling up for the jumper or taking a few strides across the lane for a running hook shot. Hickson has dribbled into trouble at times, as he isn't the greatest ball-handler at this stage, but he isn't one to force the issue, not being hesitant to quickly pass out of the post for a reset when he doesn't like what the defense is giving him.

Defensively, Hickson has made his presence felt in the lane, altering and blocking many shots already, either by holding his ground near the basket or rotating out to contest a driving guard. Hickson shows good timing on his shot-blocking, but he really picks his spots with what shots to go after, not always making the effort to block a shot even if he's in the vicinity and physically capable of getting to the ball. He's only averaging two fouls per game in 27.3 minutes per game as compared to 2.5 blocked shots, so he definitely could afford to take a few more chances in that regard.

Hickson also has looked formidable in man-to-man defense, getting into a good defensive stance when his man has the ball on the perimeter, though his lateral quickness hasn't really been tested yet. In terms of rebounding the ball, Hickson does a good job pursuing boards and using his physical attributes, but he could be more consistent in boxing out and bodying up, not always making sure to seal out his man.

Hickson still has a lot to develop, though, as he could certainly get more advanced with his footwork and array of moves in the post, and he would help himself to show more range on his jumper and face-up game. A more aggressive stance towards shot-blocking and a better emphasis on boxing out with his rebounding should also be among his priorities.

All in all, even with some things to work on, Hickson has looked very good in the early going, and if he continues to be this efficient and productive over the course of the season, he will have a strong case to put his name in the draft, where he should be firmly in lottery discussions. It's a bit too early to pick an accurate NBA comparison for Hickson, as he has a solid base of skills in many facets of the game, and there are many ways his game could go depending on how he improves on that groundwork.
---
Anthony Randolph, 6'11, Power Forward/Small Forward, Freshman, LSU
15.4 points, 8.4 rebounds, 3.1 blocks, 1.6 steals, 60.3% FG, 22.2% 3PT
Rodger Bohn
LSU's
Anthony Randolph
entered the season as one of the more talented freshman that nobody in the national media cared to know about. A consensus top 20 player by every major recruiting service, he failed to get the national acclaim of many of his more heralded counterparts. Randolph has failed to disappoint thus far at LSU, putting up an impressive stat line and displaying intriguing long term potential.
The 6'11 forward possesses a package of skills rare for a player his size, able to take defenders off of the dribble equally as well as he is able to score on you with his back to the basket. He owns a very consistent jumper from midrange and is even able to step out to the three point line, although his accuracy drops a bit when venturing out that far. The Dallas native shows off a great handle for a player his size, able to easily beat big men off of the dribble, while also capable of bringing the ball up the floor when need be. The perimeter skills that he owns are certainly interesting, in particular for teams in need of a face the basket power forward.
Athletically, there is no tag more fitting then "freak". A long wingspan, explosive leaping ability, and very good quickness are all possessions of Mr. Randolph. He is one of the more explosive leapers that the collegiate game has to offer, getting his head near rim level multiple times in the games we observed this season. Able to run the floor with the speed of a player much smaller then him, he is often able to beat the opposition down the court for explosive dunks in transition.
While all of the raw tools and skills are there for an elite prospect, Anthony certainly has some room for polish. His handle needs to be tightened up if he hopes to play on the perimeter at the next level, while his post moves could use refinement as well. The LSU frosh really only goes to a turnaround jumper out of the post and will need to further develop his talents in the pivot if he hopes to maximize his potential.
The other area that Randolph must certainly improve upon is his strength. While he has bulked up to 220 pounds, he is still very weak and is pushed around down in the paint. His lack of strength limits his ability to finish around the rim at times, especially when absorbing contact. Anthony's insufficient girth hurts him on the defensive end likewise, where he tends to be outmuscle at times by stronger big men.
Randolph is a very good defender at the moment, with the potential to be an outstanding one down the line with improved strength and maturity. A good positional defender, he is able to get in the proper place to alter shots and rebound the ball at a high clip due to his freakish length and leaping ability. With the athleticism that he boasts, Anthony also has no trouble defending on the perimeter, able to stay in front of opposing players four to five inches inferior to him on a regular clip. He uses his length and speed to get out in the passing lanes exceptionally well for a player approaching the seven foot mark, getting a steal and a half per game and many more deflections. The only real problem that Randolph has on the defensive end is his lack of strength, leaving himself able to get pushed around at times in the pivot by bulkier post players. If he is able to get stronger over the next few years, the possibility is easily there for the McDonald's All American snub to develop into a special player on the defensive end.
The NBA is certainly going to be an option for Randolph after this season, granted he would be better suited to stick around for his sophomore year to develop physically. It is rare that you see a player with the package of size, skills, and athleticism that he brings to the table. Despite the fact that Anthony does not receive the notoriety of some of the other freshman prospects, he is easily amongst the elite as far as NBA potential is concerned and is a player definitely worth checking out given the opportunity.