After a full weekend of NCAA tournament games, we continue to analyze what we just saw, digging deep into a select number of prospects that deserve a closer look based off what they showed in March and during the regular season.
Kevin Love
,
Sonny Weems
,
Jerel McNeal
and
Damion James
are the first ones up.
Kevin Love, 6'9, PF/C, Freshman, UCLA
17.3 points, 10.6 rebounds, 1.8 assists, 2.0 turnovers, 1.3 blocks, 56% FG, 77% FT, 37% 3PT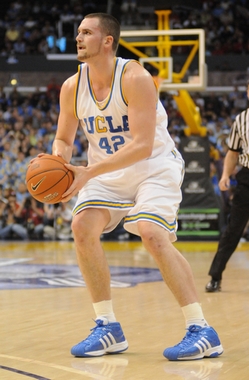 Joseph Treutlein
Not written about extensively since the first weeks of the season,
Kevin Love
is someone who's certainly overdue for an in-depth writeup, as he's near the completion of what can only be described as a dominating freshman season, playing a key role on one of the country's powerhouse teams, still alive in the hunt for a title. Love has made some adjustments to his game over the course of the season, and helped quell some of the doubts about his game, even if many still linger. Regardless, he just had one of his best performances this season in UCLA's second round win over Texas A&M, where he scored 19 points, pulled in 11 rebounds, and blocked an uncharacteristic 7 shots, playing a huge role down the stretch in UCLA's victory.
Love's post game hasn't changed very much over the course of the season, as it's mostly based on establishing dominant position deep in the post by using his freakish strength, and then powering his way to the basket. He uses fakes very well down low to get past larger, more athletic defenders, and shows good touch around the rim and the ability to absorb contact with his massive frame. It's also worth noting that Love appears to be doing a better job getting off the ground late in the season, undoubtedly being in better shape after a tough 36 games. Despite this, he still has problems getting his shot blocked, by both future NBA players like
Devon Hardin
and
Brook Lopez
, and by players on Mississippi Valley State University. In his most recent 10 games, which we charted, Love had his shot blocked 13 times.
In looking at the rest of his low post game, Love's finesse moves have come along nicely as the season has gone on, as he goes to a right-handed hook shot fairly often now, which he has good success with. He's a bit more inconsistent with his turnaround jumper, usually having to fade away dramatically to get it over defenders, but he was remarkably clutch with it against Texas A&M, hitting with it twice in the game's final minutes. Love also is very good at getting to the free throw line, getting there 6.6 times per game, in just 29 minutes.
One of Love's more notable strides as the season has gone on has been his three point shot, which he's using much more frequently, and having good success with, hitting for 37% from deep. He also will occasionally use a shot fake from behind the arc that he follows up with a drive to the basket, but it's not something he's consistent with, as his quickness isn't great and his ball-handling, while respectable, could still improve.
Love's prowess as a passer on the offensive end is something that has been well publicized, especially with his outlet passes, which he throws with exceptional speed and accuracy. He's also a good passer out of the post, though, making passes to fellow post players and cutters alike, showing good court vision and decision-making.
On the defensive end, Love plays a very smart game and is always hustling, showing his most prowess as a man-to-man defender in the post. Here, he holds excellent position and does a very good job of always keeping his hands up, getting a good deal of blocked shots when opposing players try to shoot over him. Most of his blocks come in this vein, as he doesn't really have the athleticism to be much of a force as a help defender, even though he almost always makes the right rotations. While Love usually does well defending the post, he really only excels with players that try to go over or through him, showing problems against players with quick feet who will try to out-finesse him, which is concerning for those who project him as a power forward at the next level. For those who project him as a center, he may have problems defensively there as well, as many centers in the NBA will be able to shoot over him.
On the perimeter, Love hustles hard and shows a good stance on defense, but he often has to give up too much space to stay in front of his man, and this is definitely a concern at the next level, especially if he projects as a power forward. Love has problems with the pick-and-roll as well, not showing the quickness to consistently hedge and recover, despite his smart play.
Aside from intangibles, Love's greatest strength would probably be his rebounding ability, something that is very likely to translate to the next level. He establishes excellent inside position, shows very good timing, and has a nonstop motor for pursuing loose boards. This is especially evident on his own misses, as he usually gets his own put-back when he isn't able to score on the first try.
Love is very likely to declare for the draft this year, and he's a likely lottery pick if he does, especially with the way he's been playing in the postseason. He's someone who will draw varied opinions as a prospect, ranging from surefire starter to possible role player, due to the many questions surrounding how his size and athleticism will affect him at the next level. His ability to spot up from deep and his excellent rebounding skills are two things that are very likely to translate, but what position he will defend and whether he'll be able to score inside with near the same efficiency as he did in college is in question, especially considering he'll be even more prone to having his shot blocked as a pro. On the positive side, Love is a coach's dream in terms of every intangible, he continues to defy the odds against him by those who say what he can and can't do, and he's definitely not at his athletic peak, as he probably could stand to lose another 20-25 pounds still. The fact that he hasn't done so already, though, is a little bit baffling.
Sonny Weems, 6-6, Senior, Shooting Guard, Arkansas
15 points, 4.5 rebounds, 2.6 assists, 2.8 turnovers, 1.3 steals, 46.4% FG, 37% 3P, 80% FT, 31 Min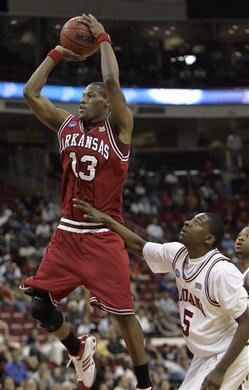 Jonathan Givony
Sonny Weems closed out his college career on the highest note possible, putting together an excellent NCAA tournament leading 9th seeded Arkansas to the second round, where they were blown out by North Carolina. It probably won't be the 8-20, 22 point game he finished up with against UNC, but rather his game-changing performance in the first round against 8th seeded Indiana (31 points, 12-14 FG) that raised quite a few eyebrows from the many scouts in attendance. In hindsight, this weekend will probably end up looked at as being just what the doctor ordered in terms of kick-starting the pre-draft process into high gear for him.

In terms of physical attributes, Weems grades out very well at the shooting guard position, showing excellent size at 6-6, a solid frame, a good wingspan, and very nice athletic ability. He is very agile, fluid and quick off his feet, and even explosive in some instances, fitting the bill and then some for an NBA wing player.

Most of Weems' offense comes off his jump-shot, where he is at his best coming off screens and elevating from mid-range distances. He sets his feet quickly, and has a high release point on his jumper, adding in a slight fade-away that makes it pretty difficult to guard. He can put the ball on the floor once or twice and pull-up off the dribble semi-well, creating very nice separation from his defender in the process, a testament to his athletic ability. His shooting mechanics are not consistent and he has a few fundamental flaws that hinder him from being much more effective from long range, but his good touch and solid overall scoring instincts allow him to get by with what he has at the current level of competition he plays at.

Weems' jumper loses accuracy when he's unable to fully set his feet before he releases it. He has plenty of wasted motion, starting off with the fact that he brings the ball down before bringing it back up, and then cocks it behind his head for good measure, which doesn't allow him to get it off as quickly as he should. He seems to kick his feet out unnecessarily after elevating off the ground, fading away for no particular reason, which hurts his percentages as well. In the tape we saw, he looked infinitely better with his jump-shot when he made a conscious effort not to fade away and came down on two feet, something he should certainly work on to maximize his potential as a shooter.

As a slasher, Weems is strong and athletic enough to get to the rim off one or two dribbles and will generally finish well once he gets there, but he's not crafty enough to consistently create his own shot even at the college level. His ball-handling skills are poor, as he's unable to change directions in traffic or execute any real advanced moves against opposition. He doesn't like finishing with his left hand, gets to the free throw line only about twice a game, and also lacks polish on his mid-range jumper.

Defensively, Weems is extremely poor, clearly lacking awareness and fundamentals, not getting in any type of real stance, getting lost within his team's scheme on a regular basis, and often resorting to just gambling for steals and chasing after the ball instead of rotating and playing sound defense. He has all the tools to be extremely effective in this area, so it's a bit surprising why he can't translate them into success on this end of the floor. His junior college roots likely have a lot to do with it.

Weems is a team player, though, not being selfish in the least bit, and looking more than willing to give up the ball within his team's offense. He executes their sets crisply and seems to have pretty good court vision, particularly in terms of making post-entry passes.

All in all, Weems still seems to have nice upside despite being finished with his college career, and could emerge as a viable NBA player down the road if he's willing to work on his very obvious, but very correctable flaws. Becoming a consistent shooter and a reliable perimeter defender should be his first priorities, but he's a guy to keep an eye out for, even if he doesn't make it in the first go-around. He has a chance to make a strong impression in a few weeks at the Portsmouth Invitational Tournament, where he should be one of the more interesting player for NBA teams to take a look at. We should keep in mind that he's still only 21 years old.
Jerel McNeal, 6-3, Junior, PG/SG, Marquette
14.9 points, 3.5 assists, 2.8 turnovers, 4.9 rebounds, 2.2 steals, 46% FG, 30% 3P, 70% FT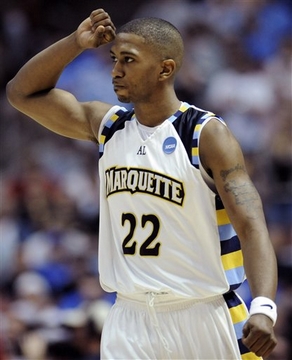 Kyle Nelson
Marquette's overtime loss to Stanford will likely be remembered more for
Brook Lopez
's buzzer-beater than
Jerel McNeal
's 30 points and late game heroics (hitting three consecutive 3-pointers to start off the overtime period), but the Marquette junior had one of the best games of his career regardless, showcasing the best and worst attributes of his game on a national stage. With one-year left of eligibility remaining, McNeal certainly has a lot of improvements to make in his offensive game, improvements that look to hold the key to his potential at the next level.
McNeal is a great athlete, standing 6'3 with a nice frame and good wingspan. He has a very quick first step and shows good lateral quickness, which allows him to be effective on both ends of the floor. His size, athleticism and toughness are essential to the way that he plays, and help him out greatly against much bigger players.
Offensively, McNeal is at his best when he is slashing to the basket. Utilizing his lightning quick first step, he is able to beat his man and take the ball to the hoop, where he can finish with either hand, even though he drives right more often than he does left. He is fearless in the lane, and is a solid finisher around the basket. He is a good ball-handler as well, and therefore is just as effective with the ball in his hand as he is without.
Moving away from the basket, he loses some of his effectiveness. He has shown more semblances of a mid-range game this season, but still has a long way to go before it becomes a part of his offensive repertoire. He handles the ball well and shows the ability to pull up off of the dribble, but his shooting motion needs a lot of work. Though he sets himself up for shots well, his form at this stage is inconsistent, and does not allow him the chance to get his shot off at the apex of his jump. In the off-season, developing his mid-range game should be a top priority.
Another priority looks to be improving his shooting from the perimeter. While McNeal runs off of screens well and has the ability to get his shot off just about whenever he wants, he is not a good perimeter shooter, shooting just 30.1% from beyond the arc on three attempts per game. The problem is his shooting form, which despite a quick release, suffers greatly from various inconsistencies. For one, he shoots the ball differently on almost every attempt. Sometimes he will fade away; other times he will fall into a shot or even fall to the side. All of these factors influence where he is releasing the ball, and whether or not his form is good. On top of all of these inconsistencies is the fact that, at the moment, he is only a set shooter. He should be hitting a much better percentage of shots from the college three-point line and this, combined with his lack of NBA range, is probably the area in which he must improve most if he wants to compete the next level.
Another question mark is McNeal's position at the next level, or lack thereof. He is a 2/1, a combo guard that will likely never see heavy minutes at the point guard position. While his decision-making abilities have improved, he still lacks true point guard instincts, and he is not nearly good enough of a passer to run an offense at the next level. Due to his size, speed, and athleticism, he should be able to play in the NBA, but projects more as an energy player off of the bench at this stage.
Defensively, however, McNeal is unquestionably good. Utilizing his size, aggressiveness, lateral quickness, and strength, he is a very tough perimeter defender and likely the best the Big East has to offer. He uses his long arms to interrupt passing lanes, knock the ball away from his man, and even, on occasion, block shots. Most impressive, however, is his ability to stay in front of his man, whether he is guarding a point guard, shooting guard, or small forward: McNeal rarely runs under screens and works extremely hard on the defensive end. Likewise, in loose ball situations, he is just as aggressive and works hard on the defensive boards, despite often not being anywhere near the basket.
McNeal has one more year at Marquette and should look to improve his offensive versatility, most notably his shooting and continuing to cut down on his turnovers, if he wants to compete at the next level. Even his remarkable 30-point performance against Stanford was marred by 4/12 shooting from beyond the arc, 3 turnovers, and 0 trips to the foul line. One more year in a talented Big East should give scouts as much information as they need on McNeal, and he will have many opportunities to showcase his abilities on both sides of the ball in one of college basketball's toughest conferences. Advancing further in the tournament next year will surely not hurt.
Damion James, 6-7, Sophomore, SF/PF, Texas
13.2 points, 10.7 rebounds, 1.3 assists, 1.6 turnovers, 1.4 blocks, 46% FG, 45% 3P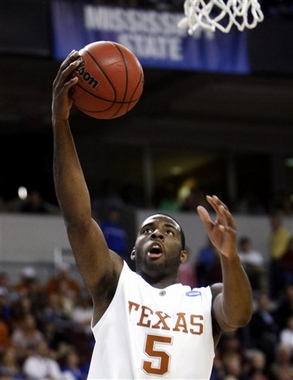 Mike Schmidt
Though not a primary offensive option for the Longhorns,
Damion James
managed to stand out in a pair of Texas victories in aiding his team to the Sweet 16. The talented forward has a ways to go before he can be considered NBA ready, but he continues to show a number of different tools that will enable him to contribute at the next level down the road. James netted double doubles in both games, and grabbed 16 rebounds against Miami to go along with his 16 points. The game against the Hurricanes marked the fifth time this season that the sophomore has finished a game with 16 or more rebounds. Excellent timing and a solid vertical leap combined with his great instincts in the painted area allow him to rank as
the 7th best rebounder
per-40 minutes pace adjusted amongst all players in our database.
Offensively, James continued to show improved range on his shot against Miami, hitting three long range bombs for just the fourth time in his career. Though he lacks the elevation and quick release you like to see from a wing prospect, the large strides he has made in this area have to be noted. After only hitting a single 3-pointer as a sophomore (in 11 attempts), he's now hit 37 this season so far, on an excellent 45% clip. James doesn't take many 3-pointers (just over two per game), and most of his attempts are off the open variety with his feet set. Right now, James scores a lot of his points on cuts and flashes to the open spot on the floor. He has a great feel for timing his move to the paint, and shows above average body control and explosiveness at the hoop. Playing next to one of the best point guards in the country in
D.J. Augustin
, he gets a lot of excellent looks in places where he can use his strength and athleticism to finish in no-nonsense fashion around the basket.
Off the dribble, James can create a shot off one or two bounces when given space, but is mostly limited in this area to basic moves. To take his slashing ability to the next level, he must focus on improving his ball-handling skills, as well as improving his much weaker left hand and inability to change directions. He is obviously still making the transition to playing the small forward position, and is very much a work in progress here still. The tournament games so far have also highlighted another big weakness for James. In the opening two NCAA games, he went just 1/4 from the free throw line, and his season percentage sits right around 56%. Because he's not much of a back to the basket player, and really can't be expected to create shots for himself, he gets to the free throw line about 3.5 times per game.
James also displayed good potential defensively as a small forward prospect during the first two rounds of the big dance. He has both the strength and length to disrupt opposing players, and his defensive reads and positioning have made some progress over the course of the season. To reach his potential defensively, he needs to work on not biting for pump fakes. James lacks the recovery speed to constantly gamble for blocks or steals, so he must learn to study and read the offensive player in order to avoid these situations. Despite his improved help defense, he sometimes misses on rotations and mis-reads the pick and roll.
Though he remains a year or two away from being draft ready,
Damion James
has displayed a number of solid tools throughout the season that have contributed to the strong Texas effort to open the NCAA Tournament. His rebounding ability and improved three point shooting ability are a great start, but now he must focus on rounding out his game with focus on improved ball-handling and free throw shooting. Texas will need James to continue producing at a high level to advance out of the Sweet 16, and it will only help his draft stock along the way.