This was a tale of two seasons for the Los Angeles Lakers, even before their unceremonious exit from the playoffs. The education of
Kobe Bryant
looked to be in full force during the first half of the year, as he and his teammates struck a near perfect balance on their way to a division-challenging surge up the standings.
But injuries to
Lamar Odom
and the virtually indispensible
Luke Walton
quickly turned the tide of the Lakers team direction. A monumental month of explosive scoring from Bryant temporarily altered the fate of the franchise, but ultimately the same problems of balance and responsibility reared their heads and LA had another disappointing early exit from the playoffs.
Roster and Financial Breakdown: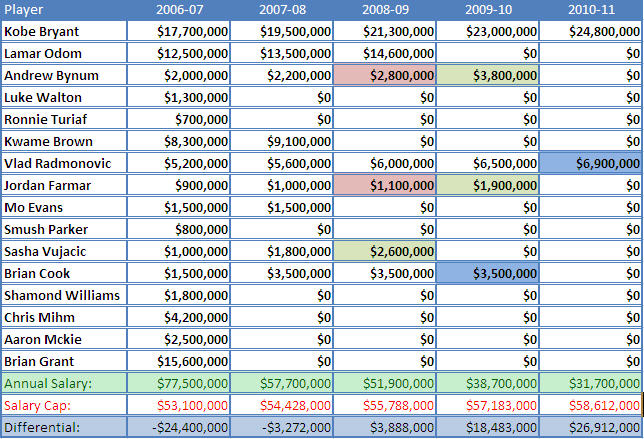 (Salary Cap projections were created taking the average increase over the past 5 seasons)
Record/ Overview:
42-40, 2nd place Pacific Division, 7th seed Western Conference
Kobe Bryant
is still the team's focal point, and will be for some time. Bryant isn't exactly old, but his patience in waiting for
Andrew Bynum
to join him and
Lamar Odom
as an anchor for their championship aspirations is questionable. The team clearly needs to have three reliable offensive options to not only take some of the burden off of him, but also simply to help the team maintain its competitive balance and not get caught watching Bryant "do his thing."
If the team is truly looking to compete for titles in the short term, they are most definitely going to have to part with Bynum to add the proper pieces to the mix.
Kevin Garnett
's name has been floating around with some frequency in the rumor mills, but the feasibility of trading for him remains slim even if the Lakers were willing to trade fifteen years of Bynum for five of KG.
Restrictions on matching salaries coupled with Garnett's contract makes him trade-prohibitive for most every team in the running for his services. Aside from Bynum, the Lakers would be forced to exchange Odom's contract just to make the money work. While a KG/Bryant tandem certainly has a lot of intrigue, it is doubtful that the loss of Odom would allow the Lakers to truly compete for a ring without one more high-caliber additions to prevent it from being a two-man show. Garnett might not be enough of a low-post threat to duplicate the incredible success the Lakers had when Shaq was wandering around the hardwood, but he would certainly keep Kobe happy for the time being.
There are a number of alternative options at the Lakers' disposal, though. The first major step would be to convince a high-level veteran to join the cause for mid-level money. The most logical fit in this regard would be
Mike Bibby
, who is ideally suited for playing point guard in a structured attack such as the triangle. An acquisition of that caliber would allow the Lakers to be more creative with their other assets and could afford them the ability to parlay Bynum off for a piece that truly puts them over the top and in the hunt for a championship next season.
Current Assets:
Despite the prospect of internal dysfunction lurking below the surface, the roster does possess a number of key assets that could help to put a more potent squad on the court.
Andrew Bynum
is clearly the crown jewel of the Lakers lot, but
Jordan Farmar
and Ronnie Turiaf both have value to other teams. Amongst the more established players,
Luke Walton
and
Maurice Evans
have proven they are capable rotation players who can be relied upon to help win games. The contract values of
Kwame Brown
and
Lamar Odom
would certainly be in play if the team was fixing to make a major move.
What the Lakers choose to part with in order to improve will be one of the toughest offseason decisions for Mitch Kupchack and company this offseason.
Expiring Contracts:
The Lakers have a sizable amount of money coming off the books after next season.
Kwame Brown
has been a feast or famine proposition during his two year stay in Los Angeles and is certainly the financial chip the Lakers are dangling. Brown's nine million dollar salary figure should go a long way toward helping to acquire a big name player on the trading block.
Maurice Evans
counts for a much smaller figure, but his quality play over the past year will most likely qualify him for a pay raise, and the Lakers might decide to go in another direction considering that
Luke Walton
(if he decides to stay) will probably be making quite a bit more per year when Evans comes due.
Together, both Brown and Evans represent nearly eleven million in total salary, which could bring back a quality veteran via sign and trade or in an exchange if coupled with a few more lucrative pieces.
If Walton doesn't resign, Evans should find himself with a substantial role as the primary wing defender off the bench. Evans has two-way ability, which makes him an attractive rotation player for many teams, but the Lakers should certainly make a call on retaining him considering the time they've spent educating him on their system. Both player and team have options going forward, which is the bottom line.
Total Cost: $10,575,000
Rotation Players:
With a twenty million dollar annual salary and the ability to single-handedly win games,
Kobe Bryant
isn't going anywhere for a while. But building around Bryant has been proven to be a difficult task.
Lamar Odom
finally seemed to have re-adjusted to Los Angeles and was having an All Star caliber season before a partially torn labrum interrupted his rhythm. Odom and Bryant have looked like oil and water in the past, both in their game play and in their interactions on and off the court. While the two seem to finally have figured each other out in terms of performance, Odom may be the only legit salary-slot player who has any substantial value as a talent if the team decides it needs to make a major move.
The other major veteran cog to this season's attack is up for contract renewal.
Luke Walton
dedicated himself to a stringent offseason regimen and the effort paid dividends for him as he enjoyed a breakthrough season. Like Odom, Walton was on his way to an even bigger season before getting sidelined by injury. Also like Odom, Walton has had his difficulties coexisting with Bryant in the past and may have just played his way out of Los Angeles. Walton should be a hot-ticket on the free agent market this season as his positional versatility and skill set make him an attractive addition for many teams.
Vladamir Radmonovic was last season's big acquisition and like the previously mentioned rotation players, his season was interrupted by injury. Radmonovic had his typical moments of stellar play mixed in with the usual apathetic follow-up games. Injuries and contract length have probably drastically limited Vlad's market value this season, so a breakout performance next year will probably have to occur in order to gain a return.
Total Cost: $67,200,000
Prospects:
The Lakers aren't as talent-poor as some teams, but they are extremely thin in terms of movable assets.
Andrew Bynum
, Ronnie Turiaf,
Luke Walton
, and
Jordan Farmar
represent the youthful future of the franchise and each has been used in the current team rotation.
Bynum is considered to be one of the best young pivot prospects in the NBA. His combination of size, mobility and skill is rare to find and could easily be viewed as a prospect on par with the draft's best big men. Bynum has shown adeptness for both ends of the court. He can block shots and rebound well, but also has shown to have soft hands and a nice touch around the basket. It's not hard to fathom a team building around his skill set in the future, even if
Phil Jackson
has shown some impatience with him and hasn't made full use of his skill-set as of yet.
Total Cost: $4,900,000
Free Agency:
The Lakers enter next season over the salary cap, so like most teams, they'll have to decide whether or not to utilize the mid-level exception. LA is one of the premier cities to play in, and the franchise has had enough success recently to garner the attention of some of the top free agents. The lure of playing for a historic franchise that is playoff competitive may be enough to get a player or two for below their full market value.
The team is probably looking to make its major move via trade, but there are some players who may be intrigued by the prospect of joining up with Los Angeles. Bibby has the outside jump shot, the playoff experience, and the hunger to reach a higher level of achievement that suits both parties' needs.
Gerald Wallace
is a player coming into his own who's looking to find team success that he can contribute to. An excellent player off the ball, Wallace makes plays without having plays run for him, which is always a valuable attribute with the shot-conscious Bryant as a teammate.
Draft:
Los Angeles can pretty much take the best player available and plug him right into the rotation if need be. There are no depth issues to be found on the Lakers as they are essentially one player deep at every position with a substantial fall off thereafter.
One of the top priorities for the Lakers will most likely be at the point guard position, though it is a thin position in this draft.
Acie Law
has been slipping in some draft projections for illogical reasons, but his winning style of play, gamer's attitude and maturity would go a long way toward solidifying a young, but exciting Laker rotation at the 1-spot.
Javaris Crittenton
is far more a project, but has the raw skills that make teams dream big. He could very well be available when the team selects.
If the team is looking for a combo guard to find help, there are a few intriguing prospects to pick from.
Rodney Stuckey
is a relative unknown to many fans, but his explosive, slashing style of play would look good in purple and gold. If the team looks to add a veteran frontcourt player this summer, they could certainly use a youthful backup to groom.
Josh McRoberts
and
Jason Smith
are two young big men that could benefit from an expert motivator/instructor like
Phil Jackson
. The Triangle offense demands a big man that can pass and shoot, and both 6-11 players can do that extremely well.