The Clippers follow up year to their best year in L.A. history started off bad, and got continually worse. Many Clippers regressed this year, and new additions did not do enough to offset this regression.
By the time the Clippers started playing to their potential they were so hobbled by the injury bug, that their starting point guard was someone who was claimed off of waivers. Despite all of this, they controlled their own fate the last two weeks of the year. Win and they were assured to get into the playoffs no matter what. Lose, and they would need some help. They ended up having a meltdown against a team they could have beaten, and ended up on the outside looking in this year.
Roster and Financial Breakdown: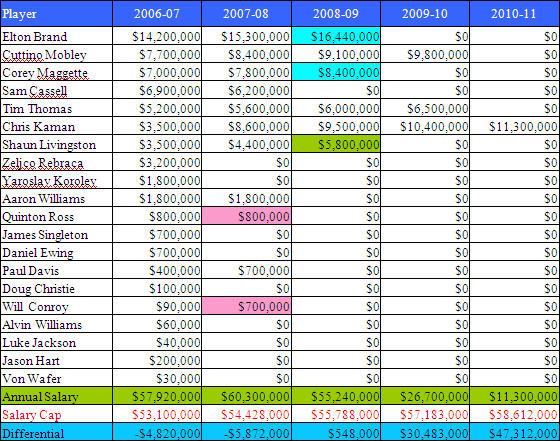 [c](Salary Cap projections were created taking the average increase over the past 5 seasons)[/c]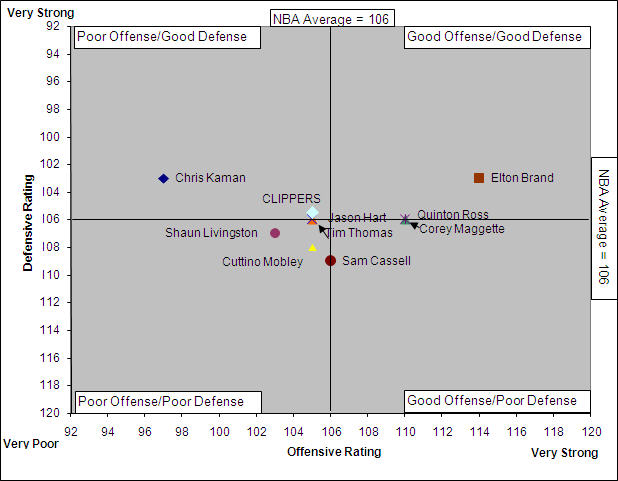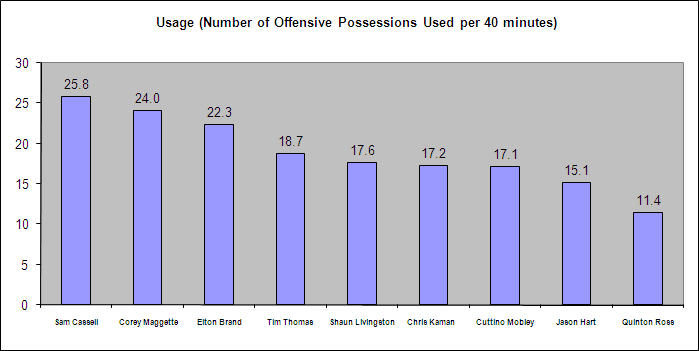 [c]caption[/c]
Record/ Overview:
40-42, 4th place Pacific Division, 9th in Western Conference
The first negative for the season was starting training camp in Russia. They weren't able to get the practices they needed in due to the traveling and scheduling, and it was obvious right away that two key players were not the same guys. Kaman was hobbled with injuries that ended up bothering him much of the season, and even later disclosed that personal matters also served as a distraction.
Elton Brand
was mentally exhausted after a whirlwind summer that included playing in the World championships, producing a movie that was rumored to be Oscar worthy, and getting married.
Sam Cassell
started showing signs of aging on his injury riddled 37 year old body.
One of the biggest problems on the team was the uncertainty regarding
Corey Maggette
. He could rarely get along with the coach during the year, being relegated to the bench because he could not play the defense or the controlled style of play that Dunleavy demands. Any team would be hurt when a 20+ point a game scorer has a feud with the coach, and thus gets limited minutes.
There were trade talks that persisted until the deadline regarding Maggette, and many reports said that this whole rift caused chemistry problems and friction in the locker room. It did not get any easier when the owner, Sterling, stepped in and said that he basically didn't care about what Dunleavy wanted. Since last year, the Clippers had chances to include Livingston and Maggette in deals that would have netted them players such as Iverson and
Paul Pierce
, but their refusal to deal Livingston nixed those trades.
As far as the regression goes, one just has to look at the stats to see the story. Kaman only went down less than a point in points/48 minutes, and a rebound in rebounds/48 minutes, but his FG% took a nosedive, going from 52% to a career low 45%.
Elton Brand
's scoring average went down by 4 full points, and rebounds by .6. Cassell was only able to play in 58 games, and having reductions in points and assists of 5 and 2 respectively.
The aforementioned Maggette's scoring went down as well, despite a strong push after the all star break. Mobley as well had his point production decrease. The only starter or part time starter who showed improvement over last year was Livingston, who everyone knows suffered a career threatening injury during the season. Rebraca, the backup center did not play a minute the entire year.
If not for the strong play of
Tim Thomas
, waiver wire acquisition
Jason Hart
, and Maggette's improved play coming on in the last couple of months of the year, the Clippers most likely would have been in the top 7 or 8 of the lottery.
Current Assets:
It is unknown who the Clippers would consider trading.
Chris Kaman
has been deemed untouchable before, and his new contract, which kicks in this year, would be very difficult to move anyway.
Elton Brand
is also considered untouchable, and the owner of the team has all but declared Maggette to be untouchable as well, despite what Dunleavy might want. The team does have a future top 10 protected pick from Minnesota, but overall not much that would be desirable to other teams, since
Tim Thomas
and
Cuttino Mobley
both have large contracts due to them for years to come.
Expiring Contracts-
The Clippers do not have any major contracts coming off of the books at the end of this season. The biggest one is Rebraca's 3.2 million. He actually had a 3 million dollar team option for next year, but any chance of that being picked up was nixed when he was released toward the end of the season to make room to add another point guard. The bigger story would be the lottery pick of two years ago, Yarislov Korolev's team option not being picked up, making him an unrestricted free agent. Some rumors have the Clippers not resigning him, others say the Clippers do want to resign him, but for the minimum. All of the other expiring contracts are under one million dollars.
Quinton Ross
's team option is certain to be picked up, while
Will Conroy
's is undetermined.
James Singleton is reported in different places to be coming off of the books this year, but in other places to have a team option. Regardless, his return is by no means certain, as he was another player seemingly inexplicably in Dunleavy's doghouse much of the year. If he is an unrestricted free agent, he will be picked up by another team for sure. He was instant energy off of the bench in the little playing time he did receive, has shown he can hit the outside shot, outside of Brand, the best offensive rebounder on the Clippers, and a decent shot blocker as well.
Total Cost: $6,830,000
Rotation Players-
The Clippers potential core is locked up already for this year: Brand, Mobley, Maggette, Cassell, Thomas, Kaman, and Ross. It's not expected for Livingston to come back this year, or at least come back to be the player he was this year, but he too is still on his rookie scale deal and is signed for the coming season. The keys are Brand and Maggette. Technically, they could walk after this year if their deals are not extended, and if they opt out of their contracts.
Brand, with a full offseason of rest is expected to return to something near his 2005/2006 form. Many Clipper fans lamented his lack of killer instinct at the end of games, which many point to as the important next step for him to emerging into a superstar.
Cuttino Mobley
improved his three point shooting percentage over his first year with the Clippers, but was too inconsistent. One game he would score 25, the next night 10. Maggette, if he plays the way Dunleavvy wants him to play and stays out of foul trouble, is an easy 20 point scorer. If the Maggette of the 2nd half of last season shows up again next year, look for him to get that average back up above 20.
No one really knows what "personal problems" Kaman was dealing with that contributed to his FG% going down. Last year he was still on his rookie scale contract. If he has another 45% FG year next year when he's making 8.5 million dollars, look for Clipper Nation to be calling for his head.
Tim Thomas
was not spectacular this year, but was solid, and shot the most three pointers for the team since
Terry Dehere
in the 90's. He pretty much earned his MLE contract, and will be around until 2010, barring trade. Cassell is the key to the team's success. If he can return to something close to his 05/06 form, the Clippers can go places. If he is not able to go, the Clippers have a big hole at the PG position, even if they do resign
Jason Hart
. The Clippers do get great bang for their buck with part time starter and defensive specialist Q Ross who is still on a minimum scale contract.
Total Cost: $45,300,000
Prospects-
As mentioned before, Korolev's option was not picked up by the team. Right now, no one knows if he can play or not since the team did not send him to the D League once in his first two years in the NBA, and most of the regular season he could be seen at the end of the bench in a suit.
Not much is expected of second round picks, and last years 2nd rounder,
Paul Davis
did pretty much nothing.
Daniel Ewing
most likely has played his last game in a Clipper uniform. James Singleton showed great potential at times, but again was a guy that could not get any playing time.
Livingston went from being one of the most sought after Clippers in trade talks to the least sought after, due to his injury. So, bottom line, the Clippers have about zero trade prospect young guys on the roster.
Guillermo Diaz
who played in Europe this year, and big "Baby Shaq" from Greece are still team property, and we might see one or both in the summer league this year. However, it's reported that "Sofo" has ballooned up to 400lbs again, so the chances of him being an impact player is very small.
Total Cost: $400,000
Free Agency
Most in the league probably never thought they would see the day when the Clippers each year are one of the teams over the salary cap, due to the reputation of its owner Donald Sterling. It's unlikely the Clippers would make moves that would put them into the luxury tax though.
It has been rumored that they might want to offer Theo Papaloukas a contract, but with anyone this year, they would only have their MLE to offer, and even with that, they would most likely have to lose one of their other long term deals, in order to stay under the tax…something that's highly unlikely. They have about 10 players under contract for next year, not including Korolev, Singleton, Hart, Conroy (team option), or their aforementioned Euro League participants, so its very possible they make little to no noise in free agency.
Draft
Unless a miracle occurs this week, the Clippers will have the 14th pick in the draft. They have a very difficult decision to make as far as what direction they go. Do they bank on Cassell's health for next year, and perhaps Livingston's health for the following year for the PG position, or do they try to draft the PG of the future now?
The problem is most feel that one of the only PG's who is slated to be available when the Clippers pick,
Acie Law
, is not exactly NBA starter quality. Others feel that he is ready to come in and contribute right away, and should be at the top of the Clippers draft board. If they do not want to get a PG this year, do they get a big to back up Kaman? Perhaps McRoberts, Smith, or even Hawes if he drops? Or, do they go for a wing player due to Maggette's uncertain future, coupled with the aging of
Cuttino Mobley
? If they go that route, they could go for local guy
Nick Young
or possibly Rudy Fernandez.
In the second round, the Clippers have, three years in a row, picked up a SG in a PG's body.
Lionel Chalmers
,
Daniel Ewing
, and
Guillermo Diaz
. So far, none of those picks have worked out much for the team. If they do not get a PG with their first rounder, it's very likely they get another PG for the 4th year in a row in the second round. If so, players they could look at would be
Bobby Brown
,
DaShaun Wood
,
Brandon Heath
, or
Aaron Brooks
.
At this time, the Clippers are not a team that has an obvious route to take in the draft, due to the uncertainty of their PG's, and if Maggette will be with the team.