The Rockets enjoyed a turnaround season at a time where the franchise was under critical scrutiny to perform up to expectations.
Tracy McGrady
and
Yao Ming
still haven't spent significant time on the court together, so team chemistry is still a work in progress in terms of where this duo's ceiling may be. But there was enough health and continuity this year to take many of the question marks away.
GM Carol Dawson's swan-song season has culminated in yet another playoff berth, with a legitimate shot at advancing beyond the first or second round. Heir-apparent Daryl Morey has used sound business principles and solid performance analysis to put together the makings of a team that can seriously contend for a championship going forward.
The trade to acquire
Shane Battier
was as sound a basketball decision as there was during last season's trade season. Although
Rudy Gay
performed exceptionally well during the latter half of this season, he was a gamble to even produce this year and is a few seasons away from contributing to winning basketball.
The development of
Luther Head
and the stabilization of
Rafer Alston
, as well as the softening of head coach Jeff Van Gundy, has helped Houston maximize their roster strength despite being relatively thin in a couple of areas in terms of high-end skill. Patience, continuity, and the chemistry it creates have played a vital role in the construct of this current unit, a tribute to quality team management.
The main concern going into this offseason for the franchise will surely involve finding some type of solid frontcourt talent to bolster an aging line. The team has some more options at the swing positions, but could pick up a quality talent there to mitigate some of the burden an oft-injured McGrady now carries.
Roster and Financial Breakdown: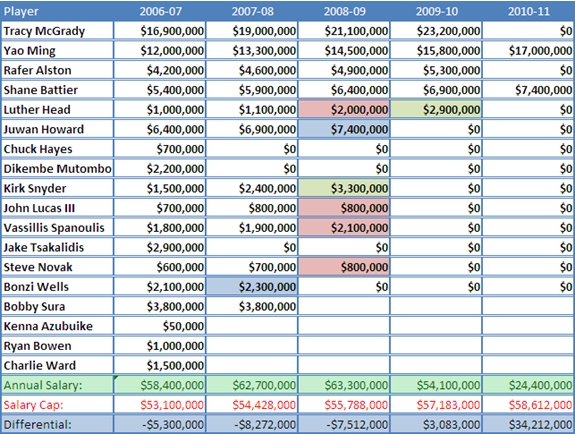 (Salary Cap projections were created taking the average increase over the past 5 seasons)
Record/ Overview:
52-30, 3rd place Southwest Division, 5th seed Western Conference
The first area of interest with the Rockets has to be how effectively veterans
Dikembe Mutombo
and
Juwan Howard
held down the fort when Yao suffered a leg injury and was gone for nearly half the season. Both players have been major contributors to winning teams in the past, but they haven't been called into a role like that for some time.
Mutombo is a sure-fire Hall-of-Famer, but at his age, it was highly unlikely that he'd be able to fill-in for Yao and keep this team on an even-keel. It certainly helped that McGrady found his team identity during this stretch, but there is no mistaking how much of a contribution both Mutombo and Howard made in facilitating that process.
Howard has played heavy minutes most of the season and his presence has been ideal for the Rockets system in terms of intelligence and execution. Howard doesn't make many mistakes, and he's completely comfortable in the half court sets that allow him to utilize his face-up game and find open spots.
The team's three point shooting has also gone a long way toward solidifying the Rockets attack, as their offense is essentially funneled through the post and relies on the two-man game played between Ming and McGrady.
Battier, Head, and Alston have been timely and consistent with their perimeter shooting, which is what makes this unit functional. Giving McGrady freedom to create, and allowing the team to get into transition opportunistically has really gotten Alston on track specifically. Van Gundy's willingness to adapt, even if just slightly, has given this team an edge this season.
Current Assets:
The team has a number of assets on its roster and will have to make some key personnel decisions going forward. The theory behind acquiring
Bonzi Wells
was a good one in terms of theoretical performance, but the team misjudged the personality variables in play and ultimately lost out on the opportunity to add a piece that could have really had this team talking title.
There is some young talent on this roster that has the ability to produce in areas of need.
Chuck Hayes
has established himself as the all-purpose clean-up forward, once again displaying the utility of hard-working "tweeners" who get overlooked because they fail to hit the performance metrics teams utilize most frequently.
Waiting in the wings for his turn is the #44 pick in last year's draft, athletic Israeli SF/PF
Lior Eliyahu
. The Rockets watched with plenty of intrigue this season as he moved from a small team in Israel to one of the powerhouses of European basketball in Maccabi Tel Aviv and barely missed a beat. Although streaky, Eliyahu had a season that would have made him worthy of being a first round pick in this year's draft, so Houston did a good job snatching him up in the middle of the second round last year in a substantially weaker draft. It's questionable that he can play under Jeff Van Gundy right due to his poor defensive fundamentals and skinny frame, but he looks like a prospect very much worth keeping track of.
Although the Rockets have played with a very short rotation all season, there are some young players that certainly could provide meaningful minutes in the future.
Expiring Contracts:
The Rockets have a few contracts of value coming off the books after next season that they could use as trade currency during the regular season.
Luther Head
,
Vassilis Spanoulis
,
Kirk Snyder
,
John Lucas
III and
Steve Novak
all have options coming up that are controlled by the team.
Head is the only player amongst the five that is a current rotation player, and his developmental progress suggests that the club will retain him. Still, if the team feels that there are better options at Head's position, he could be an attractive pick-up for another team who's looking more toward the future than the present.
Spanoulis is an interesting case to consider due to his outstanding performance in the World Games and subsequent exile to the Houston bench. Spanoulis clearly has some shot-creating skills and decision making ability that are NBA caliber, but his defensive ability, 3-point shooting and physical attributes are somewhat below Van Gundy standards. It's surprising that the team didn't communicate on these points before signing Spanoulis, as this was clearly going to be an issue coming into camp.
Steve Novak
would probably fall into this category as well. The 6'10 wing is an absolute dead-eye shooter and can do so in motion as well as simple set shooting. Novak could certainly help bolster the Houston offensive attack and serve as an apt replacement for any of the wings when it comes to maintaining effective perimeter accuracy. But Novak doesn't have the natural physical gifts for defense and will most likely never excel as a one-on-one defender, which makes his fit in Houston very much questionable as long as Van Gundy is still in charge.
Lucas III also falls into the "defensively deficient" category because of his diminutive stature. But Lucas has really developed his game in terms of his own scoring and his ability to run a team. His and Novak's performance in the Summer League and preseason showed that they are two players that can help someone, somewhere down the road.
Kirk Snyder
is probably the biggest enigma of this group. In two parts of past seasons Snyder has shown streaks of quality play. The former 16th pick of the Jazz has moved around quite a bit in his three seasons in the NBA, so its not out of the realm of possibility that a bit of stability could help him harness his skill set an become at least a contributing player in the NBA. It's on the mental side that he is the biggest question mark, though.
As it stands now, none of these players have a tremendous amount of market value beyond their expiring money, but each is a player that has some skill and could interest another club looking to unload a longer contract.
Total Cost: $6,900,000
Rotation Players:
There are only three "untouchable" players on the Rockets roster as far as projecting a core that the team would build around going forward. Yao, McGrady, and
Shane Battier
make up the foundation of the Houston attack because of their offensive/defensive prowess and overall basketball smarts.
Rafer Alston
and
Luther Head
are most likely in a slightly lower tier than the aforementioned three, simply due to the relative ease at which either could be replaced compared with the others. When looking at the trade market of available players and the value that each of them represents in their own right, it is not difficult to project scenarios where either could be considered valuable to another club.
While it's unlikely that either would be traded, if the Rockets felt that they wanted to make a solid push toward an upgrade there are some names on the trade market front that could be worth the exchange.
Jason Kidd
and
Chauncey Billups
are the two most prominent names on the list, though Houston may not have the requisite assets to exchange for contracts of that volume.
However, the Rockets could look into sign-and-trade options for a player of
Mike Bibby
's caliber. Bibby's stock is down after a rather apathetic performance this season. But Bibby is still relatively young and one could easily assume that his drop in production was a byproduct of a certain staleness that's associated with being on a team for too long and simply needing and change of scenery. Sacramento will be looking to reshuffle their cards this year and a player with Bibby's experience and outside shooting touch would be a welcome addition, especially considering the scoring burden he'd help alleviate.
Juwan Howard
has been an extremely solid contributor for Houston this season, but he's more efficient than productive these days and his contract value could make him a key chip in processing any type of major trade for the Rockets. The team is going to have to address their frontcourt needs regardless, whether it's via trade, mid-level signing, or through the draft. Howard is certainly a player the franchise would prefer to retain because of his experience and the chemistry he has with the team, but he certainly provides a possible option.
Total Cost: $50,800,000
Prospects:
The five key prospects the Rockets posses also happen to be the five players the team has coming off the books after next season.
Chuck Hayes
is already an unrestricted free agent, but Houston will probably value his services enough to retain him if the price is right.
Of the previously mentioned prospects,
Steve Novak
is probably the most noteworthy. Novak is more than just a set shooter and with experience he should be able to develop into a very nice scoring option for some team down the line. His ability to move off of screens as well as shot-fake, dribble, an pull-up with accuracy make him substantially more versatile offensively than a player that requires set-up time to fire effectively.
Novak is extremely long and tall, with a quick release. He's not quite as fluid as
Kyle Korver
, but he certainly has the ability to score at that level and projects to be more consistent with his shots and smarter with his shot selection based off of what we've seen in college, private workouts, the pre-draft camps, and summer league.
As it stands now, there is probably no market for Novak because he's not had the opportunity to put his skills into play. However, there are a dozen teams in the NBA that could use a perimeter threat with the deadly accuracy of Novak-a skill that rivals
Jason Kapono
or any other sharp-shooter in the league.
Total Cost: $6,900,000
Free Agency:
The Rockets won't have any real free agent money beyond the mid-level exception, but the quality of the team and its proximity to title contention should help Houston sell itself to prospective free agents. If a player such as
Bonzi Wells
can be convinced of the value that playing in Houston represents, there are certainly others.
One particular player that should certainly be on the Rockets radar screen is
Antonio McDyess
. McDyess has a player option for this upcoming season, but the Pistons are going to be in somewhat of a personnel evaluation mode themselves, and have a veritable glut of frontcourt players vying for playing time.
McDyess can't be considered young at 33, but he's younger than Howard and is used to playing a supporting role. If Howard is put into play to acquire another player, Mcdyess could be an attractive option.
Both
Gerald Wallace
and
Darko Milicic
are attractive options from a skill and positional standpoint, though both have some mitigating variables that should help depress their value to some extent. Both Charlotte and Orlando have needs that Houston could address with some of its current trade assets.
In Orlando's case, Novak's outside shooting and Howard's veteran stability could be an attractive alternative to losing Milicic outright if his asking price is too high. Houston won't get a better talent at their draft slot, so enticing the Magic with a pick, a veteran, and a prospect could be enough to get it done.
Gerald Wallace
is in the mold of
Bonzi Wells
as he is a powerful small forward who can fill in as a power forward on occasion. Wallace seems set to leave the Bobcats, so compensation in a sign-and-trade may be substantially less than a pure trade.
NBA Draft:
There are a number of prospects that could be intriguing to Houston available around pick 26. Though most of the elite big men should be off the board,
Josh McRoberts
,
Nick Fazekas
, and
Jason Smith
could all be available. Each has latent ability to play the high-post opposite
Yao Ming
and all are solid offensive players that could help ease the pressure on Yao and McGrady.
Of the three, McRoberts would be a huge coup for the Rockets if he slipped that far. McRoberts had a forgettable season at Duke, but he is extremely talented and seems to care about winning, if not always scoring himself. A playmaker out of the high post with great athleticism would really add an infusion of youth and explosiveness to the Rockets frontcourt, something they tried to do when they acquired
Stromile Swift
a couple of seasons ago.
Getting a feel for where McRoberts' head is at and measuring how he fits in with the current Rockets personnel and coaching staff would go a long way toward determining his value at this selection.
If the swing positions are what the Rockets value most, there should be few good options available here as well. Aaron Afflalo,
Brandon Rush
and
Morris Almond
all have the perimeter shooting that Houston covets. Rush and Afflalo's defensive ability are superior to Almond's, but Almond should have enough raw physical gifts to live up to Van Gundy's standard for earning PT.
Some of the higher-end possible sliders include
Marcus Williams
,
Javaris Crittenton
, and Thadeus Young. These three players all posses lottery-level potential, but haven't necessarily exhibited the type of prudent decision making in terms of gauging their current level of ability against the talent pool they're competing against for selection. It is feasible to consider that these players purposely came out with the intention of going later in the first round with the intent of landing on a playoff team with solid foundations that they could learn from.
In the case of Young especially, considering his intelligence and overall physical attributes, it may be best for him to improve his perimeter shooting and ball-handling by sitting behind more seasoned professionals. Young is built in the mold of Wells in that he is extremely physical and to an extent is a "tweener" forward with the developmental potential to be a power 3 in the NBA, using post up skills to complement his face up game.