The Atlanta Hawks had another typical Atlanta Hawks season. They were intriguing at times, mistake-prone at key moments, and lacked the overall continuity and offensive clout to ultimately win on most nights.
The Hawks aren't in the worst shape in terms of their roster make up, as a few years of destitution has given them a number of quality young players. Despite the horrendously lopsided trade with Phoenix a couple season's back, the Hawks will still luckily be able to add one more lottery level talent this season.
Depending on the other moves the team makes, they could get themselves further into the Eastern Conference playoff picture next year, which would be quite a feat for a management group who's already fighting an uphill battle to maintain control of the team.
Roster and Financial Breakdown: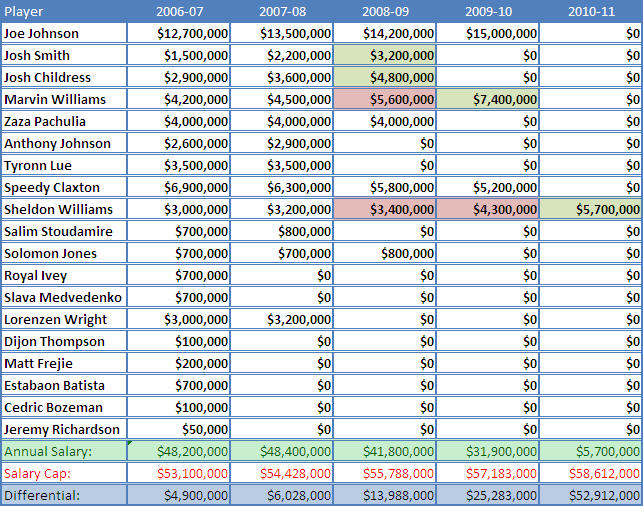 [c](Salary Cap projections were created taking the average increase over the past 5 seasons)[/c]
Efficiency: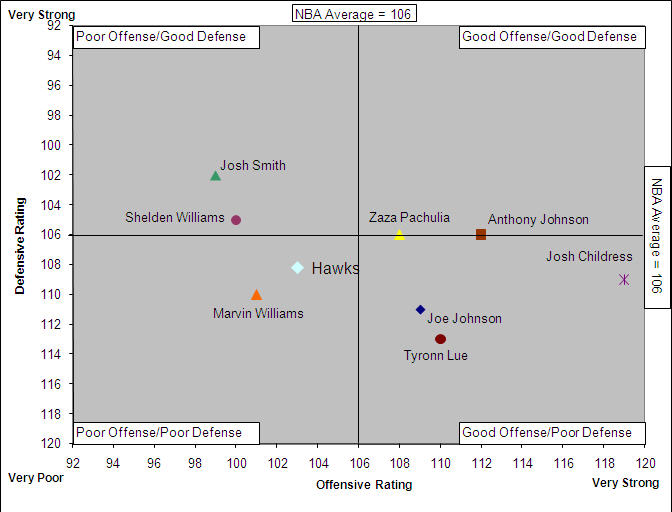 [c]courtesy of Paul Gearan and Heather Allen[/c]
Usage: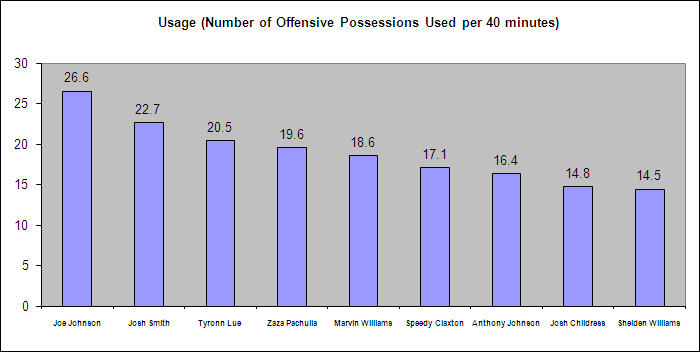 [c]courtesy of Paul Gearan and Heather Allen[/c]
Record/ Overview:
30-52, 5th place Southeast Division
There were definitely some positive moments for the Hawks last season as the team was able to compete for a playoff spot early in the year and fought hard to win each and every night. Their effort and intensity was rewarded on draft night as they jumped up to the third pick in the draft.
During the regular season, the Hawks were actually quite good in a number of areas. While they lacked true scoring punch, the team did shoot the ball extremely well from the field, including an astounding 38% three-point accuracy as a group.
Joe Johnson
continued his display of torrid scoring and multi-purpose playmaking ability, though he is in dire need of a running mate.
Josh Smith
continued to be a statistical beast on the court, even if he was somewhat difficult to communicate with.
Marvin Williams
took a substantial statistical leap in his second tour of duty, and
Josh Childress
remained a reliable player off the bench.
Like most young teams, the Hawks had trouble when it came to protecting the ball, and they really struggled to close out games because of their loose playmaking and lack of offensive diversity and leadership. The team gets steady production from a number of players, but there is clearly only one go-to guy on the roster and the team desperately needs superior inside scoring at a level superior to
Zaza Pachulia
and Shel
don Williams
.
The Hawks' biggest need remains the point guard position as the team tried innumerable options at the lead guard throughout the season.
Anthony Johnson
's late season arrival ensures that the team will have a steady veteran presence in the lineup, but a more explosive player to complement the rest of the team's youth would be a welcome addition.
Current Assets:
Atlanta is all about assets, as virtually every player on the roster is trade-worthy and has value on the market. The team has done an admirable job at maintaining financial flexibility with the roster and limiting their zeal for over-priced mid-level veterans. Only
Speedy Claxton
and his medical dossier appear to be a major hindrance, but his cap number isn't so imposing that a team wouldn't take him on for the right package.
Expiring Contracts:
The Hawks have a few expiring contracts that could help them land another big fish to swim with Johnson if the price is right.
Tyronn Lue
is up for another deal after next season and shown himself to be an able rotational player who can step up big in key moments if needed. A team in need of some roster depth and a solid locker room presence would be happy to have Lue on board to show some other team's youngsters the meaning of hard work.
Anthony Johnson
will also be seeking another deal by this time next season and a battle-tested point guard who can be relied upon for quality minutes as both a backup and spot-starter is something that always has value.
Lorenzen Wright
is coming to the end of a very strange saga himself. Over the course of his current stay with the team, Wright has gone from productive starter to random rotational usage. Wright has never been one to hold his displeasure internally when he feels his role is miscast, but he hasn't been such a public nuisance so as to call him a cancer. Wright still has value as a backup 4/5, if he is willing, as his rebounding and defense can help a team when his mind is in his work.
Salim Stoudamire
has a small contract and a limited array of skills, but his penchant for explosive scoring outbursts should help him find a niche in the league as a perimeter scorer off the bench.
Both
Josh Smith
and
Josh Childress
are up for extensions after this season and it can be speculated that the team may be inclined to trade one or both if the price is right. Each player has ability, with Smith having All-Star potential, but both will command a substantial salary with their next deal and neither is trouble free when it comes to the flaws in their game.
Childress seems to be an exceptional role player and potential 6th man down the road. He can do a little bit of everything and has the ability to play both wing positions when needed. But, Childress may be looking for a situation that expands his role, which is unlikely to occur on the Hawks. His name has been floated in rumors from time to time, so he may be moving on.
Smith has the ability to impact a game like no one else on the Hawks roster, including
Joe Johnson
. Smith has the ability to play the 4 effectively on both sides of the court and is especially effective offensively against opposing bigs. While Smith has developed rapidly considering the lack of playing experience he had coming into the league, some question his commitment to effective team play in a winning environment.
He is beloved by Hawks fans for his explosive playmaking, but the team will have to make a tough decision when it comes to re-signing the mercurial forward as he'll surely command an upwards of 9-10 million on the open market.
Total Cost: $16,200,000
Rotation Players:
Joe Johnson
is the undisputed face of the franchise in more ways than one. Johnson got his wish when he left the Suns to become the primary option for this Hawks team, but his much celebrated acquisition was also the cause of an ownership power struggle over the trade chips involved in acquiring him.
Johnson is a phenomenal player, but there is no doubt that the price Atlanta paid was substantially more than any off-guard was worth. The team is now in a position where it will lose its first round pick next season in a draft where the lottery talent is nearly as heavy as this year's crop.
The pressure is on Johnson and management to produce a winning season this year, though no one is expecting the current regime to survive now that the once-deposed Steve Belkin has won his initial battle to regain control of the team. Though Johnson wasn't his pick of choice, Belkin would certainly be pleased to find him leading the charge back into playoff relevance if and when he returns to power.
Marvin Williams
is another celebrated Hawk due to the circumstances of his acquisition. Williams will forever be cemented into the heads of fans as the player the team got INSTEAD of
Chris Paul
or
Deron Williams
. While there is quite a bit of revisionist history involved in that logic, the fact that the team needed a point guard, coupled with their misguided belief that Johnson could play the point full time, really puts a strain on Williams.
Despite the controversy, Williams improved dramatically from his inaugural campaign. Although he is somewhat of a player without a position, Williams manned the small forward role admirably last season by extending his range and reliability from 17 feet and by just being more consistent overall. Fans and management both can be impatient when it comes to player development, but the 21 year old Williams should prove once again to be better this season than last and may eventually reach a level where all are satisfied.
ZaZa Pachulia
is far less heralded than the two aforementioned Hawks, but has been a revelation given the expectations people had for him. Pachulia was somewhat of a drifter early on in his career, but has found a home in Atlanta. While it is questionable whether or not he is a starting caliber frontcourt player, he is certainly a productive and relatively consistent performer over the past two seasons. At worst, Pachulia should provide some offensive punch off the bench against most any backup center in the league, where he'll have a sizable advantage in talent.
Speedy Claxton
was an unmitigated dud of a free agent acquisition for the Hawks last year. Claxton is not a pure playmaker by any means, but has had his moments in the league for numerous teams. The Hawks could probably use Claxton's scoring off the bench in concert with Pachulia as they are sure to upgrade each position via the draft, but Claxton must be healthy if he is to provide any utility to the club. He is certainly capable of more than he showed last season.
Total Cost: $28,300,000
Prospects:
Shel
don Williams
is third in line when it comes to controversial Hawks selections. Williams is most famous for being the worst kept secret of last year's draft--something that has prompted the Hawks to play things a little more coy this season.
Everyone views Williams to have been a reach at pick 5 last year, but he is an intelligent player who should capably help to anchor the team's frontcourt defensively alongside whichever featured rookie is selected.
Williams had foul trouble last season, a common occurrence for a young, defensive minded player. His shot blocking was a disappointment due to his aptitude for it in college, but his rebounding was outstanding at times. When Williams was going well he was able to put up solid double-double numbers, and his game is reminiscent of a
Dale Davis
type. In time, he should quietly develop into a nice role player for either the Hawks or some other team intelligent enough to see the subtle value of intelligent play.
Solomon Jones
is much more of a project type player, but he too showed some flashes during the regular season, which makes the Hawks somewhat talent rich in the pivot despite being light on top-level ability.
Jones has an enormous frame that will take another few years to fill out, but his one great skill of shot blocking is as game-ready as one could ask for. Jones has the makings of a solid jump shot to complement his defensive presence on the interior and is certainly a sound investment for the next couple of seasons. The biggest question remains where Solomon's playing time will come from with so many others clamoring to get on the court. He is certainly a player to keep an eye on.
Total Cost: $4,000,000
Free Agency
The Hawks do have some money, but it is uncertain what it would be used on. There aren't that many players available on the free agent market for the cash available that wouldn't be more aptly replaced by the two lottery picks the team is holding.
As previously stated however, the team could look to get aggressive in the trade market and has been mentioned in several offseason trade scenarios already. The acquisition of a young and talented complementary player for Johnson to team with would be idea.
Pau Gasol
's name has been bandied about and it's feasible that he could propel the Hawks into the playoffs if paired with Johnson.
If the team were to accomplish that, they could spend wisely on a free agent point guard to really bring the team into focus. A sign-and-trade with some of the other interested teams could work well. Golden State would be an intriguing trade partner for Atlanta as they could exchange high-risk chips at positions of need.
Monta Ellis
for
Josh Smith
would really put an edge of excitement into Atlanta going into next year if the team could consummate a Gasol deal prior to it.
The team has talked of the need to bring young veterans who are "ready to play" in order to ramp up their competitive level. With the East wide open and their pick safely in the hands of the Suns,
Billy Knight
has a chance to look brilliant at least once in his tenure.
Draft:
The club currently sits at picks 3 and 11. There is value at positions of need in both slots and the team wouldn't have to draft a lesser talent to fill those needs.
Al Horford
seems to be the consensus 3rd pick, and unless the Hawks do something unexpected, Horford should be their choice. Horford is probably the most "ready to play" out of all of the lottery players and would instantly become the team's most talented frontcourt player aside from Smith. The pairing of those two in the frontcourt with the ability to move Smith down to the 3 and install another traditional big man gives the Hawks a lot of match up options.
The 11th pick was being shopped league-wide for some time and it was speculated that the team would use it to bring one-time Georgia Tech standout
Jarrett Jack
back into town. That speculation died down over the past few weeks and the usual suspects have reemerged at this position.
Acie Law
is a Green Room invitee and makes a lot of sense for the Hawks in terms of his collegiate experience and ability to lead a team. Law would also give the Hawks the ability to put great size on the court as he is a big point guard who can be physical when he has his mind set on being so.
There was some talk of selecting another local talent,
Javaris Crittenton
, but it would be a reach to select him so early in the draft. While talent and accuracy in selection is more important than draft position, Crittenton is short on game experience and doesn't have the acumen to handle running a professional team yet. The Hawks would be wise to seek other options if they are looking to get quality help that can result in wins both now and in the future.