This July NBA free agents were guaranteed more than $3.3 billion, according to Spotrac.com. The amount of money given out raised eyebrows and raised ire from athletes in other sports who felt their compensation was no longer adequate when compared with NBA contracts. However, there were many factors that contributed to the explosion of money, including a nine-year, $24-billion television deal and a refusal of the NBPA to smooth the expected cap jump out over multiple years.
However, big spending in free agency is close to an annual tradition. The numbers may have been larger this season than in years past, but many free agents receive deals well above their perceived market value every summer. This tradition made me wonder if NBA teams consistently paid higher salaries for certain skills, such as blocks and assists, or for certain characteristics, such as efficiency.
To answer this question I chose to look at 15 different performance metrics to see which ones were correlated with higher free agent salaries. I took a random sample of 80 free agent signees from 2012-2015 and looked at the aggregate of the two seasons prior for each metric. For example, when
Reggie Jackson
signed his deal in 2015, I looked at the average of his 2013 and 2014 seasons for each of these metrics. Because the salary cap changes each year, I used the percent of the salary cap that each specific player signed for, in lieu of the actual number.
Before we jump into the results, the limitations of these results should be discussed.
The free agent market itself is imperfect so unknown factors such as the strength of the class can affect the results. Further, no matter how good a certain player performs, he is not negotiating a deal on an open market due to the max salary issue. Therefore all players above a certain threshold may get a max salary, which ignores the differences between those players.
Practically speaking, teams rarely sign players for a single skill—such as how many assists they average—but looking for a correlation can be useful to see if there are any attributes that consistently rise along with a player's salary.
The Top Three
Points Per Game (0.69):
Points per game was tied for the highest correlation with the percent of salary cap each player signed for, which was hardly a surprise as the goal of basketball is to outscore the opponent. The few players who commanded a salary above 14% of the cap without doing much scoring contributed heavily in other areas like rebounds and blocked shots (
Tyson Chandler
,
Omer Asik
). Alternatively, the players who scored well but didn't command a high salary contributed little beyond their scoring (Mo Williams,
Randy Foye
). Simply put, teams put a premium on scoring and, as often seen in the playoffs, players who are unable to score at all can be a big hindrance to an offense.
Win Shares (0.69):
Tied with points per game for the highest correlation with player salaries was win shares. Of the 16 players in the sample to average at least 5.0 win shares, only
Mike Dunleavy
(2015) and
Paul Pierce
(2014) signed for less than 10% of the salary cap. Interestingly, win shares had a higher correlation (0.73) with minutes played than with the percent of salary received. This shows how much opportunity itself matters. Before you can become a positive contributor, the opportunity to play must be earned first.
Free Throw Attempts Per Game (0.67):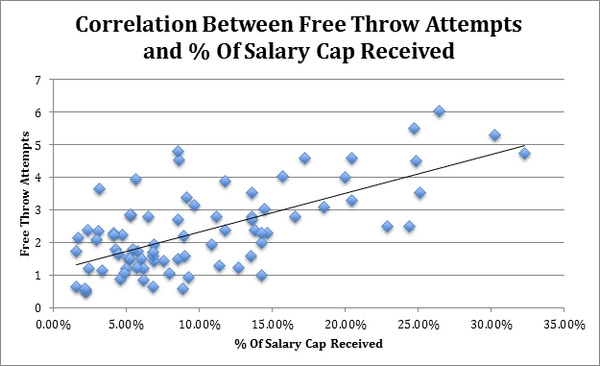 The most unexpected of the statistics to crack the top three highest correlations was free throw attempts per game. Looking at the graph above, the correlation looks to be pretty strong and is not heavily influenced by outliers. However, the main reason for this correlation is actually the relationship between points per game and free throw attempts per game. The two had a stronger correlation with each other (0.78) than with the percent of salary a player signed for.
Moderate Correlation: Minutes played, Rebounds per game
Other than the Top three, minutes played and rebounds per game carried the next highest correlation with the percentage of salary cap received by free agents. Rebounding at any position is a positive trait, so it is not surprising that it had a relatively high correlation. Interestingly, rebounding seems to be most valued as a complimentary skill rather than as a primary one, as players who do little besides rebound generally are not paid well, such as
Reggie Evans
(2012) and
Ed Davis
(2014). One of the few players to be paid a large salary primarily for his rebounding was
Tristan Thompson
and many in the media questioned that deal (until the Cavs won the championship and Thompson proved to be a vital cog).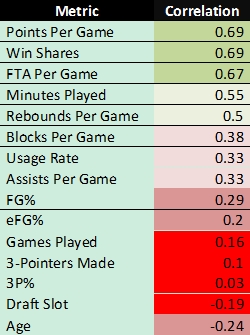 Low Correlation: Blocks per game, Assists per game, Usage Rate
Neither blocks nor assists per game were found to be highly correlated. However, if you pull out just "bigs" (power forwards and centers) the correlation for blocks becomes 0.58. Conversely if you pull out just guards (points guards and shooting guards) the correlation for assists actually decreases slightly to 0.31. One possible conclusion for this is that teams value players that get "non-traditional" stats for their position. Forwards and centers that pass well are valued because, historically, those positions are not counted on to do those things.
Very Low Correlation: FG%, eFG%, Age
It was surprising that neither FG% nor eFG% had much of a correlation. With conventional wisdom placing more emphasis on efficiency in lieu of volume scoring, one would expect more efficient players to be compensated as such. This may speak to the importance of being able to create your own shot. While some players may score efficiently, they do so on shots created for them by others. Isolation scoring is valuable despite generally being less efficient because fewer players can do it effectively.
As with one's draft slot, age had a negative correlation, meaning as age increased, the percent of salary used on the player decreased. This is to be expected, as teams are more likely to give a large deal to a 27-year-old entering the prime of his career than a 32-year-old leaving the prime of his.
No Correlation: Games Played, 3-Pointers Made, 3P%, Draft Slot
Of these four, I was most surprised that 3-pointers made held no correlation. Even removing all players who did not make a 3-point basket in the two years prior to signing as a free agent, the correlation was still non-existent. The 3-point shot continues to increase in popularity around the league, but, simply put, teams are hesitant to spend big money on one-dimensional shooters.
Mike Dunleavy
(2015),
Marco Belinelli
(2015),
Patrick Mills
(2014), and
Brandon Rush
(2012) were all high-volume, high-efficiency 3-point shooters who received deals for less than 10% of the cap.
The correlation with draft slot was negative, meaning the lower the player was drafted the higher the salary they received. However, the coefficient was so small that this can likely be explained by the difference in actual contribution from a high draft pick as compared with a lower draft pick.