Jonathan Givony
If there is such a thing as a freshman playing flawless basketball right now,
Kyrie Irving
would qualify for that outlandish statement.
Productive, efficient, unselfish, exciting—there's really no shortage of ways to describe the way Irving has performed thus far. He's managed to take a NCAA Tournament championship team—ranked as the best offense in college basketball—and make them even better, acting as their main facilitator, shot-maker and go-to guy. Dominant when needed, but still deferential enough to keep all of Duke's many other options happy (thus far), Irving has fit in as seamlessly as possible, making the transition to the NCAA-level look effortless.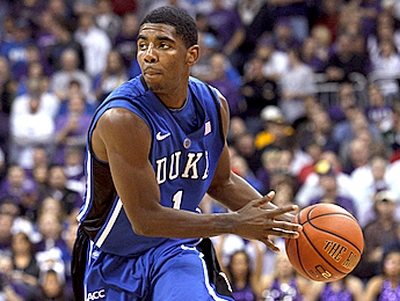 Irving is scoring at a terrific rate thus far, nearly 22 points per-40 minutes pace adjusted, but is doing so without the luxury of taking very many shots. He's accomplished that feat by converting efficiently inside the arc (59%), hitting his 3-pointers at a blistering 45% clip, and getting to the free throw line over 8-times per-40. There really isn't much more you can ask for besides that, especially considering that he's only eight games into his college career.
On a team that has never been shy to get out in the open floor, Irving has pushed Duke's pace to a full throttle. They're playing almost seven (72.1 compared to 65.5) possessions faster per-game than last year, with Irving replacing the more conservative
Jon Scheyer
being the main catalyst behind that change. The biggest part of Irving's offense (27%) in fact comes in transition, according to Synergy Sports Technology, and he's been extremely efficient out in the open floor. Also seeing big chunks of usage in isolation (23%) settings and on the pick and roll (22%), the way Irving is playing and getting his production couldn't possibly lend itself any better to the NBA style he'll need to transition to next season.
Not as blazingly fast with his first step as
Derrick Rose
,
John Wall
, or even
Kemba Walker
, Irving plays at a very unique pace that keeps defenses consistently off-balance and allows him to get to the basket seemingly whenever he needs to. Able to drive left or right almost equally well, he has excellent timing on his drives, very good body control, and the ability to operate at different speeds. Rather than just attempting to blow by opponents using his pure first step, Irving instead likes to toy with his defender, using tricky stutter-steps, strong body fakes, and perfectly timed hesitation moves to beat opponents smoothly and slitherly.
In the open floor, he uses long strides, fancy footwork and a surprisingly powerful extra gear that he keeps tucked under his belt for moments that he most needs it. His above average size and strength, coupled with his under control demeanor and ability to use both hands equally well around the basket makes him a phenomenal finisher once at the rim. He is crafty and elegant with his layups, but is also not afraid to sacrifice his body and just barrel into a defender in order to draw a foul, which helps him make up for the degree of explosiveness that he seemingly lacks rising up above the rim in traffic.
Because of the nature of his drives—heady, rarely out of control—Irving has a big advantage when it comes to making plays off the dribble. He has an excellent sense of where his teammates are at all times, and is confident and creative enough to know how to get them the ball in drive and dish situations, often in spectacular fashion. His chemistry with the ultra-explosive
Mason Plumlee
for example has been outstanding thus far—Irving loves drawing the defense and then finding Plumlee at the rim with a perfectly timed bullet pass or lob. With his terrific timing, ball-handling skills and court vision, Irving is going to be a handful on the pick and roll at the NBA level, and sure-handed big men and deadly spot-up shooters alike will love playing with him.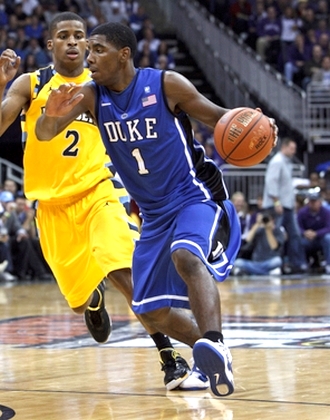 Further differentiating him from the brand of pure jets (Rose, Wall, Westbrook, Jennings, etc) that we've seen take over the NBA point guard position in the past few years, Irving is already quite an accomplished shooter at age 18. He shows excellent shooting mechanics and is already near-automatic with his feet set, also being very capable of making shots off the dribble with a quick release. He's constantly probing the defense and won't hesitate for a second to pull up for a 3-pointer if an opponent goes under the screen in hopes of cutting off his driving angle, which makes him quite a handful to game-plan against.
To complete the picture, Irving not only has the skill-set teams look for in a franchise point guard, but he also has the attitude and intangibles. He plays with great maturity and an amazingly confident demeanor on the court, an almost cocky swagger that makes it impossible for even the most casual observer not to realize who the best player on the court is. At some point in his career this might rub some people the wrong way, but considering the way he's actually performing, no one on this Duke squad can dispute his alpha-dog status.
Luckily for the team that drafts him, according to all reports Irving is a serious, highly competitive and extremely intelligent player both on and off the court, with a terrific work ethic and a winning mentality. He not only talks the talk, but he walks the walk, making him exactly the type of prospect a NBA team would want to invest a high draft pick on.
Irving is already one of the best distributors in the NCAA, ranking highly in both PPR as assist to turnover ratio, but he's only really scratching the surface on how good of a point guard he can become in the half-court. Although he's clearly a willing passer, the ball tends to stick to his hands just a tad too much at times, and he has been responsible for a handful of sloppy possessions. His turnover rate (24%) is probably a little higher than Mike Krzyzewski would like, but considering his age, lack of experience and how dominant of a ball-handler he's been for Duke this season, it's more than understandable that there will be some growing pains. The question is how Irving (and his coach) will respond once Duke inevitably hits a rough patch and the freshman is forced to adjust on the fly. Opposing coaches at some point might decide to throw the kitchen sink at him to see how he reacts.
Defensively, Irving won't have any problems from a physical standpoint in the NBA, as he has good size, strength and lateral quickness, even if his wingspan probably won't measure out off the charts. He's already way ahead of where most freshman are on this end of the court too, as he plays with good intensity, has excellent fundamentals, and shows great timing jumping in the passing lanes. Like all freshmen, he has some issues defending off the ball and can get impatient coming out of his stance in long possessions, but these are minor qualms that can and likely will be corrected playing under one of the most respected coaches in all of basketball.
All in all, Irving is clearly an elite-level prospect who will only add to the embarrassingly rich crop of point guards the NBA is enjoying at the moment. He's polished enough to help a team right away, but has plenty of potential to continue to improve at the same time, making him a very exciting prospect for a bad team to pluck very early in the draft, likely this upcoming June. With his good friend
Harrison Barnes
doing very little to justify being considered the #1 overall pick thus far, Irving looks like the natural successor to that throne early on (and he's
indeed taken over that spot
), even if we still have a long ways to go until that final decision needs to be made.