Sometimes patience pays off. It did for
Russell Carter
. After riding the bench for his first two seasons at Notre Dame, and not being a go to option as a junior, Carter finally got his chance as a senior and made the most of it, earning All-Big East honors.
"I just waited my time, practiced a lot and got better," Carter said. "We always had a lot of guards in our line up, so I just deferred to them."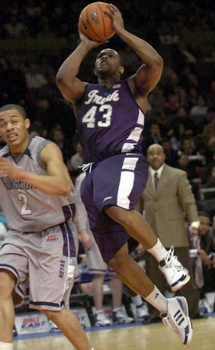 Carter wasn't heavily recruited coming out of Paulsboro, New Jersey due in large part to a knee injury suffered during his junior season that would require surgery. While recuperating, he missed out on playing in many showcases and tournaments that drew college coaches from across the country. The sharp shooter came back with vengeance his senior though, averaging 30 points and garnering attention from several schools. One of those schools was Notre Dame.
"Notre Dame came on late, and I had been watching them; they had a tremendous year that year," he said. "When I went out there it just seemed like a great match. There were a couple schools here and there looking at me, but my family's whole thing as far as getting a scholarship was education. William and Mary, Penn, and Notre Dame were my three choices."
In his first two seasons with the Irish, Carter averaged less than 10 minutes of playing time per game, and even with a tremendous jump in his minutes as a junior, he still wasn't getting the chance to show what he could do. That all changed this season when he saw his numbers jump to 17 points, a mark that was tops on Notre Dame. Carter stated that this season was no different from any other; just that he was getting his looks.
"I didn't do anything out of the ordinary [in the off season], I just worked out like I do all summer," he said. "I worked hard and perfected the things I'm not too good at. I just got the chance to show what I can do."
Of course with his performance on the court came the added recognition with being his team's star. The culmination came with the announcement that Carter had been named All-Big East.
"I just consider it an honor," Carter said. "There are a lot of names of guys that have been on All-Big East in the past, and just to be a part of that was a reward for all the hard work I put in during my four years. It was just a great achievement."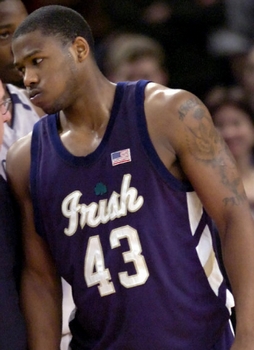 Carter's stellar play helped lead Notre Dame to its first NCAA Tournament birth during his time with the team. Many viewed this season as a rebuilding year for the Irish, but Carter said that he and his teammates knew they had a chance to make an appearance this year. He said the key was hard work and having fun playing basketball. The ride came to an end in the first round as Notre Dame fell to a solid Winthrop team.
"It was tough," Carter said. "It was the first time we had ever gotten to the tournament and it was real rough because it didn't last that long, so that was kind of bittersweet. It was just that my ride was over, my four years were over and I enjoyed every part of it; not even just basketball, but every single part of it. It wasn't over in terms of the school year, but just that part of my collegiate career was over, and it was just a sad day."
Like so many other players across the country though, the end of the college season didn't mean the end of basketball for Carter. He attended the Portsmouth Invitational Tournament along with many of the other top seniors from across the nation. Carter's experience was particularly enjoyable as his team went on the win the tournament championship, thanks in large part to his play.
"Our team was a bunch of good guys," Carter said. "We all had an agenda to win the championship and just play together. We all kind of discussed how some guys just try to shoot, or show off stuff that scouts doubt in their game and try to prove what they can do; but with out team there was no agenda, just win. If we play together and win, our talent will show. People there just loved basketball and want to continue their careers."
Carter's talent did more than simply show, it stood up and demanded attention, as he was one of the top players at Portsmouth. In the championship game he put together the most impressive individual performance of the weekend, scoring 28 points, grabbing 9 rebounds, and dishing out 7 assists, all while hitting on 12-17 shots.
While it may have seemed that Carter was all business on the basketball court, off it he was able to kick back and enjoy spending time with his new teammates.
"You know sometimes some people have egos or they seem too good to talk to, but everyone was real down to earth, they were just there for the task of playing basketball," he said.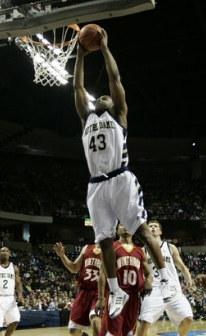 "We're all just regular people, we just happen to play basketball at the collegiate level. We just had fun. We talked about our seasons a lot. It's amazing how many things that happen to you during the course of your season, happen to other guys as well, it's something you wouldn't expect. We're all basketball players; I mean how could you not expect us to interact and have fun."
When asked if he thought that his performance had helped his draft stock, Carter said he wasn't concerning himself with those kinds of things, that he would leave that up to the scouts. He said his team at Portsmouth played very team oriented basketball and that he simply tried to play within the system and do all that he could to help the team win.
Carter is back at Notre Dame now, where he is close to finishing classes for the year and getting ready to take exams. Once he finishes there though, it's right back to basketball. Carter will be traveling west to Los Angeles where he will be training at the Abunassar Impact Basketball facilities with several other players hoping to turn pro, including
DaShaun Wood
of Wright State.
Fans know Carter as a sharp shooting scorer, but he said at AIB he is hoping to continue to improve other strong aspects of his game that many people may not have noticed in the past.
"Sometimes people overlook the fact that I can get to the basket, but when I do good things can happen; either I get fouled or if I see someone open I can kick it to them," Carter said. "I take pride in my defense. It never looks good when a guy scores on you, it doesn't matter how many points you score. Also I'm just a team player."
Carter also plans on improving his ball-handling skills. At Notre Dame, the responsibilities of creating didn't fall on his shoulders, as the coaching staff preferred to have him set up to score. With his increased-ball handling abilities Carter said he could see himself becoming more of a combo guard at the pro level, but that any way a team can make use of him as a guard is fine by him.
Of course the most encouraging words from Carter come when he is asked how he can help out an NBA team next season. Carter puts it bluntly:
"However they need me to."