Over the course of the next few weeks, current NBA players will reflect on their draft experience with Draftexpress columnist Charlie Bury. First up is
Danny Granger
, who rose up mock drafts late in the season only to slide all the way to pick number 17 after being considered by many to be a strong candidate for the top ten. Danny sheds some light on a number of issues, including picking an agent, the workout process and his initial training camp battle against
Ron Artest
.
Charlie Bury:
What was the whole draft experience like for you?
Danny Granger:
It was a rough experience because you're traveling all over the country, you've got to perform for these different teams. A lot of times you're tired from the traveling, getting off planes, coming to the arenas. But overall it was a fun experience..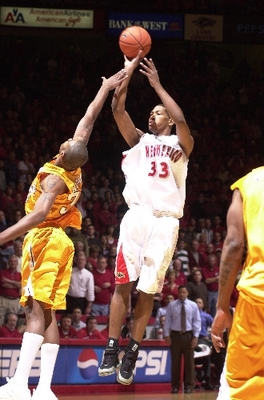 Charlie Bury:
What was the agent selection process like for you? How did you go about picking your agent?
Danny Granger:
I actually was thinking about going into the draft after my junior year, so I started looking after that and that's when I narrowed down my agent list. But I decided to stay in school. I sat down with six agents and it was me, my dad, my college coach and also my high school coach, who were all instrumental in my future at that point. So we just interviewed them and sat down and talked about it, got different opinions, called different people to see which agents have good reputations. That's something you really should do; look at the background of the agent, then we made our decision.
Charlie Bury:
Was that inner circle you just mentioned also important in helping you decide to stick around at New Mexico for your senior season?
Danny Granger:
Definitely. You've got to surround yourself with good people that have your best interests at heart. When I made my decision to stay in (school) it turned out better for my career. Like I was telling some of these younger guys, its better for you if wait and know for sure you're going to get drafted.
Charlie Bury:
You mentioned flying around the country working out for different teams. What were those workouts like for you?
Danny Granger:
They were a test. You're playing against other draft picks and everybody's trying to get drafted as high as possible, so they're all out wars. They don't call a lot of fouls. You've just got to dig though it, show your heart and show your skills and let the rest take care if itself.
Charlie Bury:
Who were some of the guys you worked out against?
Danny Granger:
Lets see…when I got drafted I worked out against
Hakim Warrick
,
Joey Graham
,
Sean May
, I think I did
Antoine Wright
; most of the guys at my position.
Charlie Bury:
What kind of feedback did you get from teams about how you performed in those workouts?
Danny Granger:
You know what its funny with the draft is, NBA teams, it's kind of like a strategy game with them. They don't know who wants whom, so they won't really reveal too much information to you. If you had a good workout they might tell you had a bad workout because they want to keep you. Or they might tell other people you had a bad workout in case they want you. But it was a good experience for me, I did pretty well.
Charlie Bury:
When you sit down with team personnel, what do they ask you to get to know you as a person?
Danny Granger:
They all have their different little questions to try and get inside of your head. You go into a room, its kind of a board room with all the coaches and the GM. They'll ask you…I remember one of the questions was when was the last time I had a drink, had I ever smoked marijuana, what I liked to do in my spare time; if this happened or this happened what would I do. Stuff like that.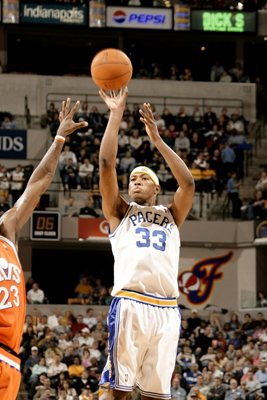 Charlie Bury:
Where do you think teams trip themselves up in the whole evaluation process leading up to the draft?
Danny Granger:
I think sometimes teams put too much emphasis on workouts. You've got to remember these workouts; they're mostly one on one and two on two. The NBA game isn't a lot like that, you've got 8 other people on the court and it's a 5 on 5 game. I mean it's an isolation game, but I don't think the workouts give an accurate description of an NBA game. I guess it gives teams a chance to look at player's ball handling skills, but like I said that can all change when you put other people in the court.
Charlie Bury:
After the experience of draft night you head almost immediately to summer league. What was that experience like for you?
Danny Granger:
It was fun; I had a lot of fun. With their draft picks, teams try to develop them as much as possible so it's like you're the go-to guy in summer league, you know? It's just a lot of fun. Coaches call a lot of plays for you; if you make a mistake they'll keep you in. It was a great experience.
Charlie Bury:
So after summer league you head into training camp and start battling
Ron Artest
. What was that like?
Danny Granger:
Well me and Ron-we played the same position. I'm a small forward and he's a small forward; and he works hard. I was a rookie, so he grabbed me and was like "come on rook lets get in the gym. So we just got in the gym and we started really battling. I couldn't score on him, he couldn't score on me. Then Larry and Donny walked in and they kind of saw it and after that we probably battled for the next two or three months until he was traded.
Charlie Bury:
Besides
Ron Artest
, who were some of the other Pacers that took you under their wing and helped to show you the ropes as a rook?
Danny Granger:
It was Ron, but it was mostly
Stephen Jackson
and
Jermaine O'Neal
. Jermaine had been in the league for a long time and Stephen won a championship with the Spurs. They really just told me how it would be and what to expect. It helped a lot.
Charlie Bury:
Was there a moment during your rookie year that sticks out in your mind when it finally clicked like "wow, I'm really in the league"?
Danny Granger:
It was our second game, when me played Miami on TNT my rookie year. I got put in with a little time left in the second quarter, and I got matched up with
Shaquille O'Neal
. That was really my welcome to the NBA moment because I never thought that I'd be playing against Shaq. It was pretty amazing.
Charlie Bury:
How would describe this past season?
Danny Granger:
It was an up and down season. We were doing all right, than we had the big trade and we went on an eleven game losing streak that pretty much kicked us out of the playoffs. I think we were a better team, but we just lost focus for a while and we ended up doing bad. But after the trade, my scoring picked up. I was getting like 15, 16 a game over the last 50 games.
Charlie Bury:
You were obviously proved to be pretty durable as well, playing in all 82 games both seasons. One of the concerns prior to your draft was a knee injury that you had in college. How big a role did that play in where you ended up being drafted?
Danny Granger:
Yeah I think it played a major role because when I went to my workouts my knee was still swollen. What's funny about it is the reason my knee was swollen was because I had to play until the end of my senior year and I didn't get any time off because I had to work out for the draft. So I was on anti-inflammatory just to get me through it. My knee wasn't nearly as strong as it is now. So when I went for my workouts I got red flagged because of the swelling. Well after I got drafted, the Pacers realized it and they sat me out for like two or three months.
Charlie Bury:
Danny, thank you so much. I appreciate your time.
Danny Granger:
No Problem.