Video Analysis by Mike Schmitz. Scouting Report by Jonathan Givony
Karl Towns
was not really a favorite of the high school recruiting services, as he was ranked just the ninth best prospect in his class according to ESPN, and
seventh in the RSCI
as a whole. Nevertheless, NBA scouts were extremely high on him after two strong performances in the Nike Hoop Summit World Team practices and scrimmages in Portland, Oregon in 2013 and 2014.
Towns played only 21 minutes per game as a freshman at Kentucky, but was extremely productive on a per-40 minute basis, at 20 points (57% 2P%, 82% FT%), 13 rebounds, 4.4 blocks and 2.2 assists, good for a PER of 31.9 that ranked below just Frank Kaminsky among DX Top-100 prospects.
(Video may not load with Internet Explorer. Use Chrome or Firefox)
Towns has terrific physical attributes for an NBA big man, standing 7-0 in shoes with a 7-3 ½ wingspan and a strong 250 pound frame. While not a fast-twitch, freakishly explosive athlete, he is extremely mobile and coordinated for a player his size, running the floor well and showing very nice agility.
Towns shows excellent versatility on both ends of the floor, spending time at both the power forward and center positions for Kentucky, which he'll likely continue to do in the NBA.
Offensively, he was most frequently utilized in the post, with 43% of his touches coming with his back to the basket. He shot 51% from the field in these situations, as he was often able to establish deep low-post position with his strong frame and then turn to either shoulder, where he has excellent touch with both hands.
Towns' post-game is not the most advanced, as he doesn't sport very nifty footwork due to his gigantic feet, and lacks much in the way of counter-moves, making him somewhat predictable at times. He turned the ball over at a relatively high rate on the block (18% of possessions), avoiding contact at times and struggling with stronger and more physical opponents, but got better with this part of his game as the year moved on, particularly with his willingness to establish post-position and finish strong in traffic.
Towns shows excellent potential in the post with his strong frame and long arms, which gives him an excellent vantage point to just throw the ball in the basket with extremely soft touch. Besides his jump-hook, which he can shoot with either hand (but clearly prefers utilizing his right), he also shows a nice turnaround jump-shot he can go to, as well as the framework of an old-school swooping hook shot running across the lane.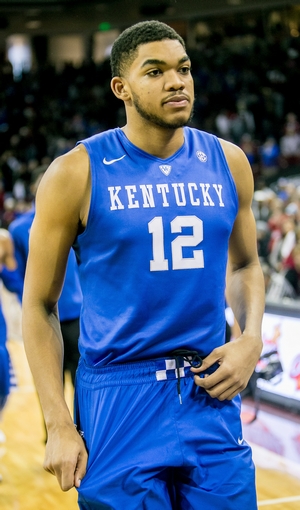 Unlike most 7-footers, Towns has no problem operating from the high post or even further out, being very smart and reliable with the ball in his hands. He can execute half-court sets intelligently, passing the ball accurately out of the low post or the elbow, doing a nice job in high-low situations. He is very mature and polished for a player his age, and should be able to develop into quite a weapon in pick and roll, pick and pop or dribble-handoff situations with better spacing and shooting around him in the NBA—giving him the ability to play alongside another paint-oriented big man if needed.
Towns grew up as a perimeter oriented power forward who didn't hesitate to fire away from beyond the arc when left open,
leading
his high school team in 3-pointers made, and hitting 46% of his attempts as a 15-year old on the Dominican Republic U17 team on 5.5 tries per game. He didn't show much of that at Kentucky, only taking eight threes on the year (of which he made two), but his excellent shooting mechanics, combined with his outstanding 82% free throw percentage as a freshman, leads you to believe he'll continue to hone this part of his game in the NBA.
He's also a solid ball-handler in the open court or driving in straight lines, and should be able to become a more prolific shot-creator from the perimeter as he continues to improve his offensive polish.
Defensively is where Towns separates himself as a prospect, and where his one year at Kentucky really helped him improve the most. He has the size and strength to defend centers effectively, but also the length and mobility to contain most 4s, giving him terrific positional versatility that is highly coveted in today's NBA.
Towns has terrific timing as a shot-blocker, with his 4.4 blocks per-40 minutes ranking fifth best among DX Top-100 prospects. He covers ground nicely, being agile enough to hedge screens out to the perimeter and still make it back into the paint in time to make a play at the rim. It's not rare to see him take charges, close out effectively on shooters on the perimeter, or even switch out onto guards in pick and roll situations. He's also an excellent rebounder thanks to his terrific size, length and instincts, grabbing 13 boards per-40 minutes pace adjusted, the third best rate among DX Top-100 prospects.
(Video may not load with Internet Explorer. Use Chrome or Firefox)
Towns is not a finished product on this end of the floor, as he still has plenty of room to continue to improve his technique and consistency like all young players. He was at times a little too aggressive biting on pump-fakes or putting his hands on opponents on the perimeter, and doesn't always play on the balls of his feet due to their sheer size, which can leave him flat-footed and make it difficult for him to slide and contain quicker players at times. His 5.7 fouls per-40 minutes was the third highest rate among DX Top-100 prospects.
He's also not the most explosive player around, needing time and space to gather himself from a standstill to finish plays around the rim. His tremendous length, touch and smarts made this mostly a non-issue at the college level, where he converted an outstanding 66% of his plays around the basket in the half-court, but it's something to pay attention to as he transitions to better competition in the NBA.
Towns wasn't terribly consistent as a freshman, fouling out six times and being somewhat of a non-factor in a handful of other contests. He's still figuring out how to play with the same type of mindset each and every game, as he's been criticized at times for lacking a degree of toughness, particularly in terms of fighting for post-position, finishing through contact and having rebounds taken away from him. Only turning 19 years old early in the college season, that's to be expected to a certain extent, and something he can clearly continue to improve on.
Towns' positional versatility on both ends of the floor makes him something of the prototype for your modern day NBA big man. He can protect the rim and score inside the paint like a center, but is also capable of stepping away from the rim guarding the pick and roll or as a floor-spacer on the perimeter. It's extremely difficult to find players who can do all these different things, which could easily convince a team to use the #1 pick on him should he decide to enter this year's draft.