Statistics are an important measure used by NBA teams to assist in evaluating prospects. When scouting players, it can be helpful to examine the stats to see if they back up your observations of a player on the court.
The point guards and combo guards compose the first look at the statistical break down of the 5 positions, and the top 20 at each position will be included. Unfortunately, it is impossible for us to include international stats in this breakdown, thus
Petteri Koponen
has been excluded from this comparison.
Before looking through the following piece, it may be helpful to first examine the DraftExpress Stat Legend composed by Noah Libby-Haines to gain a better understanding of the statistics used.
All the applicable stats have been changed to account for pace of play and adjusted to 40 minutes to provide an equal ground to compare players. Keep in mind that level of competition, a player's role in his team's system, and age differentials (ie: freshman vs. seniors) mean that these numbers always have to be taken with a grain of salt.
Interested in making your own statistical comparisons? You can do so
here.
Points Per Game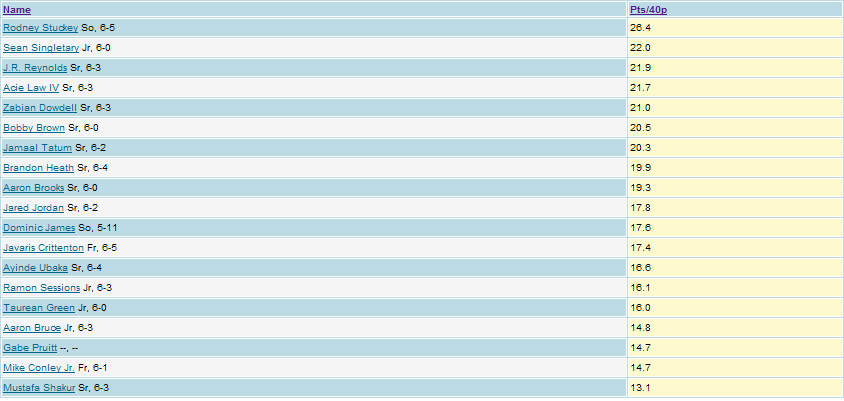 Rodney Stuckey
leads the way in points per game by a substantial margin, and this can strongly be attributed to his role for Eastern Washington where he was expected to shoulder the majority of the scoring load this season. Many of the guards towards the top of this list can be called combo guards who were told by their coaches to look to score first. Stuckey is a classic case of this, and he also plays against very weak competition in the Big Sky conference. Regardless, his scoring prowess cannot be ignored, especially when scouting the
way
he puts the ball in the basket, exemplary of your modern day NBA combo guard, deadly mid-range game and all.
---
Assists Per Game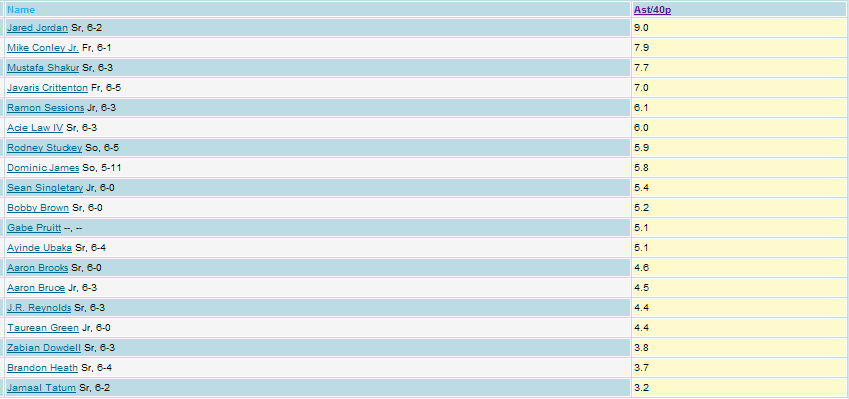 Marist guard
Jared Jordan
led the country in assists this season and is joined at the top by impressive freshman
Mike Conley Jr
. who we project as the first point guard taken in the draft this season.
Acie Law
was expected to score and distribute, and he ranks towards the top of the list in both points and assists per game. Jordan will have a chance to show that his playmaking ability can translate against bigger, stronger, more athletic competition in the Orlando pre-draft camp. If he can find similar success with the ball in his hands, his stock will rise considerably in this extremely weak draft for point guards. The same can be said to a lesser extent about
Ramon Sessions
.
---
Turnovers Per Game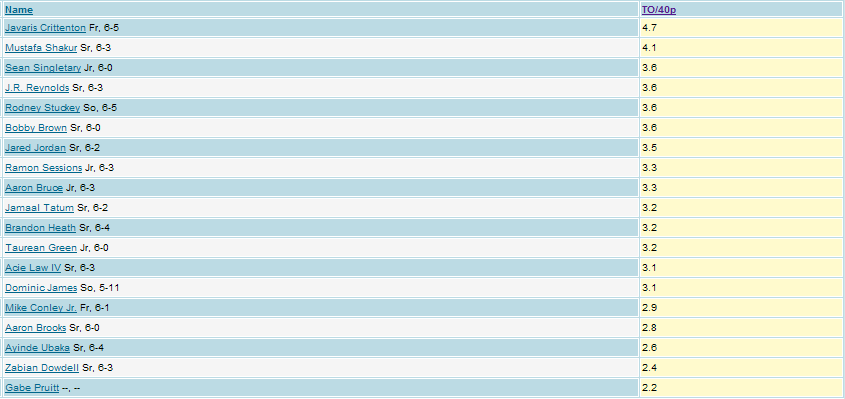 Javaris Crittenton
has been criticized for forcing the issue this season, and his decision making must improve with the ball in his hands. The turnover numbers are also alarmingly high for senior
Mustafa Shakur
, who struggled with bad decisions throughout his 4 years with the Wildcats.
Gabe Pruitt
turned the ball over less than any other guard on the list, and Mike Conley,
Dominic James
, and
Acie Law
have fairly low numbers considering the amount of time they spent with the ball in their hands.
---
Assist To Turnover Ratio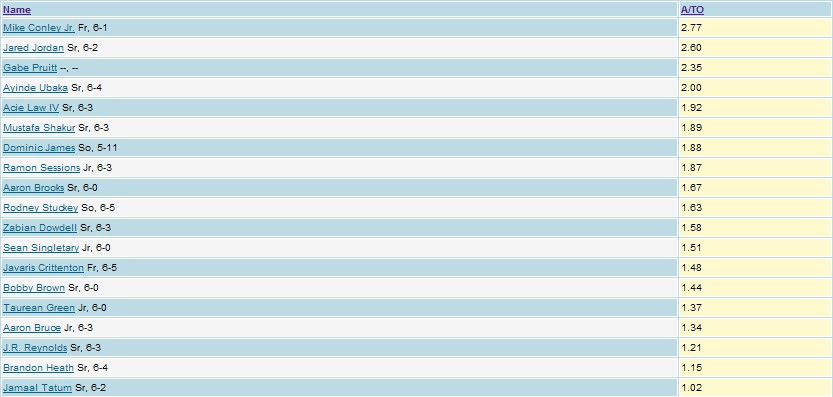 Assist to Turnover ratio has always been viewed as an important stat for any point guard, and
Mike Conley Jr
. ranks at the top of this year's point guard class.
Jared Jordan
also comes off very well in this category.
Ayinde Ubaka
is a surprise towards the top of this list, as is
Gabe Pruitt
. Unfortunately, neither player will be participating at the Orlando pre-draft camp last time we checked. It will be important for the scoring guards to show that their role was restricting them in this area.
---
Points Per Possession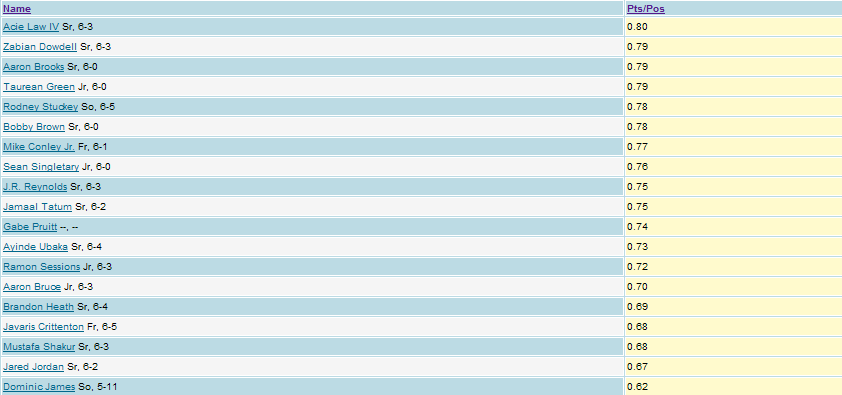 This ratio shows an overview of how efficiently a player uses each of his field goal attempts to put the ball in the hoop.
Acie Law
's ability to score from nearly anywhere and create contact places him at the top of this list.
Zabian Dowdell
,
Aaron Brooks
, Taruean Green, and
Rodney Stuckey
also use their possessions wisely when creating their own offense.
Dominic James
' poor decision making is exemplified at the bottom of this list, while
Jared Jordan
's shortcomings as both a slasher and shooter (even playing in the MAAC) help begin to explain his absence on our mock draft.
---
Free Throws Attempted Per Field Goal Attempt
Free throws per field goal attempt is useful when separating slashers from shooters. It also gives a good indication of which players tend to settle for long-range shots--either because of small stature, lack of athleticism, or dislike of physical contact. NBA scouts love to see guards who can put the ball on the floor, get to the rim and create contact.
Mustafa Shakur
may not be a great perimeter shooter, but he does compensate to a certain extent with the way he slashes to the basket—aided greatly by his size, strength and athletic ability.
Taurean Green
is an excellent long-range shooter, but he also takes the ball to the rim at a very solid rate, which is a very nice combination. The same can be said about
Sean Singletary
, who uses his blazing quickness extremely well to compensate for his lack of size.
On the other end of the spectrum,
Brandon Heath
scored over 19 points per game this season, but did so on high volume shooting rather than creating contact inside.
Bobby Brown
,
Aaron Bruce
, and
Aaron Brooks
also struggled to get to the line this season. 5 of the 6 players at the bottom of this list play on the West Coast, something that is indicative of the style of play we often find there.
---
Three Pointers Attempted Per Field Goal Attempt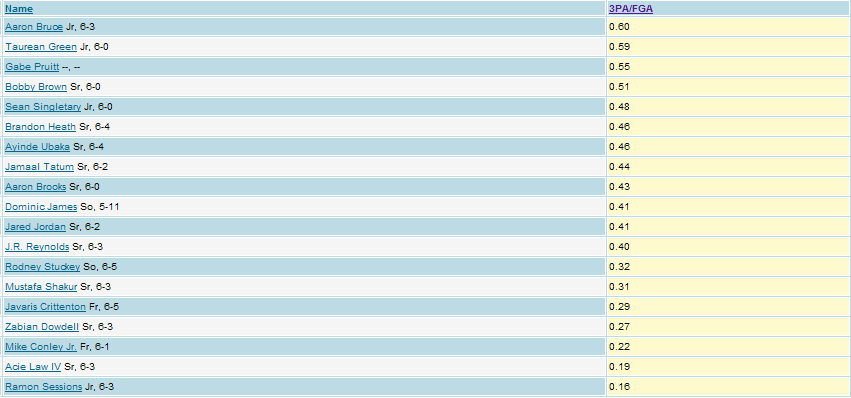 The flipside of the argument that can be made from the stat just listed above. Despite possessing smooth athletic ability,
Gabe Pruitt
(often criticized for "playing soft") ranks with the third highest number of three pointers attempted out of this year's top 20 point guard prospects.
Aaron Bruce
and
Taurean Green
scored many points from behind the perimeter, while
Acie Law
and
Ramon Sessions
were the least likely to shoot from behind the three point line.
---
Assists Per Field Goal Attempt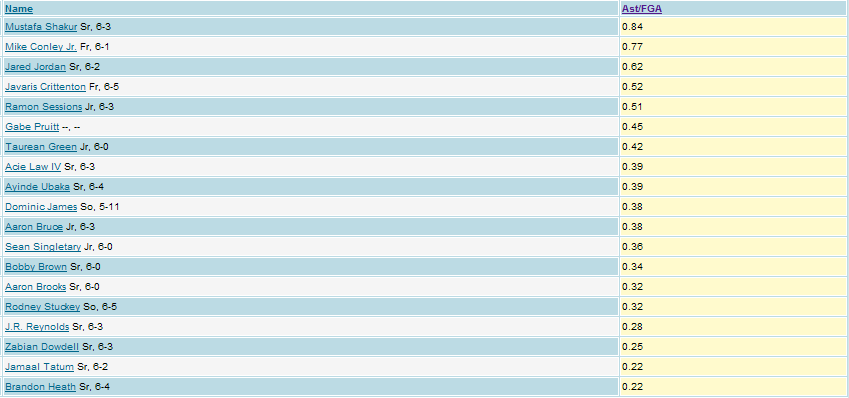 This ratio helps when deciphering between the scoring and distributing lead guards, and also might give an indication of the amount of ball-handling a player was asked to do in his team's offense. Shakur and Conley rank towards the top again here, and
Acie Law
took a good amount of field goals while passing out a good amount of assists. Players who spend time off the ball at the 2-guard spot-- like
Brandon Heath
,
Rodney Stuckey
and
Zabian Dowdell
-- rank towards the bottom of the list.
---
True Shooting Percentage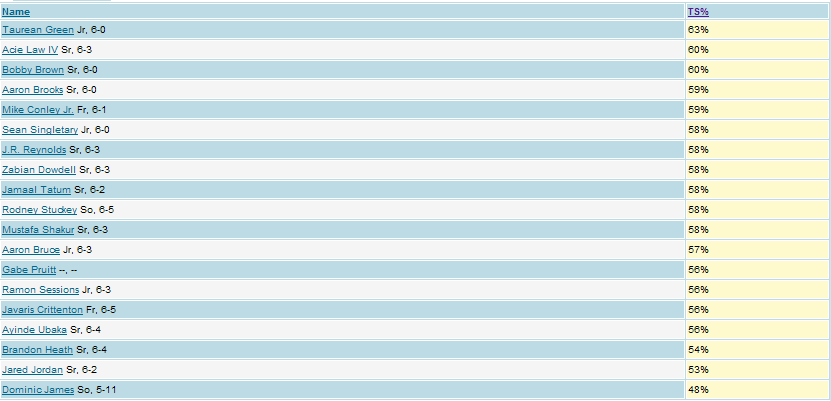 A statistic created by John Hollinger, true shooting percentage was created to evaluate overall scoring efficiency by accounting for free throw attempts and field goal attempts. The formula TS% = Pts/(2*(FGA + (.47*FTA)) is used to calculate this stat. In this year's NBA at the PG position,
Steve Nash
dominated this category at 65%, followed by Leandro Barbosa (59.5%) and
Chauncey Billups
(59.1%).
At the college ranks,
Taurean Green
's numbers look impressive due to his combination of excellent perimeter shooting ability and aggressive slashing mentality, combined with the terrific teammates he played alongside that freed him up for plenty of open looks.
Acie Law
continues to rank towards the top of most scoring efficiency categories.
Bobby Brown
's deadly shooting eye is noticeable here.
Javaris Crittenton
and
Dominic James
are both potential first rounders who rank towards the bottom of this category, mainly due to their often poor shot-selection.
---
Effective Field Goal Percentage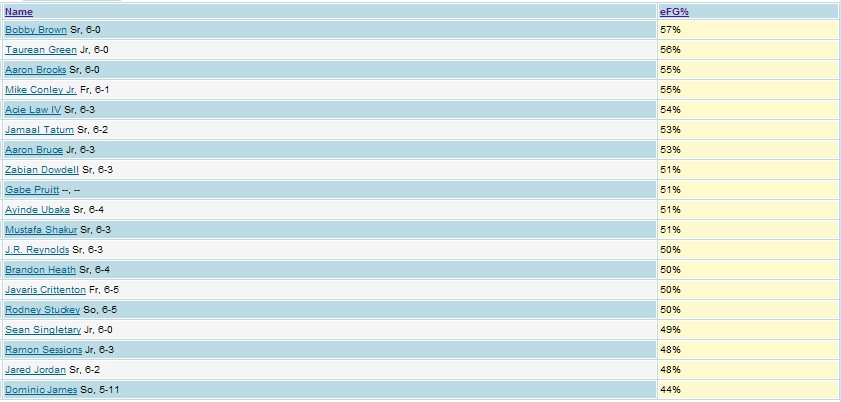 Effective field goal percentage was designed to calculate field goal percentage while adjusting between the difference in value between the two point and three point shots.
Bobby Brown
, Tarurean Green, and
Aaron Brooks
top this list, and are all known for their shooting from behind the three point line.
---
Player Efficiency Rating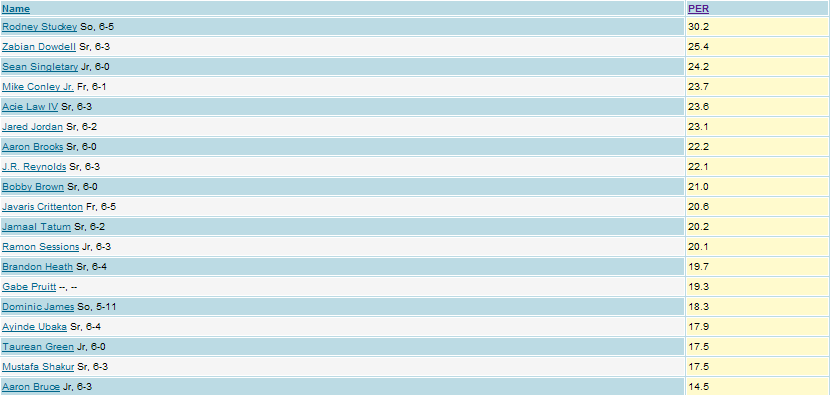 Player Efficiency Rating, also created by John Hollinger, was designed to measure the overall statistical effectiveness of each player. PER may not be the best stat to use to compare college players, however, as it does not distinguish between level of competition, as Noah Libby-Haines explains.
Versatile guards who do a little bit of everything, like
Rodney Stuckey
and
Zabian Dowdell
, top this list.
Mike Conley Jr
. and
Acie Law
continue to find themselves at or near the top of many different statistics.
---
Efficiency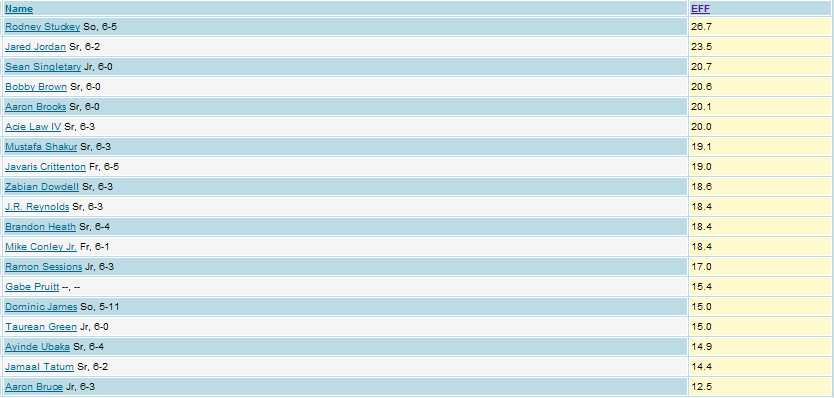 Efficiency is a calculation generated by the NBA to determine the statistical effectiveness of a player. They use the formula EFF = ((PTs + ORs + DRs + Stls + Asts + Blks): ((FGA: FG) + (FTA: FT) + Tos))/g to compute this statistic.
Rodney Stuckey
and
Jared Jordan
, top the efficiency list, both versatile players who carried a large offensive load due to the level of competition they played with and against.
Mike Conley Jr
. ranks towards the bottom of this list, but he was rarely called upon to be anything more than a distributor on the offensive end.