Jonathan Givony:
How are you enjoying the training so far?
Julian Wright:
It's been great. These are great facilities and great staff. The staff has really been helping me out so far, just showing me the little tidbits that will help me in my workouts.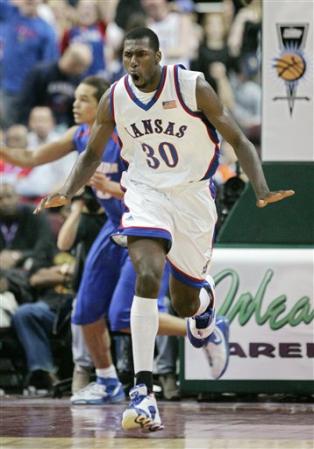 Jonathan Givony:
What is the difference between training here as an individual as opposed to training at Kansas?
Julian Wright:
It's more rapid at Kansas, you only have an hour or so to work in the off-season, so you're just trying to get as much stuff in as you can. But here it's spaced out; there is no time limit, so we can get a lot of things in. We can stay out there and shoot and they can help us individually as well as collectively, so I think that's really more helpful.
Jonathan Givony:
What are you trying to accomplish considering that you started later than a lot of guys here, and also a lot of the guys in the draft. You have a shorter time frame; so what are the things you are trying to accomplish in that period?
Julian Wright:
I'm working on footwork. I think just basically the offensive part of the game. Most of the workouts are going to be offensive learning, we're looking for who can be efficient, who can get their shot off and create shots, create space, and I feel like I've got to get good at that, and just try to learn from the guys here.
Jonathan Givony:
Was finishing the semester at Kansas something that was important to you?
Julian Wright:
I think so. A lot of people may leave early to go to the pros and they stop school once they do that, and I didn't want that to be my last memory. So I feel like it's going to give me the urge to want to come back and finish.
Jonathan Givony:
How many credits do you have left until you're done?
Julian Wright:
An estimate is about 45 hours or so, so I feel like I can finish by at least…worst case scenario 2011.
Jonathan Givony:
Is there any specific part of your game you're trying to work on the most here?
Julian Wright:
I think just spot up shooting. Being able to put pressure on the defense and knock down shots I think is important, especially in the league, you've just got to be able to hit open shots, that's going to be one point of emphasis.
Jonathan Givony:
You're kind of an interesting case study because you played point guard in high school and then power forward in college; so has there been a learning curve in trying to get your ball-handling skills back to where they were maybe a few years ago?
Julian Wright:
Yes. That's part of the reason why I have a chip on my shoulder. I'm trying to present myself as a small forward. It kind of comes down to things I've been doing on my own, just trying to keep my ball-handling skills up, just in terms of passing and things like that. Just being able to pick things up fast, and even watching the other guys here has helped me as well, just learning by example. I feel like I've picked up a lot in less than a week in terms of all the small things and details that comes with my game.
Jonathan Givony:
Do you think you're going to be strictly a small forward in the NBA. or are you going to be able to slide over to the 4 sometimes like guys like
Boris Diaw
and
Shane Battier
do?
Julian Wright:
Yeah I do. I feel like my versatility is something I'm not going to let anyone take away from me. My versatility isn't going to give a coach any choice but to use me in different areas. I feel like I have so many things to give to a team where it would be a disservice to use me in just one spot, so I definitely don't plan on playing just one position, especially through the course of my career.
Jonathan Givony:
What are you hearing right now in terms of where your draft stock is at?
Julian Wright:
We've been hearing a lot between as high as four or five and as low as twelve or thirteen. So I'm just trying to do as well as I can in workouts to be as attractive as I can to the different organizations.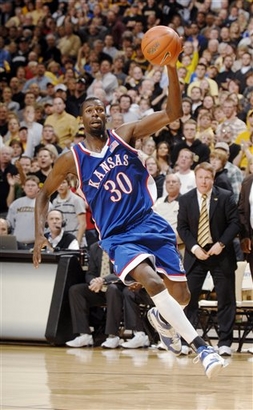 Jonathan Givony:
How important is it for you to get drafted high?
Julian Wright:
I think it's important. You always want to put yourself in that position, but the draft is not a science because it's all about needs too. With me I know it goes under needs so I will understand if I'm picked lower than I was projected to be, or even if I go higher, I just feel like that comes out of needs. I want to put myself in that position where I'm attractive to everyone and do a lot of things well.
Jonathan Givony:
Everybody has an opinion about the type of player you are or your scouting report, but what do you think are your biggest strengths as a basketball player?
Julian Wright:
I feel like I'm just able to be a playmaker and make plays, and not just game changing plays, but the types of plays that will get the momentum on our side. Basketball is a game of runs and I feel like I'm usually on the side of helping our team in making a run. Defensively, just being long and really playing the passing lanes well, playing help defense, and just the small things like that I think I can help the team with.
Jonathan Givony:
Do you think your rebounding is something that is going to transfer over to the league?
Julian Wright:
I think so; especially in situations where I can rebound the ball and bring it up. I think that's really going to be a strong point, especially in a more up-tempo game. The NBA clock is only 24 seconds, so hopefully I'll put myself in a situation where the coach can trust me to bring the ball up and things like that in due time.
Jonathan Givony:
What are you going to measure out at in terms of your height, weight, and wingspan?
Julian Wright:
I don't think I'm going to grow any more, but I feel like I can put on a lot more weight. I weighed at 228 last off season, so I feel like I can put it on this year and keep it on, especially with all of the training.
Jonathan Givony:
What about your wingspan and your height?
Julian Wright:
My wingspan when last measured was like 7'2" and my height is about 6'8 ½".
Jonathan Givony:
You're a little bit different of the court from a lot of guys in this draft. What are some things NBA teams are going to find out when they do their research on you or when they bring you in for an interview in terms of stuff you like to do off the court?
Julian Wright:
I like to bowl. I try to tie that in to basketball, and I feel like it's important to me just as an athlete. I try to take whatever I can from other sports. If you miss a shot you can't worry about it, you've got to hit the next one, just things like that, relating it to basketball. I also play chess, I feel like anticipating keeps you sharp mentally. When you have a scouting report, you have to understand certain things that a team does or that the opposition does, all by anticipation. So I like to go out there and just keep my mind active also.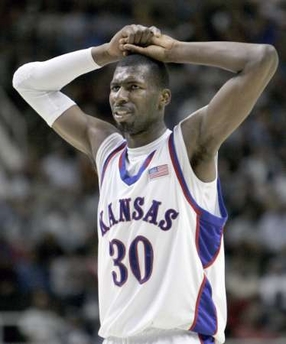 Jonathan Givony:
What did you study in school? What were you majoring in?
Julian Wright:
Communications.
Jonathan Givony:
So what were some of the classes you took last semester?
Julian Wright:
Effective Business Communication, I took Rhetoric of American Sport, History of Western Civilization, and Biology.
Jonathan Givony:
Fast forwarding two of three years down the road, what do you see your role as in the NBA? What kind of NBA player are you going to be?
Julian Wright:
Hopefully a guy that a team can build around.
Jonathan Givony:
What kind of team do you think fits you better: an up and down team like Phoenix or a half court grind it out team like San Antonio?
Julian Wright:
I think early on in my career an up tempo team would be best, I feel like that would work best with my strong points. But if a team sees me best as a defensive guy, especially if that will allow me to go further and help an organization that is building. But again, as far as the up tempo game, I feel like that is best for me just with my style of play. I'm working hard in the gym though, getting stronger, so the grind it out game would be a good fit for me as well. Like I said, versatility is key. I'm always trying to get better at certain aspects of my game. The end of the game is never as up tempo as the first half is, so regardless, you have to be able to make plays.
Jonathan Givony:
What do you think is going to happen next with Kansas, how are they going to do without you and maybe without Brandon [Rush]?
Julian Wright:
I think that the freshmen are going to do really well this year, all of the freshmen, even Brady Morningstar who didn't play much last year,
Sherron Collins
and
Darrell Arthur
. I'm just happy for my teammates, knowing that they've all been working hard getting ready. They kind of remind me of when I was a freshman having to go through some changes and stuff. I feel like we guided them and helped them last year and now they're ready to take the next step in contributing.
Jonathan Givony:
Are you going to have a strong relationship with KU in terms of coming back for games and helping them with recruiting or whatever they ask of you?
Julian Wright:
Oh yeah, I know that's how the relationship stood when I left. I just appreciate them being able to understand my situation.
Jonathan Givony:
How are the fans taking it in terms of when you were still at school walking around and stuff; was there a lot of negativity? Or did people understand?
Julian Wright:
It was half and half. A lot of people understood, but at the same time a lot of people were upset and disappointed. Coach Self had a good explanation; he was always saying that when a person gets elected half the country wants him and half the country doesn't. So they should at least understand, even if they are going to be negative. So that's kind of how I look at it, in my heart I knew it was best for me.
Jonathan Givony:
Thank you Julian. Best of luck.
Julian Wright:
Thank you. To you too.