There's been a steady buzz coming out of the land down over the past few months. A 6-10, 285 pound Torres Strait Islander big man by the name of
Nathan Jawai
has come out of nowhere seemingly to establish himself as the best rookie in the league, as well as a prospect that NBA teams are slowly realizing they must take seriously as well. "Baby Shaq" our friend and head coach of the New Zealand Breakers Andrej Lemanis called him when we first asked for info back in September, "except he can shoot free throws."
Jawai, by the way, has still gone largely unnoticed by every other draft or scouting service in America from what we can tell, until now that is.
The Background
The Torres Strait Islander and Cape York Peninsula native (the northernmost point in Australia, in the state of Queensland) is draft eligible this year, both having been born in 1986 (making him automatically eligible as an international player), as well as having left the college ranks last season for a professional contract. Jawai played for Midland Community College (one of the top JUCOs in the country) briefly last year before suffering a knee injury and deciding to return home when he was rushed back onto the court prematurely, at least according to comments he made in published interviews.
"I tore my cartilage and they put me back on the court a week after the operation with no physio," Jawai told
Tim Morissey of the Daily Telegraph
. "I could have ruined my career if I got injured again over there."
He averaged 11 points and 6 rebounds on 49% shooting from the field in 14 games. He also spent a year at the renowned Australian Institute of Sports, and reportedly only started playing basketball at the age of 15, after people at St Augustine College in Cairns first tried to make him into a Rugby player. Jawai just turned 21 two months ago.
Jawai is doing more than just having an outstanding rookie season with the Cairns Taipans of the Australian NBL, he's establishing himself as one of the best big men in the league.
This past weekend he won MVP honors of the NBL All-Star game, scoring 24 points with 12 rebounds, and drew a huge amount of media coverage in the process.
On the season,
Jawai is averaging
18 points, 9 rebounds and 1.2 blocks per game in 30 minutes, shooting 58% from the field and 66% from the free throw line.
The Taipans are in 5th place in the NBL with a 10-8 record, and also have on their roster one of the top point guards in the league in Stephen Black (the coach's son who also played in the Italian league) and Larry Abney, a super athletic American big man.
The Australian league is an up-tempo, high scoring league where games are 48 minutes long, and the big men unfortunately are typically lacking in great athleticism. Still, the competition is pretty solid.
What They're Saying:
Jawai has garnered some huge praise from some of the top minds in Australian basketball, particularly the head coach of the national team, Brian Goorjian, who seemingly cannot wait to get him into a Boomers uniform.
Stephen Howell of the Australian newspaper "the Age"
had the following quotes from Goorjian this past weekend: "He's unique … his power around the basket, his court savvy. He's definitely somebody to have a real strong look at, and he's somebody with a bright, bright future."
On his NBA potential: "Players go through the process of developing as NBA players while they're in the NBA. That's not my (area of) expertise, but I think he's the best talent that has come into our league in a long, long time and I don't think we've had anybody like him in that position…The guys in the NBA from Australia that make it are usually bigs … whether he's ready or not ready I think the sky's the limit for him and I think he could play in the NBA at some point in time."
Asked to compare him to
Andrew Bogut
, Goorjian said: "They're different players, but I think if Nathan was a senior in university playing somewhere (in the US) he would be a first-round draft pick."
Scouting Report:
When discussing Jawai's prospects as a potential NBA player, you have to start with his physical attributes. He is listed at 7-0 by his NBL club Cairns Taipans, but obviously looks much closer to 6-9 or 6-10. That's indeed what most people are beginning to list him at, either at 206 (6-9) or 208 (6-10) centimeters these days.
Regardless of what his true height is, though, Jawai surely has a massive wingspan, 7 foot 5 in fact, at least according to one published report. That will give him the ability to play the center position in the NBA, which is almost certainly where he fits best, particularly when you consider his massive frame. Jawai is built like a house, with a body that is impressive even by NBA standards, even though he currently sports at least a little bit of baby fat. His terrific strength will give him the chance to compete with big men at the NBA level, even though his skill-set will have to improve substantially first.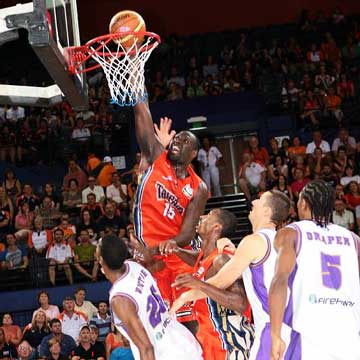 More than just a brute force underneath the basket, Jawai also moves surprisingly well for a player his size. He has extremely nimble feet for a center, reminding to a certain extent in that regard of oversized tap-dancers like
Glen Davis
or Sofoklis Schortsanitis. Jawai is a mobile player moving up and down the court, and can even be described as explosive with the way he can get off the floor. It's particularly impressive to see the way he finishes around the basket, power-dunking anything around the rim, where his terrific wingspan really comes in handy. The word that most often comes to mind when watching him play is simply "beast." The thing is, he's a coordinated beast at that, looking pretty fluid and natural moving around on the floor, even if he doesn't always quite know what he's doing.
As you'd probably expect, Jawai's main source of production at the moment comes from his work inside the paint. His huge frame allows him to establish deep position relatively easy at the Australian NBL level (not noted as mentioned for the athleticism of its big men), and the big fella has excellent hands to catch the ball in a position to score, which he is usually able to do once he's in the post.
He can put the ball on the floor for a quick single dribble to beat his man and get even closer to the rim, possibly to spin off his defender, and has a decent looking jump-hook he can execute with some consistency using his right hand. His best option, though, as you can imagine is to just dunk the ball. His touch around the hoop is not bad at all, so he does have quite a few tools to work with as he continues to add moves to his repertoire. He can do some damage on the offensive glass as well, showing a very quick second bounce to beat his opponent to the ball and a fair amount of tenacity once he gets worked up. At times you'll even see him step outside and hit a 15-foot jumper, although this doesn't seem to be a very consistent weapon for him at the moment. He does shoot a pretty decent percentage from the free throw line at 66%, particularly for a big man who hasn't been playing the game for all that long.
The best explanation for that seems to be that Jawai just has a pretty nice feel for the game. He'll surprise you from time to time with the passes he makes, both on the interior to his fellow big man in traffic, or whipping a one handed bullet pass out of the post to an open shooter spotting up from the weak side. He'll get a little too cute with a crazy
Arvydas Sabonis
impersonation from time to time, but even though his knowledge of the game is clearly limited, he does not look like a dumb player.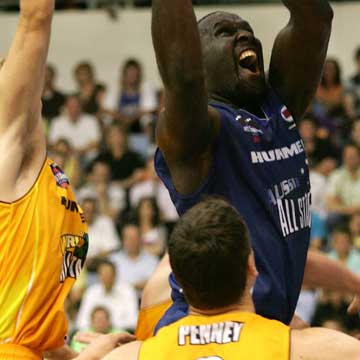 Defensively, Jawai is quite a presence at the NBL level. His combination of size, strength, mobility and length allows him to make an impact just by being on the floor (even as a shot-blocking threat), but at the NBA level, that is not going to suffice. For one, his conditioning is not ideal, meaning he's prone to take plays off at times on this end of the court. His lateral quickness is pretty questionable too, which eventually exposes him as a liability when forced out to the perimeter to defend pick and roll plays. He struggles badly trying to stay in front of slashers, even slower big men, and does not do a great job at all rotating over defensively to help a beat teammate out like a center needs to be able to in order to protect his basket. He's a good rebounder at this level, even dominant at times with the outstanding tools he possesses, but he could be even better if he did a better job of boxing out consistently.
Something that is particularly concerning is the fact that Jawai doesn't always seem to be playing at full speed. He's not one of those super active big men who is always around the ball, lacking intensity and also some awareness at times.
Offensively, Jawai still has quite a bit of room for improvement as well, not really having a consistent way of creating offense for himself at the moment if he can't just beast his way into deep position in the paint. His footwork in the post is pretty underdeveloped, as is his left hand, and he's somewhat prone to taking shots that aren't quite in his repertoire yet. It's not clear that he knows what his limitations as a player are at this point, for example settling for an ill-advised fade-away turn-around jumper from a tough angle, off one foot. He sometimes lets opposing big men steer him to where they want him to go with their body instead of the other way around, which he clearly should be able to with his huge strength advantage.
The fact that Jawai is automatically eligible for this year's draft means that teams need to take him very seriously. Players with his tools don't grow on trees in the States, so it wouldn't be a stretch at all to see someone take a flyer on him, possibly even in the first round. He's in an interesting situation in the fact that his season ends extremely early, on February 16th, and considering that his team doesn't look like serious championship contenders at the moment, he'll likely be free to do whatever he pleases by early March at the latest. Jawai could sign on to play with a team in Europe to finish off the season, or he could come to the States to prepare for private workouts, and possibly the NBA pre-draft camp and/or the RBK Eurocamp in Treviso, depending on the wishes of his agent of course. Regardless, he'll have plenty of time to get in outstanding shape if he puts his mind to it, and thus could stir up quite a buzz once June rolls around.
We'll keep you posted of course.
Editor's Note:
We originally referred to Jawai as being of Aboriginal descent. It's since been pointed out to us that he is actually a Torres Strait Islander, an Indigenous population that hails from the Torres Strait, between the north eastern tip of Australia and southern coast of New Guinea. We apologize for the error.