What you are reading right now is the introduction of Marcus Sloan…. Exactly, I didn't think you knew who I was. Unless you're from Texas, a TCU alum, or a woman who spent her 27th birthday in a Houston hospital trying to push out the most stubborn baby of all time... Hi MOM, Love you!! I mean how could you? I averaged a whopping 2.2 ppg during my illustrious college career at THE TEXAS CHRISTIAN UNIVERSITY; home of the Horned Frogs. Hopefully I'm not just another athlete blogger, hopefully while reading my blog, I inspire the underdog in the two of you reading this... Hi DAD, to strive to make the world a better place! Anyway, I am a 25 year old professional basketball player in my second playing in Europe, last year I played for TV Lich in Germany. And this year I play for the top team in Switzerland, Benetton Fribourg Olympic! We're 20-6 this year, and currently in fourth place in group E of the Uleb Cup, and unfortunately as of press time( I love when journalist say that) we are currently eliminated from the ULEB Cup, and just played our last game on Tuesday at home against Hapoel Galil Elyon.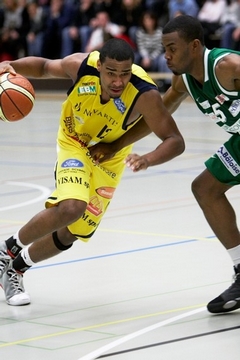 OK, back to the more important part, ME!! I guess the people at DraftExpress feel sorry for me and asked me to blog about my experiences. I'm from Houston, TX, played all four years at Eisenhower High School, and in high school I was fairly decent, I made All-Greater Houston honors with some guys you've probably heard of,
Emeka Okafor
,
T.J. Ford
,
Daniel Ewing
,
Lawrence Roberts
, Nile Murry, Kenny Taylor,
John Lucas
III, etc... So now you see why I have the complex I do, moving on... After graduating, I accepted a scholarship up the road in Ft. Worth to TCU. Now here's where he story gets good. Long story short, I sign to play for the maverick Billy Tubbs, he leaves after my freshman year, and Neil Dougherty came in and helped turn our program around, not just in basketball, but in all aspects of the program. Now, we're not a powerhouse in basketball, but we did manage to go 21-14 my senior year in 04-05 and earned a quarterfinal finish, eventually losing to the runner up, Maryland. Like I said, my college numbers, 2.2 ppg, 3. 2 rpg and .6 blks per game. I do have the distinction of being the only player in school history to lead the team in blocked shots 3 years in a row. Take that
Kurt Thomas
, and
Lee Nailon
!! Ha!! I guess I'm turning out to be a better pro, than collegian, go figure!!
After my four years, instead of taking my game overseas, or trying out for the D-League, I decided to take my game to…. COPORATE America!! I accepted a job as a sales manager with Frito Lay in Austin, TX! It didn't take me long to realize that I wasn't quite cut out for the "real world" yet. I ended up working at Frito Lay for 4 months, but I didn't wake up one morning with an epiphany about how I needed basketball, and how my basketball career was a metaphor for my life. Nope, an overweight Wal-Mart late night stocker in Austin changed the entire course of my life. While on the worst day of my life at Frito Lay, where everything imaginable was going wrong could, he saw the pissed look on my face and uttered the words I will never forget... Refrigerator Perry's little brother, whom by the way smelled like an onion farmer, said, "Maybe if you would have made a few more jump shots you wouldn't be here!!!" DAMN!! Needless to say, that was my last day at Frito Lay, and beginning of the rest of my life. Ok... this is just an introduction, I promise the next entry will be better, as I will attempt to be a cult hero for the small school, under the radar guy, who's climbing the ladder of professional basketball, whether its in Europe or minor leagues in the states, or wherever.. Also, I will begin a debate that will no doubt probably get me blackballed from many basketball circles, including the NBA and D-League... That's OK, if all else fails, I can always go back to slinging chips!!!
P.S. I think they would revoke my African American card if I didn't give a couple of shout-outs! Big shout out to my mom, dad, lil bro Trey, my girl Tinnell, my family, and all my boys hoopin all over the world!