International draft prospect
Vladimir Dasic
takes out time from competing with the Montenegrin national team to answer a wide array of questions about himself, the team he plays for in the Adriatic League, playing in FIBA youth competitions and the Treviso Eurocamp, and his philosophy regarding entering the draft and coming to the NBA.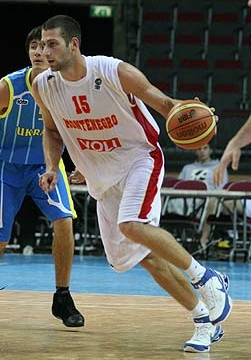 Hello Vladimir, thanks for taking the time to talk to DraftExpress. For those of us in the US or Europe that may not yet be familiar with you, can you tell us a little bit about you?
Hello, thanks for calling me up. My name is
Vladimir Dasic
, I am just an ordinary guy, trying to play the best basketball possible (smiling).
There seems to be a question mark about what your eventual position on the court will end up being once you fully mature—small forward or power forward. What position will you be playing next season, and what do you see as your NBA position down the road?
Several years ago, I played more at the power forward position, while working on my small forward skills. For the last two years, I am playing more and more at the SF position. I definitely see the SF position as my 'NBA position' down the road. Sometimes, when my team (Buducnost) needs me to play as a power forward, I did that, but all my focus is to further develop myself as a SF. As of right now, I am currently playing for the senior national team of Montenegro, and play exclusively at the SF position.
Also, i think that it can sometimes be advantageous for a player to be able to play 2 positions, but very clearly i see myself as SF, and am working hard on it with my coach Dejan Radonjic, a former great Buducnost player.
There was some thought around Europe this summer that some big team might try to buy you out of your contract with Buducnost, your hometown team who you've been playing for for pretty much your whole life. Did you ever consider leaving, and why did you decide to stay?
It is true, there were some talks about me going to big European teams. My agent, Misko Raznatovic, was contacted by lot of teams, and then had to talk to management of my team, Buducnost, to find a proper buy out of the contract. As of right now, I am a player of Buducnost, the team that I grew up with, and am fully focused on having a successful upcoming season.
Buducnost did a pretty amazing thing for such a small club by having three players (Sasha Pavlovic, Zarko Cabarkapa, Slavko Vranes) drafted amongst the top 39 picks in the 2003 NBA draft. Is that something that people still talk about around there?
It was an amazing thing indeed. Buducnost was a great place for those three guys. Also don't forget
Jerome James
that played for Buducnost prior to his NBA career. All three players, Pavlovic, Cabarkapa and Vranes played very well for our team, and people still remember them and treat them as a part of the team.
Was the relative lack of success that those three players (and really, Adriatic League players jumping directly to the States in general) enjoyed in the NBA—especially early on—something that might make you think twice about declaring for the NBA draft too early?
Not really, I think that everybody is their own case. I will consult during the season with my agent, and his partner in the US, Sam Goldfeder, and see how things go. I came to LA last summer, and had a great time, so I think it is possible that I come again next summer and work out after my season is over with.
After a very good individual campaign for you in 2006/2007, things seemed to go a bit backwards for you early on in the 2007/2008 season. Can you tell us what happened there?
Yes, it is true, I was frustrated with it, had to resolve some stuff. I increased practicing and focused even more, and got out of it stronger and better, finished strong and had a good summer.
You guys will be playing in the very prestigious Eurocup this season once again (last year called the ULEB Cup). The thing is, you need to get by either Galatasaray, an extremely strong Turkish squad, or Siauliai, to get to qualify for the group stage. How important is that for you guys?
Obviously, it is very important. For several years in a row, Buducnost played Euroleague, and we always try to play in the best possible competition. This helps a lot for development of all our players, to face the best competition possible. Galatasaray is a team with huge tradition and great players, they just signed Milan Gurovic and Dejan Milojevic, so it would be a very tough opponent. I am little bit less familiar with this year's Siaulai, but since they come from Lithuania -a great basketball country - they will definitely be tough to play against.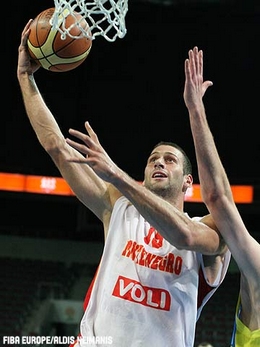 What is it like going up against teams like Galatasaray or others who have four American players on their roster or sometimes more, when you guys are built exclusively of players from the Adriatic region? Why do you think the team decides not to sign any import players?
Of course, it is not easy to play in that case, because usually the athletic level gets higher, but we try to do our best. Our team in the past had several import players (
Jerome James
, Tony Stanley,
John Brown
,
David Young
...), and they were all very important players for us. Now, the management decided that the focus is on developing our young players.
The Adriatic League is known for producing some of the top young players in the world year in and year out. This year seems like a bit of a down year for NBA scouts to visit the region, no?
It is definitely a region with a lot of talented players. It is hard to judge about the upcoming year. Last season, Pekovic (Partizan), Dragic(Olimpija), and Dragicevic (Red Star) got drafted. You never know which young player can explode and have a great year.
We've been writing about you for about three years now, since you were 17 years old, when you played with Serbia and Montenegro. Once Serbia and Montenegro decided to split, you were able to choose which national team to compete with. You decided to play for the Montenegrin national team, unlike for example Sasha Pavlovic, who decided to stick with Serbia. What made you decide to choose Montenegro, and how difficult of a decision was it?
I think that it was a normal decision, I was born and raised in Montenegro, I lived there all my life, so it was just a natural thing to play for your country.
Not only did you help Montenegro go up from the B division of the FIBA Europe U-18 age group with a strong effort in 2007, but you then outdid yourself by helping your team finish a surprising 5th in the A division this past summer, averaging 23 points and 9 rebounds while drawing a great deal of the opposing team's defensive attention. What did that mean for you?
It meant a lot to me. It was a great experience. I don't think anybody expected us to do so well. But, we had a great group of guys, a lot of positive energy, and a great coach -my coach from Buducnost, Dejan Radonjic was our coach, and he was officially selected as the best coach of the tournament.
It seems like you often started those U-20 games this summer in Latvia with extremely strong efforts in the first quarters, but then weren't able to continue that same momentum in the rest of games. Why do you think that happened? Was it a matter of fatigue, a strategic decision made by the coaching staff, or something else?
Yes, it can look like that, I usually started really well, scoring up to 20 points in the first half, or 15 points in the first quarter. In some end of games, when we were ahead comfortably, I sat out, in order not to risk anything, and get some rest for the next day's games. It wasn't fatigue, since I'm in great shape. Some games, I was consistently double teamed, and there is no point of forcing things when my teammates are in better situations to score than me. I still finished as the best scorers of the tournament.
You also participated in this year's Reebok Eurocamp in Treviso, establishing yourself as one of the most impressive and productive prospects in attendance throughout the entire week. What do you think you were able to show people there that they might not have known about you?
I had a wonderful experience in Treviso. The whole tournament is really well organized, and there are so many good players participating in the tournament. I thought I did well, and that i was able to show to everybody my outside skills, outside shooting, bringing the ball up in transition...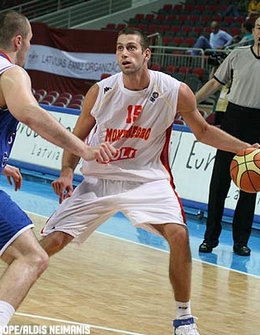 We see you listed anywhere from 206 cm, to 208 cm, to 210. What is your true height in shoes?
I am 209 cm (6'10").
You'll be automatically eligible for the draft in 2010, but you're currently projected as a late first round pick on our 2009 mock draft. What are the chances that you'll be declaring for the draft this year, and how hard will it be for you to get out of your contract with Buducnost?
The chances for me declaring for 2009 draft exist, it depends on the season I have, and the interest of the teams. I will consult with my agent about all that during the season, but it seems to me that if i don't have a guarantee that I'll be drafted between 10-20 in the draft, I will not go to 2009 NBA Draft, and instead wait for one more year. About getting out of my contract with Buducnost, it will not be too hard, since my agent has already made an agreement with Buducnost.
How much of a priority is it for you to play in the NBA at some point in your career? Would you call it a dream of yours? A goal? Something you could do with or could do without? Do you prefer to enter the NBA as a polished player and be able to compete right away, or will you try to come here right away and learn the American game and try to adapt quickly?
I think that any basketball player dreams of playing in the NBA, since it is the best league in the world, in that sense, of course I would like very much to play in the NBA one day. My goal, right now, is to become the best basketball player that I can be, that is in my power, the rest depends a lot on circumstances. Now in Europe, at the top level, there is also very serious basketball played. Good question about eventually coming to NBA immediately, or staying in Europe for a certain time, I am unable to answer it right now, when the time comes, I will talk to my agent, my family, and the team that will eventually be interested in me, to see their plan and expectations for me, and then decide. In order for all that to happen, I need to play well this season (haha), so I am much more focused on the court, and let this stuff off the court be handled by people who know it much better than myself.
It seems like European teams are much more capable of competing with the NBA these days in terms of the type of contracts they can offer. If you are drafted late in the first round, you might have to make a significant sacrifice for a couple of years, hoping that you can make up for it on the second contract—the way for example Sasha Vujacic just did with the Lakers, or Calderon did as a free agent with Toronto. What are your thoughts on that?
Yes, it is true, it seems that there is more and more money in Europe. Several NBA players arrived in Europe this summer, and it will be interesting to see how they do. Some European NBA players came back and signed big contracts in Russia and Turkey, some stayed and signed long term contracts in the NBA. As for my situation, it is still very early to talk about it. I am preparing for the upcoming season, and when the time comes, I will be presented with all the scenarios. But really, I try not to think about this, most importantly for me and my team is to have a productive season and win a lot of games.