-My latest Bracket Projections are posted below. There are five championship games today and those could potentially impact things, but if all the higher seeds win I don't plan on changing it much, if at all. I will be updating this article, and possibly the bracket throughout the day, though, so be sure and check back periodically.
Here are some important links.
THE BUBBLE WATCH HAS BEEN UPDATED. CLICK HERE TO CHECK IT OUT
CLICK HERE FOR A RUNDOWN OF TODAY'S FIVE CONFERENCE CHAMPIONSHIP GAMES
TEAMS THAT WERE MOVED TO MEET THE BRACKETING GUIDELINES
-Arizona moved from a #10 to a #9
-Villanova moved from a #10 to a #9
-UNLV moved from a #9 to a #10
-Mississippi State moved from a #9 to a #10
I really don't like Arizona and Villanova as #9 seeds. They certainly don't seem to deserve it, but with eight Big East teams there was no other way to make the bracket fit. I had Nova as #40 on my S Curve, which means they were the worst #10 seed. I almost think there is a better chance of them getting a #11 than a #9. Arizona has struggled down the stretch and doesn't look like a #9 either, but with four Pac Ten teams on that side of the bracket they needed to be moved up.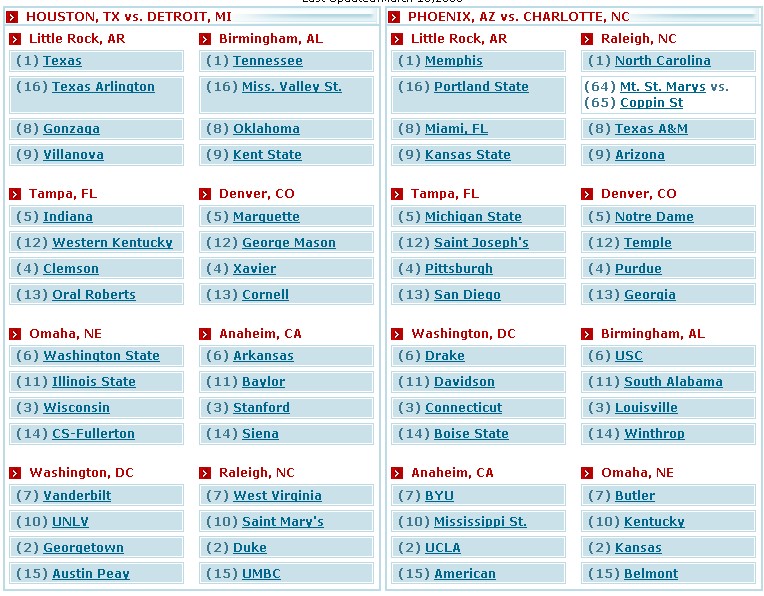 OTHERS CONSIDERED
: Ohio State, Syracuse, Arizona State, Virginia Tech, Florida State, Massachusetts, Dayton
Those profiles can be seen in the
BUBBLE WATCH
UPDATE: 5:44pm, est
-Georgia has done what seemed to be impossible. They've won four games in four games, and three games in two days, to win the SEC Championship against Arkansas 66-57 and advance to the NCAA Tournament despite being the last place team in the East Division. To sum up this game, it was the SEC Championship game that was being played on an ACC floor that was being broadcast by CBS, but aired on ESPN2. With all of that craziness, of course Georgia was going to win. Anything else would have been too normal. I've seen a lot of conference tournaments in my day, but I'll NEVER forget this one. Congrats to your SEC Champion Georgia Bulldogs.
-The bad news is that one less bubble team will get in. In my case, I now have Oregon out, with Saint Joseph's being my last team in.
-Kansas also won the Big Twelve Championship, but I'm still keeping Texas as a #1 seed. They beat Kansas during the regular season and just seem to have too many good wins (more on that is discussed below). Kansas should get a #2 seed at worst. This was a major statement win for the Jayhawks.
-I wouldn't be at all surprised to see UCLA as a #1 seed. They're certainly deserving and a strong argument could certainly be made. It would also make geographic sense to put them in the Phoenix Region, although I don't believe that is a factor. If they do get in, it's hard to say who they'd take down. Texas is the lowest ranked team, but rankings don't matter and Texas did beat UCLA earlier this season.
We shall see.
-Best of luck to all the teams who are hoping for a spot in the NCAA Tournament.
UPDATE: 5:01pm, est
-The Opening round game has been announced. Mount Saint Mary's will be facing off against Coppin State. I've updated the bracket to reflect that. The reason they announced it early is to allow those schools a few extra hours to make travel arrangements, ticket arrangements, collect film, etc. Mississippi Valley State appears to have a much weaker profile than Mount Saint Mary's, but the committee seems hesitant to match the MEAC and SWAC winners in that game for some reason. This is the second year in a row it looked as though the two weakest teams were coming from those conferences, but weren't paired up in the opening round.
UPDATE: 3:36pm, est
-Texas Arlington defeated Northwestern State to win the Southland Championship 82-79. Obviously, they have replaced Northwestern State in my bracket projections. It's their first ever trip to the NCAA Tournament. Someone after the game was holding up a t-shirt that read "Picked Sixth." I'm assuming that was referring to where they were picked to finish in the preseason. What's funny about that is that they actually finished 7th. They are, however, the conference champions and are on their way to the NCAA Tournament.
-Clemson put up a fight against North Carolina, but came up just short. This is the second year in a row the Tarheels have finished in first place and won the conference tournament. They'll almost assuredly be the #1 seed in the Charlotte Region.
-If Illinois and/or Georgia win their games, Oregon will be the first team to come out, and Saint Joseph's will be the next team. They'll receive #13 seeds in my projections. George Maosn would be the first team I'd move up to a #1, and Oral Roberts would move up after that. What a crazy week it has been.
COMMITTEES
-Although sometimes I can't help myself, I try not to look at other bracket projection sites too much. I definitely don't like to look at them until I've finished mine because I'm afraid I'd start second guessing myself while putting mine together. However, if you follow basketball it's impossible to avoid them entirely this time of year. There is one thing that people should keep in mind about this made-up science that is "Bracketology." It's a process that's done by committee, and a committee is anything but scientific. If you've ever been on any sort of committee in your life, be it a school board, or a youth sports league, or PTA, or a hiring committee, organizational planning, or whatever, you know that there is no quantitative, scientific way to for an outsider to predict what the hell the results are going to be. The best anyone can do is hypothesize. If you've ever worked in academia (and this is, after all, COLLEGE basketball) you know that virtually everything that happens at a university decided by one type of committee or another. There is no telling what's going to be emphasized by who, or how everyone else is going to respond whatever discussions happen to take place. Some members of the committee might feel Illinois State's win at Southern Illinois is a good one because Southern Illinois lost so few home games. Others may not because Southern Illinois is not a top 25 caliber team. You just don't know. I don't think many in the media understand that. I think everyone gets too caught up in RPI, or RPI top 50 wins, or conference records, or sub 100 RPI losses, or whatever. Whenever I see ESPN do those blind resumes I have to laugh because that simply isn't how the committee is going to evaluate the teams. That type of data is way too general. If you see a team has six RPI top 50 wins, that really doesn't tell you much. Did they win at home against Creighton, or did they beat UCLA on the road?? There is a BIIIG difference. I'm not calling out ESPN specifically, or anyone else for that matter, but it just seems like people constantly obsess over the general data without looking at things more precisely. Then, when the actual NCAA Tournament field is released all the same analysts are scratching their heads and wondering why some of the teams didn't end up where they thought they would. Oftentimes their next course of action is to start bashing the committee, who has spent much more time on this than any of them have. I've been guilty of that myself, but then again, who's to say I'm right and they're wrong??
-Just so everyone can get an idea of exactly how much time is spent, each of the ten committee members has three conferences that they're supposed to evaluate throughout the season. By evaluating, that means watching virtually every game that any team in that conference plays from November through March. On top of that, they're supposed to keep up with all the other teams around the nation. The idea that a team would go unnoticed by the committee because they don't watch enough games is so ridiculous it's almost funny. I can almost guarantee that they watch more basketball and follow it more closely than any member of the media does, and they do a better job of keeping up with the non-major conferences. No team will ever get in simply because of name recognition, as the media sometimes alledges. The reason that won't happen is because the committee literally recognizes every team. It isn't as if there is going to be a team that they haven't heard of or that's under their radar. In addition to all the work that they do, these are highly educated people who have extensive professional careers in college athletics as athletic directors or conference commissioners and are regarded as being successful. Otherwise, they wouldn't have been selected to be on the committee in the first place. Not only are committee members aware of schools like South Alabama, VCU and Illinois State, but many of them could probably tell you who the baseball, softball and swim coaches are at those schools and have some knowledge about how they did in those sports. The notion that they aren't familiar with the basketball teams is ridiculous. Considering all the interaction that they have with other universities, they're naturally going to be somewhat familiar with every single Division One program in the country before they're even on the committee. Once they're on the committee, they're completely absorbed with basketball. They work in college athletics for a living. The media merely reports on what they do for a living. Personally, I trust the committee's expertise more than anyone else's in the media...except for my own ;)
#1 SEEDS
-UCLA is my best #2 seed and I wouldn't be at all surprised if they ended up with a #1. I just don't know who they would replace.
North Carolina appears to be a shoe-in having finished first in the ACC, and the fact that they're ranked #1 probably means the NABC has them ranked highly as well. They're also an amazing 12-0 on the road, and one of their two losses on the season was without
Ty Lawson
. Seeing as how they beat Duke on the road with him back in the lineup, I think that loss will be negated.
Texas has wins at UCLA, on a neutral floor against Tennessee, and at home against Kansas. That's three huge wins, one of which was on the road against the team in question. Since the profiles are similar, it seems to me that head-to-head should clearly indicate who is more deserving.
Tennessee lost in their conference tournament, but they still have a win at Memphis, which is one of the most impressive road wins of the year by anyone. They're #1 in the RPI, they've played the toughest schedule in the country, and have 11 wins against the RPI top 50.
Memphis is probably the weakest on paper, but they still have wins over Georgetown, Connecticut and USC. I also have a suspicion that they'll be very high in the NABC Rankings given their current record.
UCLA's best win was against Stanford, which is good, but not as good as some of Tennessee's or Texas's wins. They're also lower in the RPI (abliet barely) and played a weaker schedule. Although they do have six RPI top 25 wins, they all came against just three different teams. They beat Stanford three times. Again, a strong case can be made for UCLA to be a #1, and I wouldn't be at all surprised to see them as a #1 seed, but I just don't know who they'd replace.
KANSAS
-I've seen Kansas play some incredible basketball this year, and they have a good chance of winning the Big Twelve Championship this Sunday, but on paper they aren't quite as good as their ranking. They're 7th in the RPI, but their SOS is 59th (that will go up after they play Texas again, but it won't take that big of a jump). They also don't have a win against the RPI Top 25. They took Texas to the wire on the road, so they are a good basketball team, but they've been looking a little sluggish lately. To be fair, top teams don't always look good as good in conference tournaments as they will in the NCAA Tournament because when they play teams multiple times every year, facing them yet a third time in the conference tournament gives their opponents an element of familiarity that teams in the NCAA Tournament don't have. Still, it wouldn't be hard to make a case that Kansas wouldn't even deserve a #2 seed if they fail to win today. I believe they should get a #2, but if they were to get a #3, or even a #4 (that won't happen), there would be no one seeded ahead of them that they actually managed to beat during the season if they lose to Texas again today.
IT'S CALLED MADNESS FOR A REASON
-Every year I've done this, some strange scenario pops up that I've never seen happen before. Therefore, it's impossible to accurately predict what the committee is going to do because there is no specific frame of reference. This year, we have two games that tip off at 3:30pm, est that involve teams that will either win the game and make the NCAA Tournament, or lose and go home. That means they'll have to have multiple brackets made out already if they want to get it done in time.
-On top of that, no one with an overall losing record has ever won a major conference tournament. Today, we have two teams that could do it in Georgia and Illinois. How do you seed a team that played so badly for most of the season, but yet finished so strongly?? Since neither can get an at-large, I'm guessing they'd end up on the #13 line if they actually do manage to win today. They'll be behind the at-large teams, but ahead of the automatic qualifiers from low level conferences. Oregon and Saint Joseph's are my last two teams in. They'll be the ones that come out of my bracket if one or both of these teams win today.
-Best of luck to all the teams who are waiting to see where they'll end up, or if they got in at all. I know it's nerve-racking. If you're a fan of a team and you're nervous, then just imagine how the players and coaches feel. It's like being a finalist for your dream job and sitting there waiting for the phone to ring. Actually, it's probably worse.