This is the part of the year when many European prospects have finished off their seasons, while some others are still in the hunt for a title. Besides, thanks to the return of the pre-Olympic tournament in Athens, a few more players will very soon be featured on their National Teams preparing for the quest of clinching the last Olympic berths.
Still, in the minds of many young players, the NBA draft emerges as a very important target at this point of the season. Let's take a look at the most likely players to stay in this draft and be selected, and what they have been up to these past weeks.
Danilo Gallinari
It was just a week ago that Gallinari kissed the season goodbye with a quick exit in the Italian Lega semifinals against the almighty Montepaschi Siena. If he shined brightly in the quarterfinals leading Armani Jeans Milano over Premiata Montegranaro, he somehow struggled against Siena and their aggressive man-to-man defense and excellent defensive rotations, which particularly prevented Danilo from producing off the dribble on a regular basis.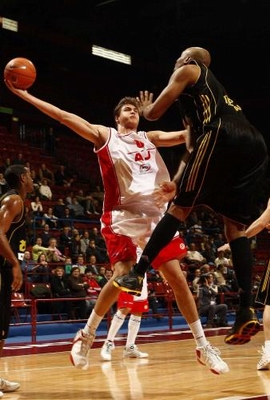 Statistically, Gallinari averaged 21 points and 7 rebounds in 5 games against Montegranaro. In one of the two losses, he could only stay on the court only 26 minutes before fouling out, registering a +/- of +9 while on the floor. Those figures dropped to 13.3 points and 5.7 rebounds against Siena. Truth be told, the Italian league has sadly developed into almost a second-tier competition in Europe, with just one really strong team –Montepaschi- and a huge bunch of similarly mediocre squads. Fortunately, Gallinari had already proven himself in the Euroleague.
Gallinari will be in Treviso for a day over the weekend, although he probably won't be doing much as far as competitive play is concerned.
Nicolas Batum
Batum is still in the mix for the French title, with his team Le Mans currently tied at 1-1 in the semifinals against Roanne. He's delivering some solid, albeit unspectacular performances, averaging 13 points, 3.7 rebounds and 5.7 assists in the playoffs. A 9-assist effort (in just 24 minutes) in the first game of the quarterfinals against Cholet stands out among his stat-lines, while he reportedly played excellent defense on Cholet's star
Nando de Colo
.
Everybody is aware by now that you're likely not getting a real star in Batum, a go-to guy to anchor a team. But at the same time, he's just a more consistent stroke away from virtually guaranteeing to become an excellent role player for any team picking him in the draft.
If Le Mans loses in the semi-finals, there is a possibility Batum will come to Treviso for a private workout with NBA teams. Otherwise he will come to the States and begin criss-crossing the country. According to his agent, his will be staying in the draft regardless of where he's projected to go.
Alexis Ajinca
Ajinca enjoyed a confidence boost right after the Hoop Summit, which was followed by his best season performances, but the campaign finale was not to be remembered. An early exit in the French playoffs, with decreasing importance on the team, put an end to a very inconsistent season. Only 2 points in 19 minutes in the first game, no rebounds in 8 minutes of the second, he definitely wasn't a big factor in the series against Lyon-Villeurbanne, although he left his mark with 6 blocks in the opening game.
Some people say Ajinca doesn't bring it every night, which results in that great inconsistency (fuelled by his obvious rawness); others point to his extremely limited playing time, which would have hampered him from getting into rhythm and building his confidence, and his excellent per minute production. Considering the lack of game action seen this very same season, I can't honestly take sides in the matter, but I would be shocked if he had developed enough during this season to escape from the D-League for the next campaign. Although that's a pretty concerning assessment for any player in the first round, the good news is that there's actually a D-League that might help him improve and get into the NBA.
Ajinca is currently touring the country for private workouts at the moment. He started off in Miami on the 3rd, will continue to Toronto on the 5th, and then goes to New Jersey on the 7th.
Omri Casspi
The season finished a few days ago for
Omri Casspi
, virtually in tragedy. That's the only possible description for Maccabi Tel Aviv losing the national championship in the final against Hapoel Holon. Capable of the best and the worst, it's seriously hard to find a more inconsistent campaign for any single team across the Continent, as it has been for the Euroleague runner up.
Casspi has been an integral part of the debacle, staying as unsteady as his team, and enjoying a starting role in the domestic competition. His performance in the Final Four was pretty weak, going scoreless in the semis, and collecting just 3 points in the final, despite playing a combined 35 minutes in the two games. However, the season has also left plenty to drool about –such as his improved ability to defend perimeter players- while showcasing first-round calibre talent. Still, the depth of this draft could push him to the second round.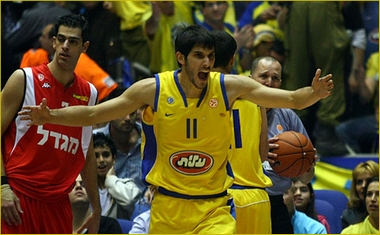 Casspi is already in the States working out for NBA teams. His first workout was in Miami on the 3rd, followed by Detroit on the 4th and Memphis on the 5th. He will not participate in the Eurocamp, instead opting to squeeze as many NBA workouts as he can before the 16th. If he cannot secure a spot in the first round, he will likely remove his name and head back to Europe, where he may or may not return to Maccabi Tel Aviv. He will surely make a big impact next season regardless of where he plays.
Omer Asik
Asik and his team Fenerbahce Ulker are fresh off securing the Turkish League championship, as they just today knocked off Turk Telekom in the playoff finals. As usual this season for the Turkish powerhouse, its deep inside rotation hardly allows their players to showcase great statistical consistency. With Asik, his great limitations to create his own scoring opportunities come into play too. In the end, he's averaging 7.8 point, 7.8 boards and 1.8 blocks during the playoffs. However, his rebounding and shot-blocking production look excellent considering his 21 minutes average. Besides, he's fresh off a 16 point, 10 rebound and 6 block performance in 24 minutes in the third game of the finals.
All in all, there's nothing much we can say here about his game that we hadn't anticipated in previous reports. His strengths and weaknesses are rather defined, and his game has remained pretty stable all season long.
Asik is getting looks in the late first from a few teams, but is more likely to go in the second round, where his camp prefers him to land (as far away from the rookie scale as possible). He will arrive in the States somewhere around the 16th.
Nikola Pekovic
Leading Partizan to the Serbian semi-finals, the top Balkan team this season hasn't needed much from its starting center to lead the SuperLeague regular season. Playing less than 23 minutes per game, Pekovic has averaged 14.4 points and 4.7 rebounds (he's still struggling with the defensive captures), proving again his superb ability to finish near the basket.
Pekovic has already signed a mammoth three year contract (with NBA outs) with Panathinaikos, the top team in Greece and one of the richest teams in Europe. His camp has done everything in its power to discourage teams from wanting to draft him in the first round (again due to the rookie scale), even though it's clear that on talent and especially production, he is more than deserving. We'd be shocked to see him in the States working out for anyone.
Semih Erden
Recently awarded the Turkish league title alongside Asik,
Semih Erden
is another victim of Fenerbahce's depth, and even if probably more talented, a less reliable player on the court. Averaging 7 points and 4.9 rebounds in the playoffs, his 14 point, 6 rebound effort in the last game of finals opener was probably his highlight this post-season, but there's nothing great to write home about.
Somebody will likely pick him in the second due to his upside, hoping that he figures out how to put everything together and become a solid ball player down the road.
Serge Ibaka
Delivering a pretty strong run late into the campaign, Ibaka couldn't stop his team L'Hospitalet from being relegated to the 3rd division after finishing last in the LEB Oro. The forward from Congo averaged 18.5 points, 9.2 rebounds and 4.5 blocks in the last four games of the season (three of them against the very top teams in the league), with a 25 point, 13 rebound, 7 block performance in the closing act.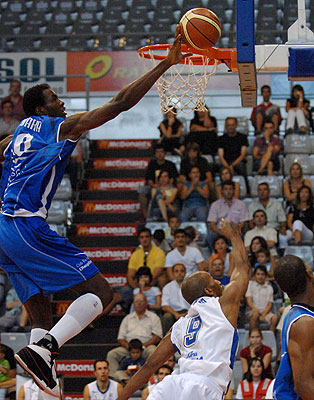 If Serge was already thinking about taking a step forward for the next season (perhaps the NBA, but more likely the ACB League), now that L'Hospitalet has gone down to LEB Plata (third division), he will do everything to get out of there. For the moment, he has been working with Joe Abunassar in Las Vegas, and he's expected to play in Treviso. His performance there will likely determine his immediate future (draft-wise, to keep his name in or withdraw).
Ante Tomic
Not surprisingly (it's not the first time it happens), Tomic has statistically stepped up in the Croatian championship, emerging as the top ranked player in efficiency during the regular season, where he averaged 16.9 points and 7.8 rebounds per game. However, he couldn't help his team Zagreb avoid losing in the quarterfinals against Zadar, despite delivering 15 points and 11 rebounds per game. In the end, and regardless of his solid production and remarkable skill set, he's still suffering from some serious softness that raises concerns about his ability to adjust to more demanding settings, especially the NBA. He would probably be better off playing in a tougher league somewhere in Europe, and there are already rumours about some wealthy clubs being interested in him, such as Maccabi Tel Aviv. The problem is the length of his contract, which features no exit clause for Europe or the NBA. It's possible some team decides to draft him in the late first round, but he could just as well pull his name out of the draft.
Rodrigue Beaubois
Not only has the buzz around Beaubois refused to die down from last season, it's actually more alive than ever. Still, it's not because he has blown away anybody this season with his playing level. Nevertheless, his playoff outing was rather intriguing, managing to combine for 18 points in the 32 minutes he spent on the floor during the two games that Le Mans needed to send Beaubois' Cholet home.
People just love his potential, his athleticism, wingspan, defense, ball-handling or even his pretty decent shooting touch. I still question his stature as a playmaker, his ability to create, to run a team. He has made strides during the season, but he's likely not ready to take the NBA step.
Beaubois is in the States right now, working out for as many teams as possible until the June 16th deadline. He will not be participating in the Treviso Eurocamp this week. If he does not receive a promise in the first round, he will pull his name out, and hope to translate his strong momentum into a very good season in France next year.