Breakout Bogdanovic
Jonathan Givony
After a breakout year in 2009/2010, Croatian wing
Bojan Bogdanovic
is establishing himself as a legitimate star in the early going of 2010-2011, ranking as one of the top scorers in the Euroleague while leading the Adriatic League with 22 points per game.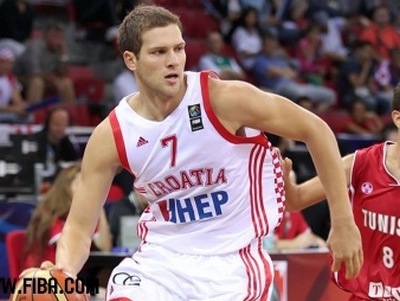 Bogdanovic, who was identified as a top European prospect very early on in his career—earning his first DraftExpress write-up
over five years ago
at the tender age of 16—moved back to Croatia in 2009 after struggling to establish himself in Spain with Real Madrid.
Since then, he's absolutely blossomed, turning in an excellent performance at the FIBA World Championships this past summer, finishing as Croatia's second best scorer, and dropping 17 points against Team USA.
The biggest change in Bogdanovic's game this year revolves around his shot-creating ability. Whereas last season you could classify him as being mostly a shooter—over 60% of his field goal attempts came from behind the arc—this year Bogdanovic has transformed himself into a complete scorer and the unquestioned go-to guy of his young Cibona Zagreb team.
We're now seeing a much more aggressive Bogdanovic with the ball in his hands, both in transition and in the half-court. He regularly grabs a rebound and starts the fast break himself, and his coach has no problem isolating him at the top of the key and letting him take his man off the dribble one on one.
Bogdanovic has a nice first step and a good crossover he can utilize to get his defender off balance. On top of that, he has the ability to drive left or right, stop and go, and change speeds, which you rarely see from European wing prospects playing at this level of competition. His free throw attempts have skyrocketed this season in turn, from 52 attempts in 40 Euroleague and Adriatic games last year to 72 attempts in just 12 games this season.
A very capable threat from outside the arc as well, Bogdanovic shows a very interesting blend of size and shooting ability at 6-foot-7, being capable of putting the ball in the net both with his feet set or off the dribble. He sports an extremely quick release on his jumper, which when combined with his height, NBA plus range and unlimited confidence in his scoring ability, makes him an extremely dangerous weapon to have out on the court at any given moment. He's only making 35% of his 3-point attempts on the season thus far, but that's probably more of a reflection of the type of shots he's forced to take on an otherwise very limited offensive team than of his actual shooting prowess.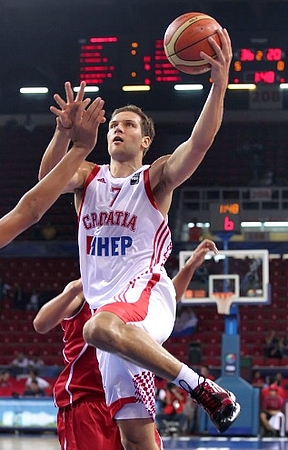 Despite his excellent production, there are a few caveats that should be made about the season Bogdanovic is having thus far. For one, he's doing it for a team that is very down this year for financial reasons—they're currently 0-5 in the Euroleague and just 3-4 in the unimposing Adriatic League. He also has the luxury of having his team's entire offense built around him, which is something you rarely see at this level in Europe, especially when discussing a 21 year old prospect.
Bogdanovic is also not producing in the most efficient manner —he turns the ball over a decent amount and is not posting incredibly flattering shooting percentages. He tends to struggle finishing around the basket in traffic at times, as he's not terribly explosive around the rim.
Defensively, Bogdanovic is below average at best at the European level, and could have major issues guarding his position in the NBA if he doesn't improve substantially in this area. He has poor lateral quickness and looks very upright in his stance on the perimeter, making him a frequent target for coaches to isolate against in the Euroleague. His effort doesn't always appear to be the best either. While offensively he has all the tools to play the shooting guard position, in the NBA he would likely struggle defending some of the better athletes we tend to find at that spot, which would likely make him better suited guarding small forwards. He'll need to get tougher and stronger to hold his own there, though.
Despite the negatives, there just aren't that many 21-year old players Bogdanovic's size who show the type of scoring instincts and skill-level that he does, and the way he's producing is extremely impressive any way you slice it. If he continues to put up the numbers he has and is able to shoot consistently and not be a liability defensively, he is going to get quite a few looks this upcoming June, starting in the first round.
Quick Hitters: ACB Edition
Taking a look at a handful of young players who have carved out early-season rotation spots in the best domestic league in European basketball.
-
One of the most pleasant surprises early on amongst NBA prospects in the EuroLeague has been
Rafa Freire
of Unicaja Malaga. After playing sparingly for Unicaja's senior team last season, the Brazil-native has earned a much more prominent role in Head Coach Aito Garcia Reneses's offense. Coming from a family of basketball players, Freire has made a successful transition from the LEB to the Euroleague in a very short period of time after settling a controversial citizenship dispute that held him in the EBA for some time.
Now seeing consistent minutes in the absence of the injured guard
Terrell McIntyre
, Freire has functioned as Unicaja's backup point guard, logging virtually all of is minutes as a primary ball-handler. Despite being more comfortable at the shooting guard spot in junior play and playing that position during much of his stint with the senior team last season, Freire has handled his duties as a floor general admirably. Though he still makes some mental mistakes, as any 18-year old playing in the top division in Europe would, he shows some very promising attributes that could earn him quite a bit of attention down the road.
Freire is, in a word, aggressive. Constantly pushing the tempo with his dribble, the young guard has excellent athleticism, a strong frame, and nice footspeed for the European game, and seems to be learning how to play at different speeds –a major development for a player who has an extra gear compared to most of the guards he matches up with. Able to distort defenses with his quick first step, showing a knack for driving in either direction, and exploiting the space Reneses's offense creates for him to get into the lane; Freire clearly has accepted his role as a facilitator. He doesn't force many jump shots, focusing his attention on setting up his teammates first, getting to the rim to create his own offense when possible, and playing exceptionally pesky defense.
Considering that Freire is just 18 years old until February of next year, it is hard not to be impressed with the progress he's made over the past year and a half. He certainly will need to cut down on his mistakes and become a more reliable perimeter shooter and all-around scorer against high level defenders to reach his potential, but he has plenty of time to work on his game. It will be interesting to see how Freire fits into Unicaja's rotation when all of their players are healthy, as his ability to change the pace of the game could factor heavily into his minutes later on this season.
Recently, Freire has refused to report to the Brazilian National Team despite his family's history with the national selection. How Freire spends his summers will play a key role in his ability to solidify his draft stock, as we've seen numerous players use the World Championships and Olympics as a springboard into the NBA draft. Freire
openly states
that he believes his style is better suited to the European game, but if he continues to improve at the same rate, he will receive his fair share of NBA attention as he gets closer to becoming automatically eligible for the draft.
-
Joan Sastre
has played a bit part for Cajasol Sevilla of the ACB in each of the past two seasons. A quality spot-up threat with a smooth release and nice range on his jump shot, Sastre isn't a jaw dropping athlete, but he's aggressive, has a solid skill level, and has proved that he's ready to take a step forward after averaging double-figures in the LEB-Silver for Qalat Cajasol last season.
Much like Czech prospect
Tomas Satoransky
, who we'll cover in depth in the not too distant future, Cajasol wants to maximize the amount of game action Sastre sees this season. He played 26 minutes in Cajasol's only Eurocup game of the 2011 campaign, and has the pedigree, size, and talent to be a quality contributor from the small forward spot in the ACB down the road. Whether he emerges as a legitimate rotation player this year or a NBA prospect down the road remains to be seen, as he lacks great strength and athleticism and would likely struggle badly defensively in his current state at the NBA level, but both Sastre and Satoransky are players to watch as they begin to see more playing time in Sevilla against high-level competition.
-
Fresh off a solid, albeit less than spectacular, showing for the Czech Republic at the European U20 Championships,
David Jelinek
has figured prominently into DKV Joventut's rotation this season. After averaging double-figures for CB Prat in the LEB Silver, Jelinek has seen consistent minutes in ACB player thus far this season.
A highly confident shooter with solid speed in the open floor, Jelinek is not a great leaper, which limits him considerably around the rim at the ACB level, but he has nice form on his jump shot and is capable of creating some space off the dribble. Able to play above the rim when he has an open lane, Jelinek seems a bit anxious at times with the ball in his hands, and would be well served to add some muscle to his frame or develop his midrange jump shot to take some pressure off of himself at the rim.
Despite showing solid passing ability on the LEB and junior levels, Jelinek has been used primarily as a spot up threat and transition option. Possessing solid size for the shooting guard position and adequate athleticism, Jelinek did not impress at the adidas Eurocamp last season and may not project as a high level NBA draft prospect, but he's been shooting the lights from beyond the arc early this season and with added polish from the midrange, could earn some recognition if he continues knocking down his jump shot at a high rate. With his short arms and narrow frame, Jelinek's defensive potential looks extremely limited when discussing his NBA prospects, which may be the main thing holding him back long-term.
-
David Jelinek
has been the more prolific from beyond the arc, but
Josep Franch
has been the more productive player for DKV Joventut in the early going. Spending many of his minutes playing on the ball, Franch is much shiftier with his dribble than Jelinek, and does a nice job using screens to create openings to get in the lane. Once there, Franch is a bit limited due to his lack of great leaping ability and skinny frame, but he isn't afraid to take contact.
An aggressive and sometimes flashy passer, Franch is prone to trying to make some tough passes in traffic, but looks very good running the show in transition. He isn't terribly explosive, but he plays at different speeds, has a fundamentally sound jumper, and proves fairly savvy with the way he distributes the ball. Moving forward, it will be key for him to cut down on his mistakes and find a way to alleviate his struggles as a finisher around the rim, but the young point guard will get ample opportunities to continue improving his game while getting consistent minutes in the ACB. From an NBA perspective, it is easy to write off Franch because of his average physical tools, but his fundamentals and effort level could make him a terrific prospect in the European game as he becomes more poised as a floor general.
-Though both
Nikola Mirotic
and
Dejan Musli
left a solid impression with their play in at the Nike Hoop Summit last spring and are high-level NBA prospects compared to some of their peers in the ACB, neither has seen much playing time with Real Madrid or Caja Laboral in the early going. We'll check back in on both later on this season in considerable depth when we have a larger sample of video to work with.
-We'll also take a closer look at a few of the other NBA prospects playing in the ACB a bit later on in the season, such as
Pablo Aguilar
,
Tomas Satoransky
,
Augusto Cesar Lima
,
Xavi Rabaseda
and
Pere Tomas
.