Josh Riddell
Brannen Greene
's Kansas career never quite got off the ground as he averaged just twelve minutes per game as a junior in what many hoped would be a breakout season. He had several publicized disagreements with head coach Bill Self over
playing time
and a
dunk against Kansas State as time ran out
in a blowout and he struggled to make his mark on the team during his three seasons, after being a top 35 RSCI recruit out of high school.
At 6'7, Greene has excellent size for either wing position, with a strong frame and solid length, and is a fluid and mobile athlete.
While Greene's per game numbers don't leap off the page, his per 40 minute pace adjusted 17.6 points and 6.9 rebounds on a 77% true shooting percentage demonstrate his offensive potential. Greene has stayed on NBA radars thanks to his lights-out shooting, as he ended his career shooting 44.3% from beyond the arc on 5.3 attempts per 40 minutes pace adjusted.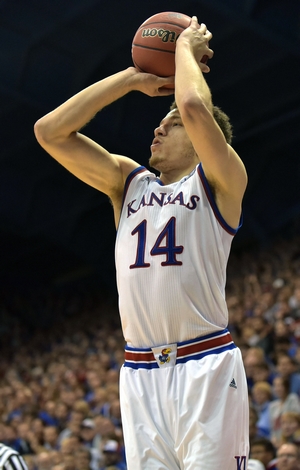 At this point in his career, he is fairly limited offensively, with over 85% of his shots logged as jump shots by Synergy Sports Technology and 71% of his field goal attempts coming from beyond the arc. He gets most of his offense from catch and shoot situations which account for almost 75% of his total possessions. Nearly all of these attempts were three point attempts, with much of Greene's offense stemming from spotting up in the corner as a floor spacer.
He's a sharp-shooter when he gets his feet set, converting those catch and shoot opportunities at a clip of 48.9%. He has a high release point, a quick trigger and a soft, fluid and effortless stroke that always made him appear on the verge of breaking out as one of the best shooters in college basketball. His shot will be difficult for many perimeter defenders to contest and Greene has the ability with his shot mechanics and aggressive nature to become a very dangerous shooter from NBA range.
While we don't have a large sample of offensive versatility from Greene over the past three seasons, he has shown brief stretches of being able to put the ball on the floor, both in transition and as a straight line driver against closeouts. He doesn't have great ball skills, but can attack the rim when he has a relatively clear path. He isn't much of a passer or shot creator for his teammates, looking for his own shot almost exclusively, which is another reason he often found himself in Self's doghouse.
Defensively, Greene hasn't shown much of a desire to help his team in any substantial matter. He has some nice potential with his height, fluidity and quickness, giving him a nice base of physical skills, but his actual on-court impact is minimal. He is often caught flat-footed, leaving him trying to catch up to the action instead of making a play. His awareness and attention to detail is lacking, as he is often a step or two slow to react to what is happening right in front of him, as well as being unaware of what is going on around him.
He does rebound at a decent clip for a small forward and while he can elevate to gather in the errant shot, most of his rebounds come from balls that come off the rim into his immediate area. Greene rarely exerts a high amount of effort defensively, looking completely disinterested more often than not. This is another reason he was glued to the bench at Kansas, as this approach toward defense will need to change if he wants to be in a team's rotation at any professional level.
Despite not having the most productive collegiate career, NBA teams are still showing interest in Greene, in large part due to his ability to be a knock down shooter with a lightning quick release and unlimited range at 6'7". During the draft process, they will try to dig deeper and find out how much of Greene's struggles were his fault and how much were due to poor fit. Scouts will get a different look at him and his skill-set in individual workouts leading up to the draft and a strong few months could see him work his name into draft consideration. Teams will want to know if Greene can get on the same page with a coaching staff and accept a role, even if it's that of a
J.R. Smith
or
Nick Young
type sparkplug off the bench.