An interview with Florida guard
Bradley Beal
, discussing his training regimen, what he's working to improve on, his relationship with coach
Billy Donovan
, how he views himself in the NBA, who he models his game after, and more.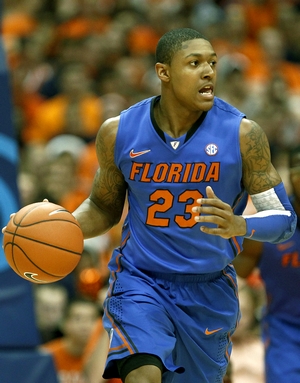 -
Kendall Marshall: "I Can Adjust to Any Situation"
-
Moe Harkless: "I'm Going to Surprise a Lot of People"
Joseph Treutlein: To start off, can you talk to us a little bit about what you're doing to prepare for the draft right now?

Bradley Beal:
Basically, I'm really working on creating my own shot, on trying to become more of a primary ball-handler. As a secondary ball-handler, I think I did pretty good in college doing that, but now I know at the next level my height isn't really the same as most two-guards in the league, so I'm gonna have to learn to develop how to bring the ball up the court and try to get the team in their offense, and I've been really working on my ball-handling more than anything in this process.
JT: Do you see yourself as more of a 2, a 1, or a combo-guard projecting to the next level?

Bradley Beal:
I'm trying to develop into a combo-guard so I can play the 1 and the 2. Coming out of college I was probably strictly a 2 and I played probably more 3 in college as well, so I'm really just trying to become more of a combo guard, a guard that can handle the ball, play the point guard, and 2-guard as well.
JT: Where are you preparing for the draft right now and who are you working with?

Bradley Beal:
I'm working out up in Chicago. My agent is Mark Bartelstein and I'm working out with Josh Oppenheimer for my pre-draft stuff right now, and everything's going pretty well.
JT: Can you talk to us about what your typical daily schedule consists of?

Bradley Beal:
Basically wake up, eat breakfast, then go work out for about two-and-a-half to three hours, then after that it depends on the day. I may lift or just take the rest of the day off and relax, and then get back at it the next day. I probably lift every other day, sometimes I get treatment and massages and things like that as well.
JT: Are you getting any competitive action against other players, be it 1-on-1's, 2-on-2's, 5-on-5's, or whatever else?

Bradley Beal:
In the beginning I wasn't. They wanted to hold me out. But then this past week I've been competing against a few other NBA guys like
Will Bynum
, and a few other NBA guys that have came in, and our other clients in the agency as well. This past week has been my first week of actual contact.
JT: How do you think the competition there is helping to push you?

Bradley Beal:
It's really pushing me a lot, because it's a lot different than working out on your own and not going up against anybody. When you actually do, it's a totally different situation because when you work out by yourself its more thinking, whereas once you go against somebody you just have to react to them. I think going up against contact has just helped me a lot mentally and getting me back in the style of playing again.
JT: Looking forward to the NBA, what do you think your biggest strengths are as a player and how would you sell yourself to a NBA GM?

Bradley Beal:
My biggest strengths playing-wise would be my ability to get my teammates involved, as well as being able to shoot the ball pretty well. I think I'm a pretty good defender. I take pride in my defense, and I'm a great rebounder as well. I really focus in on my defensive rebounding.
JT: You mentioned your shooting. You came into college known as an elite-level shooter and your numbers this past year weren't reflective of that (33.9% from three-point range). Do you think you're a better shooter than the numbers suggest?

Bradley Beal:
Oh yeah, I'm a much better shooter than what I showed this season. There were some games where I really had struggles, but at the end of the year, in the SEC Tournament and NCAA Tournament, I shot like 43% from three [editor's note: this is an accurate statistic], so I really shot better towards the end of the season than I did in the beginning of the season. I think it was mainly my focus that was off. I worked through a lot of adversity and things like that, and it really hit me, and I was able to talk to coach Donovan and he got me back on the right path and had me stay in the gym and kept working on it, and it came at the end of the year.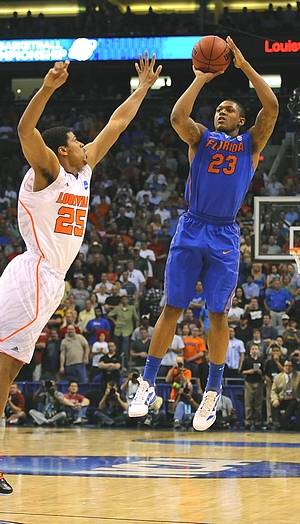 JT: You clearly came into your own at the end of the season, were playing your best basketball, and your team was just a game away from the Final Four. Do you feel any regrets moving on to the next level given how close your team was to a National Championship?

Bradley Beal:
Regrets? No, I don't regret anything, I don't regret the decision I made, because I feel it was best for me, but at the same time, I do kind of think about it like "Wow, we could've had a great team next year," but at the same time it was based on my future and the opportunity that was presented before me.
JT: Was it a difficult choice deciding to declare for the draft?

Bradley Beal:
Oh man, it was probably the hardest decision. It was probably harder than choosing a college to be honest with you. You basically are giving up the four best years of your life in college and you're giving it up for a job that you have to be prepared to day every day, and I've never had a job before, so this is like stepping into a whole new world and a new lifestyle and everything like that. So it's really difficult giving up my friends that I just made and the connections I made with my teammates and coaches down at Florida, to give it up for something new.
JT: You chose to go to Florida and play under Billy Donovan. Can you talk about your relationship with him and what you learned from him?

Bradley Beal:
Coach Donovan is probably the best coach… by far the best coach I've ever played for. Just because, the way he coaches, he teaches, but at the same time he gives you freedom to just play basketball and just have fun. And the way he coaches is so NBA-like. You run so many pick-and-rolls, down-screens, pin-downs, and everything like that. Everything that he shows me on film, it really portrays to a lot of the guys I look up to in the NBA. He's just a terrific coach. He really just taught me to fight through adversity more than anything, and just live in the moment you're in and just embrace it.
JT: You played in a very strong backcourt with Kenny Boynton and Erving Walker. Can you talk a bit about how you guys managed to share possessions, keep everyone involved, and the whole process you guys went through managing the team's offense?

Bradley Beal:
I think we did a pretty good job of doing that actually. Some people may disagree with that, but I think all together we did a great job of being leaders on the team. Coach Donovan looked at all three of us as well as
Patric Young
to be the main leaders on the team. I think we all did a pretty good job of distributing the ball to one another, as well as getting Pat[ric Young], and [Erik] Murph[y], as well as everyone else shots as well, as well as creating our own shots, so I think we did a better job than what people give us credit for.
JT: Is there any player you model yourself after in the NBA?

Bradley Beal:
Shooting-wise, I'd say
Ray Allen
, but in terms of attacking the basket, I'd say D-Wade, because we're kind of the same height and he has a strong build and likes to get to the basket. I like to get to the basket similar to the way he does.
JT: With you being projected in the top-five of the draft and the lottery just happening the other night, have you started to look around at some of the teams that might be pursuing you and thought "Hey, I'd really like to play there" or "I might be a really good fit there"?

Bradley Beal:
I've looked, but I haven't really looked too heavily into it. I've just been working out and really trying to let my agent take care of all that, and just see where I best fit, and probably later on this week, I'll do the same. But I can't go wrong with any team I play with, really. All these teams are great teams, no matter who I play for in the NBA, it's just a blessing to be able to have the opportunity to be able to play in the NBA. I'd play for anybody.
JT: Does where you get picked matter a lot to you?

Bradley Beal:
Honestly, it doesn't. I just want to go to the right team, the team that fits me best. It doesn't matter if I'm number eight in the draft or lower than that. Just as long as I'm going to the right team, that's what matters the most.
JT: Is there a certain style of play you prefer looking forward to the NBA, or is there any team or coach you'd really like to play for?

Bradley Beal:
I like teams that try to get up and down, as that's kind of the style I'm used to and the kind of style I've played all my life, but I'm adjustable to any style of play, so it really doesn't matter.
JT: Have you planned any workouts with teams yet?

Bradley Beal:
No, actually, I'm probably just going to wait until after the combine and see what teams are asking. Me and my agent will sit down and figure out who we want to work out for and the times/dates for those as well.
JT: Do you have any plans looking forward, in terms of are there certain players you want to match up with or do you want to get competitive action in front of teams?

Bradley Beal:
Not really. Me and my agent still haven't decided whether we're going to work out against anybody. My competitive nature, I would love to, but it really doesn't matter to me, just as long as I get to showcase my abilities to the teams. We haven't really thought about it or decided about it, so when it happens it happens.
JT: Looking back over the past year, what do you think is the biggest thing you've improved upon as a basketball player?

Bradley Beal:
Playing through adversity. I went through it a lot this year. In high school, I didn't have to face it all, but my freshman year in college, shots weren't falling in the beginning and middle of the season and I was kind of getting down on myself, but then I stuck with it and learned I could do other things to impact the game and the winning of the game besides scoring. That's when I began to start playing better defense and leading the team in rebounds and steals. Fighting through adversity is probably the biggest thing I've learned, and just basically having a great mental approach to every game and being confident.
JT: Thanks for everything, Brad. We wish you the best of luck throughout the process and hope things work out well.

Bradley Beal:
Alright, thank you.