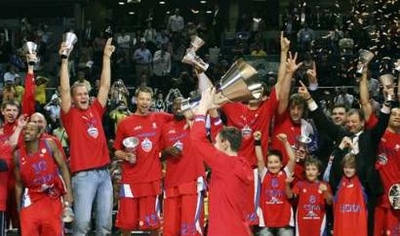 This year's Euroleague season is officially in the books, after CSKA Moscow knocked off Maccabi Tel Aviv 91-77. The Euroleague might not have been more than a blip on the city of Madrid's radar, judging by the sights and scenes found outside the arena (except one Maccabi Tel Aviv pep rally in Puerta del Sol last night) , aided greatly by the fact that legendary soccer team Real Madrid was able to clinch the Spanish league championship tonight, which will make for a very rowdy celebration. It will be interesting to see how things look next year in Berlin, the sight of the 2009 Euroleague Final Four as was announced this weekend. Regardless, the Euroleague did an excellent job putting together a very well organized event, and everything went fairly smoothly this weekend as far as we could tell.
Nike International Junior Tournament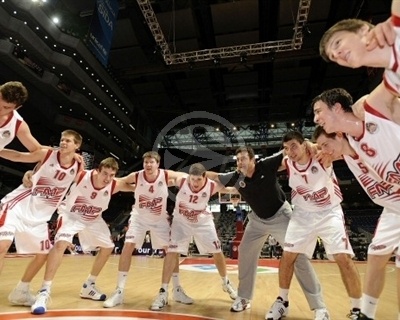 FMP Zeleznik came away the runaway winners of the Nike International Junior Tournament in unsurprising fashion, pounding Barcelona 80-70 (it wasn't really that close) behind 25 points from
Dejan Musli
and 21 from Bojan Subotic. This Zeleznik team is just leaps and bounds better than anything European junior basketball has to offer at the moment, both in terms of talent and depth, but also in execution and their overall "professionalism." Make no mistake, this team of 17 and 18 year-olds would most certainly pound any American high school basketball team we've seen all season (and we've seen all the best)—they are just that well coached, but also bring to the table an excellent combination of athleticism, team-play and fundamentals.
Buzz
Theodoros Papaloukas
has apparently not yet given up on the possibility of playing in the NBA this summer, and has even hired a new American agent to help him with that cause. He was reportedly extremely close to signing with the Milwaukee Bucks last year, but Mo Williams' large contract didn't leave enough money on the table for him to justify the decision. Papaloukas will be looking for a deal in the 3-year, 20 million dollar range this summer. Considering his age, the way he played this weekend and in the season as a whole, that looks like an extremely long shot. A number of teams are hot on the trail of
Ramunas Siskauskas
reportedly, including the San Antonio Spurs and Houston Rockets. That's what the word here amongst European basketball insiders is at least.
On the coaching front, we're about to see a great deal of musical chairs go on amongst Euroleague coaches. Ettore Messina has signed a two year contract to stay in CSKA Moscow reportedly, preferring the stability of the #1 organization in European basketball than the mess that Barcelona is apparently becoming. Sergio Scariolo is apparently the frontrunner for Barcelona now, but Pini Gershon and Simone Pianigiani are also being mentioned. After blowing a very winnable game in the Euroleague semifinals against CSKA, finishing in fourth place eventually, and also losing the Copa del Rey to Joventut, Neven Spahija will surely be on the outs from Tau Vitoria if he doesn't win the ACB championship. Rumors all season had Dusko Ivanovic returning to take the job there, but recently it appears that Svetislav Pesic might be the frontrunner. In Maccabi Tel Aviv, Zvika Sherf will be staying another season for sure unless something incredible happens in the Israeli League playoffs. Don't be surprised to see David Blatt's name come up in the next few weeks for some of the open NBA head coaching jobs. We heard some rumblings about that here in Madrid, and none of the NBA executives we spoke with sounded shocked to hear that he's quietly being mentioned as a candidate. It seems like
Avery Johnson
will be taking his sweet time to decide on his next destination. Don't expect him to sign on to coach anywhere all that soon. If
Omri Casspi
decides to stay in the draft, that likely means two things. One, he has found a promise in the first round, and two, that is likely coming from the San Antonio Spurs. They've been out to see him in Tel Aviv far more than any other NBA team, and reportedly really like the way he plays. He would stay in Europe for at least a season or two, though.
The Final—CSKA Moscow 91- Maccabi Tel Aviv 77
Maccabi started the game again with an unconventional lineup—with
Will Bynum
at the point, Halperin at the 2, Casspi at the 3, and Terrence Morris and
Nikola Vujcic
manning the front line. The first half was an extremely entertaining affair—fast, up-tempo basketball, which is exactly the type of pace Maccabi likes to play at.
Trajan Langdon
was on fire for CSKA in the first half, hitting all four 3-pointers he took and scoring 14 total points. Maccabi got great minutes from
Esteban Batista
off the bench, with 10 points and 7 rebounds in just 7 minutes, and an extremely active
Omri Casspi
doing major damage in the first quarter. Casspi brought great energy to his team, moving off the ball beautifully, getting out in transition, cutting hard to the rim constantly, and doing plenty of damage scoring at the rim or drawing fouls. Neither Ramunas Siskuaskas or
Theodoros Papaloukas
were able to stay with him and his fresh legs, and he really did a good job showing off his biggest strength—his aggressive nature.
The second half brought us a style of play that clearly favored CSKA—a much more slow, deliberate pace that exposed Maccabi's lack of playmaking ability and disciplined defense. Maccabi coach Zvika Sherf seemed dead-set on playing David Bluthenthal and
Alex Garcia
as many minutes as possible, and both came up with extremely disappointing efforts that really hurt their team. Garcia was awful in particular, jacking up and missing contested shots, displaying bad decision making, and even blowing a completely wide-open layup in transition that may have been the game's turning point, as well as an intentional foul by
Esteban Batista
.
Will Bynum
did what he did best throughout this game—create offense and get to the rim, but his extremely ball-dominant style worked against his team to a certain extent, as it froze out his teammates and really made his offense look stagnant. To his credit, Maccabi looked unable to score in any other way today, and Bynum was extremely effective getting to the rim like a freight train and either scoring at the basket or drawing fouls (but rarely kicking the ball out). Once CSKA adjusted to him, Maccabi looked pretty awful. It was surprising to see Maccabi's best player for much of the season,
Yotam Halperin
, spend about 25 straight minutes on the bench from the middle of the 1st quarter to the middle of the 4th, often in favor of
Vonteego Cummings
, who has given Maccabi virtually nothing in the past few months. Casspi, who was so good in the first half, wasn't able to get anything going in the few minutes he played in the 2nd, still making aggressive moves, but being unable to finish at the rim when CSKA's defense rotated over. It was nice to see him trying to make things happen, even if he may have rushed things a little bit.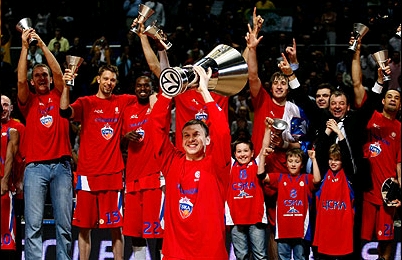 CSKA's veterans were the key to the victory, as their different stars took turns stepping up and making huge plays, starting with Langdon in the first half, followed by J.R. Holden in the 3rd quarter, followed by
David Andersen
in the 4th, and mixed in with steady and heady play from Ramunas Siskuaskas and
Matjaz Smodis
throughout. At the end of the day, there really isn't any comparison when you look over their roster and stack it up against Maccabi. The Israelis were able to find lightning in a bottle at key points throughout the season thanks to their terrific bench and maybe a little bit of luck, but in the end, the best team clearly won this game deservingly. What might have been surprising here is how loud and enthusiastic their fans were. They weren't huge in numbers by any means, but they made their voices heard throughout the game, even more-so than Maccabi's fans in large stretches. This is not how we remembered them being last year in Athens.
Trajan Langdon
was named MVP, finishing with 21 points and 7 rebounds on 6-7 shooting from the field. Check out CSKA's scoring balance—Papaloukas 12, Andersen 13, Smodis 13, Siskauskas 13, Holden 14.
For Maccabi,
Will Bynum
had 23 points, 4 assists and 5 turnovers.
Terence Morris
chipped in a quiet 13 and 7, and Batista had 14 points, 7 rebounds in just 14 minutes. Halperin had 9 points in 11 minutes, and Casspi had 9 in 12.