DraftExpress is on hand in Madrid to take in the most important event on the European basketball calendar, the Euroleague Final Four. Maccabi Tel Aviv erased a 15-point deficit to knock of Montepaschi Siena in shocking fashion in the first game, while CSKA Moscow outmuscled Tau Vitoria in a brutally physical game to claim the second spot in the finals. There is some buzz coming from the many NBA scouts in attendance, while the junior tournament is also occupying our time nicely as well.
3097
The Euroleague Final Four in Madrid
Just in case there was any doubt, have no mistake that Madrid is one of the best cities you'll find in all of Europe. This is our second time spending time here in the last nine months (last time for the Eurobasket in August), and it doesn't take very long to figure that out. Clean, convenient, friendly, and absolutely gorgeous this time of year, you won't find anyone here complaining about the Euroleague deciding to host the Final Four here. It's funny to see how incredibly packed the streets are with people until the wee hours of the morning, only to walk along the "busiest" sections of the city at 8:30 AM and not see a single soul. Good luck finding anything open that time either.
The Scene
As basketball people always find a way do, there is some nitpicking going on as well. The process of distributing tickets drew the ire of quite a few people here, as many people were apparently forced to purchase all-inclusive package deals costing 2,000 Euros (over 3,000 dollars) just to get their hands on a ticket. Many of the tickets went through a Greek travel agent apparently, and in the end the Euroleague had to open up their box office for a few hours to unload the unsold inventory. There were a good deal of empty seats in the arena unfortunately, which is truly a shame when considering how many fans stayed home because they were unable to find tickets. There were a good 50 courtside seats that were not used at all, along with plenty of empty patches scattered around the arena, especially in the sections holding the Euroleague VIPs. Not exactly "feeling" my seats on press row, or the smell of the "journalist" sitting next to me, I took off for a seat in the fifth row courtside, which just happened to be behind my good friend David Blatt. Even here the Head Coach of the European Champion Russian National team was focused on explaining the fascinating nuances of the game to me, his son, and anyone else that was interested.
Unsurprisingly, it was Maccabi Tel Aviv fans the one who dominated the arena, controlling at least 1/3rd of the 13,000 seats, and clearly being the most vocal supporting their teams. The support of the team was nothing short of amazing, and it was hard not getting goosebumps as they serenaded the two most veteran players on their team,
Nikola Vujcic
and Derrick Sharp, with personalized songs. It wouldn't be a stretch to call them the best fans in basketball.
The Buzz
The Nike Junior tournament running parallel to the men's event gave us a great chance to meet quite a few NBA scouts and executives and pick their brains about various topics, specifically this year's draft. We talked to representatives of at least 10 teams, giving us a decent sample size from which to evaluate the stock of a few different prospects.
Danilo Gallinari
seems to be holding pretty steady at this point in the 5-12 range—we couldn't find anyone that has him ranked below that here at least. Rudy Fernandez is apparently set to join the Portland Trailblazers according to word we got from well-placed local sources here in Spain. Some teams surprisingly have
Alexis Ajinca
ranked ahead of
Nicolas Batum
, and there was some quiet buzz about a few surprise early-entry players who could make solid second round picks, such as
Nando De Colo
and
Henk Norel
. Most of the people I spoke with here agreed with the notion that
Andrea Bargnani
's terrible season and the imminent assertion that he is looking more and more like a total bust of a #1 pick could psychologically affect the way some of the less secure GMs evaluate international prospects in this draft.
In the junior tournament, FMP Zeleznik is unsurprisingly undefeated, having knocked off Zalgiris today in what could have very well been the tournament's final game. Barcelona and the scrappy, overachieving Lietuvos Rytas will fight it out to play the "real" final on Sunday against FMP tomorrow. Not surprising as well is the fact that
Donatas Motiejunas
is the most intriguing NBA prospect at the junior tournament, even though he struggled today against FMP, followed by
Tomislav Zubcic
, who has strung together two very strong games so far.
Ryan Richards
has made an appearance here, but has been extremely underwhelming. We'll have a full report on the top prospects here as soon as we get back.
The Games
Maccabi Tel Aviv vs. Montepaschi Siena
Things got off to a very sloppy start in the first contest. Maccabi looked especially nervous, making careless mistakes on defense, committing foolish turnovers (10 total in the first half), giving up offensive rebounds, and just not being able to hit shots, scoring just 7 points in the first 8 minutes of the game. Siena jumped out to a 15 point lead fairly quickly, mostly led by the incredible play of their point guard Terrell McIntyre, who scored 16 points in 12 first half minutes (4-6 3P), to go along with 3 assists and no turnovers.
Lior Eliyahu
kept Maccabi in the game almost singlehandedly, with 8 big points in a 10 minute spark off the bench. Maccabi went to the lockerroom down 45-33. They were a bit lucky that Siena missed 16 of their 22 3-pointers, many of them open looks.
Terrell McIntrye continued to play well in the second half, as Siena's plan of outletting the ball to him at half-court in stride and allowing him to operate and make decisions in semi-transition before Maccabi could set their defense worked to perfection. His legs started giving out a bit mid-way through the third quarter, though, (he spent the last month out after arthroscopic surgery) and that combined with their glue guy
Shaun Stonerook
's fourth foul gave Maccabi a chance to chip away at the lead.
It was here that Maccabi's superior bench began to reap dividends for them, as guards Derrick Sharp and
Alex Garcia
caught fire and combined for an amazing 21 points in the third quarter alone, and made some incredibly important hustle plays. Garcia was incredible aggressive all game long, while Sharp, a legend in Tel Aviv by now who was relegated mostly to figurehead status as of late in old age, provided a huge leadership boost and incredible clutch play on both ends.
Will Bynum
also found redemption for the problems he suffered on and off the court this season, shredding apart Siena's defense with drive and dish plays and scoring quite a bit himself via layups or shots from the free throw line. Terrence Morris and
Yotam Halperin
have been arguably Maccabi's two most important players all season long, but they were not really needed all that much as Maccabi slashed the huge deficit and built up a lead of their own, to their delight of their screaming fanbase. This was not a game for young guys--
Omri Casspi
only ended up playing 4 minutes and 29 seconds total, all in the first quarter as part of the starting unit. Fellow starter
Vonteego Cummings
suffered the same fate.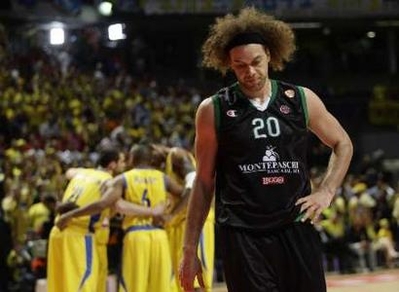 Maccabi finished the game off winning 92-85, scoring 84 points in the final 30 minutes after starting out the game down 20-8. Derrick Sharp scored 17 points in 23 minutes, while
Alex Garcia
added 19 in 26. Terrence Morris had 13 points and 7 rebounds, while
Will Bynum
contributed 13 points and 7 assists. David Bluthenthal also had a very nice game with 11 points, 4 rebounds and 2 blocks. For Siena, Terrell McIntyre scored 26 points with 5 assists,
Romain Sato
had 17 points, 11 rebounds and 3 steals, and
Ksistof Lavrinovic
had 17 points and 2 rebounds.
CSKA Moscow vs. Tau Vitoria
This one looked like a much slower, more thought out game than the up and down pace of the previous game. Tau Vitoria jumped ahead to a surprising 39-33 lead in the first 20 minutes, mainly behind the inside presence of
Tiago Splitter
(10 points, and 6 missed free throws), and the surprisingly aggressive play of
Zoran Planinic
.
Ramunas Siskauskas
carried CSKA early, making shots and creating opportunities for
Matjaz Smodis
, but foul trouble limited his play, as well as Langdon's—with 3 fouls each. Tau's defense did a great job early on of forcing CSKA into taking bad shots, and the Russians clearly lacked a spark off the bench from their once great playmaker, Theo Papaloukas. He's been fairly invisible so far, not trying to initiate anything, and clearly lacking the athleticism to get by anyone or finish when he did. This was not a pretty game in the first half, and the atmosphere clearly fell off a bit once Maccabi's fans exited the building to begin the celebrations. CSKA is relying too heavily on JR Holden to carry them offensively, which is making them a bit predictable.
The second half was an all-out war, as both teams pounded on each other incessantly inside, on every drive, post-up and box-out for rebound, while there were only so many fouls that the ref could have called.
David Andersen
was excellent for CSKA, scoring 12 points in the half (16 total) on a series of mid-range jumpers, being particularly clutch in the closing minutes when his team took the lead and held onto it until the very end. He played nearly the entire second half, and did not miss a shot inside the arc the entire game, going 8-8 from the field. His last basket might have been his biggest, a huge put-back dunk off an offensive rebound to put CSKA up by 7 with just over a minute to go. We wondered if the Hawks would be here, and indeed the man responsible for drafting him seven years back,
Mark Crow
, was in attendance and looked quite pleased with the way he played, as he should have been.
Theodoros Papaloukas
woke up in the second half, reeling off 8 points to finish with 10, and stringing together two huge transition baskets in the fourth quarter that were extremely important to his team's win.
Ramunas Siskauskas
finished with a "quiet" 16 points, always within the flow of his offense, slaloming in between defenders and finishing either hand, knocking down shots, drawing plenty of fouls and knocking down 7 of his 8 shots from the line, including two huge ones at the very end to seal the game.
The final score was 83-79 CSKA. The Russians are going to the Euroleague final for the third straight year in a row. This is their sixth straight appearance in the Final Four. They had five players finish with double digit scoring.
Tiago Splitter
had 17 points for Tau on 5-7 shooting from the field. He was terrific with his back to the basket inside, commanding double teams and finding the open man, using nice pivot moves and even hitting a pretty swooping hook shot in the lane. Maybe the 7-14 he shot from the free throw line will convince him to work on getting rid of the ugly hitch he has in his mechanics from the line, but regardless, there is no question that the San Antonio Spurs got a huge stud—a player worthy of a top 10 pick fall to them at the end of the first round.
Zoran Planinic
was solid with 17 points, and
Igor Rakocevic
had 19.