-Bracket reflects games played through Sunday, January 7th. The teams are selected and seeded using the exact same criteria that the selection committee uses.
-The projections are not a prediction of what the bracket will look like in March, but rather a checkpoint for where teams currently stand. That is why some of the selections and seedings may seem a bit unusual.
-All 31 conference champions receive automatic bids. The projected champions are currently in first place in their conference standings, or tied for it via the loss column.
-The notes on the bracket are located below.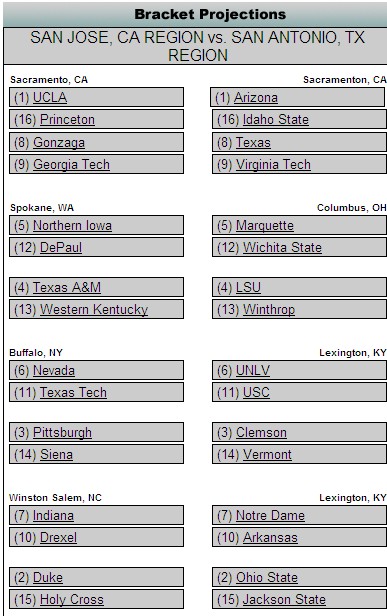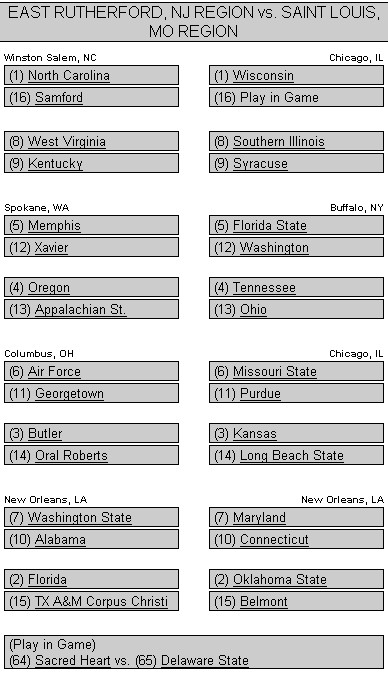 NOTES ON THE BRACKET
-Appalachian State has one of the strangest profiles of any team I've seen in quite some time. Their RPI is 11 and their SOS is 22, so that would be unprecedented if they were to receive a #13 seed, but the thing about them is that they don't have any good wins. Their best win was probably against VCU, who is not an at-large caliber team right now. They also have a loss against Wake Forest, who is not a tournament caliber team, so it's hard for me to put them any higher than I have them right now. If they win out or come close to it, they should be okay for an at-large bid if they fail to win their conference tournament, but anything short of that and I believe they'll need the automatic.
It's also still very early in the season. The RPI is not as reliable now as it will be later on. And even later on the RPI doesn't really determine whether a team gets in or not all by itself.
OTHERS CONSIDERED
Providence, Michigan State, Indiana State, Missouri, Creighton, Kansas State, Nebraska, Villanova, Boston College, Stanford, New Mexico State, George Washington, South Carolina, Michigan, Illinois, Davidson, California, BYU
-I originally had Providence as my last team in, but De Paul appears to have more momentum than they do, which has historically been a tiebreaker for the committee when it comes to bubble teams. De Paul also has a win against Kansas and another decent win on the road against Villanova. Providence has a nice win against Marquette, but has a really bad loss against Brown and a lot of wins against low caliber teams. Interestingly enough, they don't play De Paul this year in the regular season.
-I also looked very closely at Indiana State. They have wins against Butler and Purdue and have won five straight games. They haven't played all that well on the road, but they did win at Illinois State over the weekend. I'd consider them to be a team that is definitely in the mix right now. Even though they are not in this bracket, they have made as good a case for themselves as any of the other "bubble" teams.
HARD TO PLACE
-Several teams are still very hard to place. Connecticut remains highly ranked, but nothing else about them even indicates that they are an NCAA Tournament team. They have no good wins, no road wins, and haven't even looked all that good against the quality competition they have faced. As they go through the Big East we'll see what kind of a team they are and it will become easier, but as of now it's hard to tell.
-To an extent, the same can be said about Alabama. Their best win probably came against Xavier. They did beat North Carolina State, Oklahoma and Iowa as well, but the best thing about those teams is their brand name this year. None of them look to be NCAA Tournament teams. Alabama was also blown out by Arkansas in their last game. The only team that they've beaten that I have in this bracket is Xavier, and Xavier is a bubble team at best right now. However, such is the case with Connecticut, we'll learn more about the Tide during conference play.
-Wichita State has some big wins this season, but they've lost five of their last six. None of the teams are particularly poor teams, but whenever a team goes 1-5 it is going to damage their profile. We have a long way to go between now and the end so they will have several chances to rebuild their resume, but right now their stock is falling.
-A #5 seed may look a little high for Florida State to some people, but all of their losses came against top notch teams, and they also have a very good win against Florida. They lost pretty handily in some of those games, but the committee doesn't really look at margin of victory.
OTHER TIDBITS
-UCLA fell to Oregon, but when looking at everything they've done this season they are still a solid #1 seed for right now. Unlike the AP and Coaches' polls the committee factors in an entire body of work, and one loss to a very good Oregon team doesn't negate all the big games they'd previously won.
-Virginia Tech really helped out their profile by winning at Duke. That's huge because if they end up on the bubble it isn't likely that any of the other bubble teams will have a win as impressive as that.
-Conference play is now in full swing, and the standings are another way for the committee to measure teams against each other, especially if they are in the same conference, so even though the bracket may seem a little scattershot right now, the data will become more and more clear as the season goes along.
HERE ARE TONIGHT'S HIGHLIGHTED GAMES (1/8).
-VILLANOVA AT GEORGETOWN (Big East) (DirecTV #206, 8pm, est). Villanova desperately needs a big win. They have lost two straight conference games and don't appear to have any wins that would really impress the committee. Georgetown just blew out Notre Dame, but other than that they haven't done a whole lot either. These are two teams that need to prove themselves more than they have so far between now and the end.
-PEPPERDINE AT GONZAGA (West Coast) (DirecTV #209, 12am, est). Pepperdine has some talent and athleticism, but they shouldn't be much of a match for Gonzaga. The Zags entered conference play without a whole lot of momentum, but most of those losses came against high caliber teams, so they can still get a good seed if they run the table or come close to it in league play.
-OLD DOMINION AT HOFSTRA (Colonial) (DirecTV #624, 7pm, est). These are two of the better teams in the Colonial. Hofstra started off 0-3, but has won nine of their last ten since then. Still, their margin for error is very small and they haven't built up a tournament caliber resume quite yet. Old Dominion has played well this season. They just won a big game against George Mason and also have a big win against Georgetown. Unless the teams in this league beat up on each other too badly, the regular season champion of this conference will likely go to the NCAA Tournament regardless of what happens in the conference tournament. We could see two or three teams out of this conference, but that's no guarantee. I would be surprised if the regular season champion wasn't in a position to get an at-large though, there is quite a bit up for grabs.
-DREXEL AT JAMES MADISON (Colonial). This is one of the best teams in the league taking on one of the worst. It's important for Drexel that they don't lose a game to such a poor RPI team.
-TEXAS TECH AT KANSAS STATE (Big Twelve) (DirecTV #206, 10pm, est). Kansas State nearly upset Texas A&M on the road, which would have been a huge win for them, but they ended up coming up short. They need some impressive wins if they want to be in the NCAA Tournament picture. Texas Tech is the type of team that they have to be able to beat at home. On the flip side, Texas Tech needs some wins to make their resume more solid. Both of these teams play hard defense and are well coached, so they should really get after it tonight.
-BOISE STATE AT NEVADA (WAC). Nevada hasn't really gotten into the bulk of the WAC conference yet. Boise State is improved, but they still aren't on Nevada's level. Nevada has a very solid profile and just needs to avoid bad losses such as this one to keep from damaging it too much.
Feel free to email me questions, comments or criticisms at xubrew@yahoo.com.