Jonathan Givony:
How is everything going with you?
Arron Afflalo:
It's going pretty good.
Jonathan Givony:
How are you feeling after all the emotions of declaring for the draft? I know all those people were probably driving you nuts. How are you feeling now?
Arron Afflalo:
I'm doing fine. I'm just doing the stuff I need to do. I'm looking forward to it. Everybody pretty much understands the situation.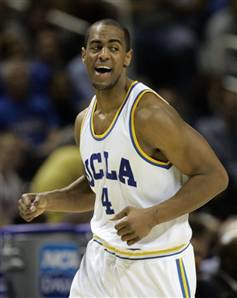 Jonathan Givony:
What are your plans here for the next few weeks?
Arron Afflalo:
Strictly preparation. You know, getting my body ready to do what I need to do to put myself in the best possible position.
Jonathan Givony:
Who are you going to be working with? A trainer? What players are you going to be working with?
Arron Afflalo:
I'm going to get up in the morning and head over to my school and do a little something and then probably work with some kind of trainer to physically work on my body. I'll work on a few things later in the day. I don't really have anything set up at this time.
Jonathan Givony:
Are you still in school? What's the situation there?
Arron Afflalo:
No. I had to withdraw from school. I'm about nine or ten classes away from graduation. So I will be completing that over the next year.
Jonathan Givony:
How difficult of a decision was it for you to put your name in the draft again, and leave UCLA?
Arron Afflalo:
It was a tough decision in itself because of my loyalty to the school and some different things, and it always is when you leave school early. It was for my personal growth, my personal happiness, and where I think I should be developing as a basketball player.
Jonathan Givony:
I don't think anyone can question your decision this year, but what I'm curious about is what was the deciding factor in declaring for the draft last year?
Arron Afflalo:
Competitive spirit. I knew there were some different things that I was capable of. You don't always get to show what's in your school, and what you did in the context of your team, because you play for different things. You play to win and that's what is most important. Sometimes the individual game gets sacrificed a little bit, and it was just strictly competitive for me. But at my school I knew where I needed to be. I needed to be in school and develop, and it's different this year.
Jonathan Givony:
Considering that you don't have a chance to test the waters, that you're in for good, do you think to yourself that maybe you shouldn't have entered the draft last year, that maybe it was a mistake?
Arron Afflalo:
No, not at all. It was a process I'm glad I went through, I needed to go through, and this is where I need to be at this time right now.
Jonathan Givony:
What did entering the draft last year entail? What kind of stuff did you get to experience while doing that?
Arron Afflalo:
I just got a first hand look at the process and I got some honest feedback from those that make the decisions. I got to compete against guys I thought that I could compete against. You know, a lot of first round guys and some others. I did okay. It was a good process for me to go through. I got to meet some different people and got some different exposure.
Jonathan Givony:
How many workouts did you end up doing?
Arron Afflalo:
Five. The two L.A. teams, Cleveland, Indiana, and Chicago.
Jonathan Givony:
Any notable guys you got to workout with?
Arron Afflalo:
I worked out against
Brandon Roy
, and Hassan (Adams), and
Maurice Ager
,
Quincy Douby
, and
Shannon Brown
. A few others.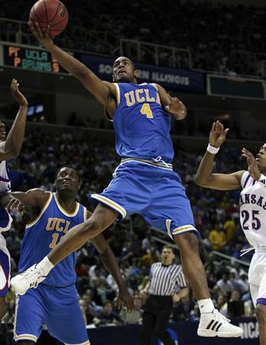 Jonathan Givony:
Sounds like a pretty good way to prepare yourself, playing against guys like that. Was there any reason why you decided not to attend Orlando? Were you invited there?
Arron Afflalo:
Yes I was. Last year I was advised not to go. It may be different his year.
Jonathan Givony:
So you think you might play there?
Arron Afflalo:
Yes. I'm seriously thinking about it.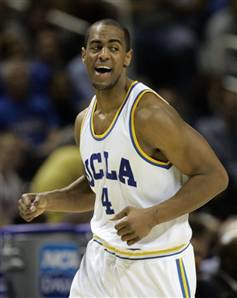 Jonathan Givony:
Give me a little self-evaluation for a scouting service. I always like to ask the players what is your own scouting report on yourself? Tell me what you think your strengths and your weaknesses are right now.
Arron Afflalo:
Obviously I have a lot to work on. I know myself better than anyone else and I know what I'm capable of. I truly believe that my creative ability is not a weakness of mine.
Jonathan Givony:
If I'm a GM what's the main reason why I should draft you? What can you do for my team? Talk about your strengths.
Arron Afflalo:
Obviously shooting the ball, shooting when I'm comfortable. I'm a consistent shooter, not too streaky. I can defend. I think my biggest strength is my mental game. I really see the game different. I approach the game a different way. I understand how to be a leader, how to affect the game even before it takes place. I think that's rare. It's how I'm able to lead my team to victories because I'm able to do some different things, mentally, the way I see the game and play the game.
Jonathan Givony:
What do you think playing in two consecutive final fours, and being on a top 5 team in the country two years in a row, what does that experience, what does that tell an NBA person about you, considering you were the best player on that team. What does that help you bring to the table, as far as the NBA is concerned?
Arron Afflalo:
The winning mentality and the willingness to play with other players. Being a leader and understanding the importance of that as opposed to my individuality. It's tough sometimes with that type of pressure when you're on top, especially coming off of last year's run. We had a small bulls-eye on our chest, somewhat like Florida did. You have to go out and compete every night and it has to do with your work ethic and how you get along with your teammates.
Jonathan Givony:
Three years from now, what kind of role do you envision yourself playing in the NBA? What kind of player are you going to be?
Arron Afflalo:
I'm trying to be as modest as possible. I work very hard. I hate to say where I'll be without ever accomplishing it beforehand. I'm going to make moves and I'm going to move up the ladder and it's going to come strictly through work ethic and the way I play my game. I don't want to say I'll be a starter or an all star or whatever it may be. That's what I expect of myself.
Jonathan Givony:
Tell us a little bit about your coach, Ben Howland. He is a reputation of being a great coach; Preparing his guys, tactical stuff. But he also has a reputation for not being the most accommodating guy when it comes to giving guys freedom in his half court offense. What can you tell us about that?
Arron Afflalo:
Coach Howland has great success in the way he prepares us and the way he expects us to play the game. With his success, you can't really argue with his philosophies. You know, like you said, we're always greatly prepared and our offense is structured, the way we play is structured and he expects one way and we have to follow that. Not to say we don't have freedom, but, you better make the most of it.
Jonathan Givony:
So you're a west coast kid and west coast basketball has its own reputation. But you played three years in a pretty structured, grind it out offense. What style do you personally prefer? The up and down, or the slow it down?
Arron Afflalo:
Well for me, I just enjoy winning. So, whatever it takes. But obviously you want to get up and down the floor and get some shots up because you have a lot of guys with a lot of talent and, you know, you want to get your opportunities. But then again, I don't want to sacrifice the way you defend or your approach to winning the game just to get a couple more shots up or have a little more fun.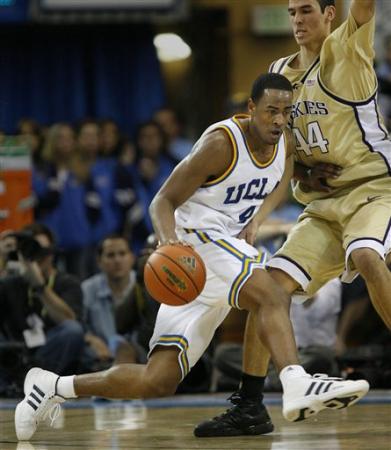 Jonathan Givony:
Some teams have shown they can do both, like the Phoenix Suns I think are the perfect example. I'd probably compare you to
Raja Bell
. Do you think you're better suited for an offense like that or do you think you fit a San Antonio Spurs or Detroit Pistons type offense?
Arron Afflalo:
Obviously first hand people would say San Antonio because that's all they know, that's all they've seen, so I can't expect any other criticism. But I would do just fine in Phoenix, I'd do just fine in that system. I'm definitely offensive minded but you get a different rep for different things.
Jonathan Givony:
So what do you think of some of these NBA comparisons? I hear
Keith Bogans
,
Raja Bell
. What's your personal opinion on who you resemble or who you emulate as a basketball player?
Arron Afflalo:
I think that a lot of those come from my body type and size and height. But not to disparage those guys, they're very good, I don't want to speak towards them, but I don't play a whole lot like those guys. We have some of the same capabilities, but I have a lot of sides to my game that not many people have seen and hopefully that will get exposed in due time.
Jonathan Givony:
Coming out of high school you were a McDonald's All American. You were on the Pac-10 all freshman team. This year you were a consensus first team All-American, Pac-10 player of the year, back to back Final Fours, etc, etc… All of the accolades are there, but somehow the hype doesn't really measure up to what your accolades say they should. What is your take on the reason for that?
Arron Afflalo:
That has to do a little bit with the way we play. You have to really watch us to understand my ability. That's why the coaches voted me in for Pac-10 player of the year, because they see it every game. From an outside view it can be hard to realize, and I fully understand that. But in due time I think my abilities will come out on a different level where the freedom is a little different and people can see what I'm all about.
Jonathan Givony:
Some of the NBA scouts we've talked to, their personal evaluations are that you don't have a lot of upside. When you think about upside, what do you think about? Do you think that is a fair observation?
Arron Afflalo:
No, but I understand it, because it's something I haven't shown, so I can't expect people to see in me what I see in myself or what I know I'm capable of, and I haven't shown it. I understand it, but it's not correct. This is why in high school, when it was all said and done, I started in the McDonald's game, and when I leave college, I was an All-American. I really believe when I go to the next level I have to work from the bottom and when it's all said and done I'll be at the top.
Jonathan Givony:
Just an honest take on my side, I think when people talk about upside, the first thing they think about is freakish athleticism. They say, how polished is this kid's skills and how much room does he have left to continue to improve? What have you not been able to show that we haven't seen in that regard?
Arron Afflalo:
My creative ability to get my own shot and take over a game, regardless of vertical leap. Again, as I was trying to explain, a lot of that is habit. I'm not as un-athletic as people may think, and that's part of the way I play the game. I can run, I can jump, I can do some different things. It's not permitted in the sense of how we were playing as a team. That's not the position I was put in to be that type of player. That doesn't mean I don't have those qualities and I think they'll see that soon.
Jonathan Givony:
Something I just thought about.
Jordan Farmar
, you know, we wrote kind of the same things about him, about how he's not the most athletic guy, but he's really smart, and he does a great job fitting into a team system, and making everyone around him better. But then he went to the combine in Orlando and he just blew everyone away. He had about a 42 inch vertical and he measured out as one of the top athletes in the draft. Can we expect something like that from you?
Arron Afflalo:
Yeah, that's the thing. I don't think I'll be that high. But, you known, I can jump, I can play, I can do some different creative things that you may see in a system like Oregon, Arizona, USC, where their guys get to show that on a daily basis. But as for me, it was a little more restricted. It didn't have a whole lot to do with Coach Howland, but it does. I will be a different player than, you know, people get to see daily. I don't get too down about the criticism. Obviously when I hear it, it doesn't stop me because it's not true and they'll all come to light soon.
Jonathan Givony:
That's part of being on the radar. I mean
Michael Jordan
, people even criticized him and
Kobe Bryant
, he gets more criticized than anyone in the NBA and he's obviously, if not the best, one of the three best players in the NBA. That's kind of what comes with being on top.
Arron Afflalo:
When you get those accolades and you don't go out and dominate and perform, obviously it's going to bring negative criticism. I've accepted it and that's never going to stop me. That's my biggest quality; my determination, my desire and nothing is stronger than that. No vertical leap, nothing is stronger than that.
Jonathan Givony:
What do you think is going to end up happening with
Josh Shipp
and
Darren Collison
, as far as the NBA draft goes?
Arron Afflalo:
I don't know. They may make a decision later. As far as I know they're in class and going to school. They're getting prepared for next year, but you never know. I honestly don't have any insight to that.
Jonathan Givony:
Arron, thanks so much for your time and best of luck during the pre-draft process. I am sure we'll catch up again soon.
Arron Afflalo:
Thank you.