Day one of the 2013 adidas EuroCamp in Treviso, Italy is officially in the books.
2013 adidas EuroCamp Preview and Roster Breakdown
The day started with some stretching and light drills, giving the hundreds of members of the basketball industry assembled here a chance to re-connect and put faces to names before competitive action tipped off. Much like last year, Arturas Karnisovas and his staff have assembled a very balanced, talented group of players, even after the late withdrawals of potential 2013 lottery pick
Rudy Gobert
, who was unable to travel to the event with apparent food poisoning,
Livio Jean-Charles
, Dante Exum (here but not participating due to a stress fracture), and
Emir Sulejmanovic
who is continuing to rehab an injury.
Late additions to the EuroCamp roster included auto-eligible prospects
Edo Muric
and
Andrea De Nicolao
, 1993-born Swedish point guard Tobias Borg, and interesting 1994-born big man
Jusuf Nurkic
, who showed he belonged and then some.

Day One Activities
The first day of the adidas EuroCamp included drills and team practices to go along with a total of four games featuring all four teams of campers, the French U20, Serbia U19, and USA Select teams, and an all-star team of the day's top performers. European basketball legend Sarunas Marcuilionis made an appearance as a guest speaker as the event got off to a strong start despite the sloppy play that always comes on the first day of the camp as the attendees settle in and get comfortable with their teammates.
Player Notes
-18 year old Spanish center
Guillermo Hernangomez
had his fair share of nice moments. Having made his Euroleague and ACB debuts this season with Real Madrid, the 6'10 big man has spent most of the season with the club's second team in the Spanish 4th division. Despite his lack of high-level experience, he showed why he was one of the most productive interior players at the FIBA U18 European Championships. Possessing a nice frame and feel for the game, Hernangomez has good footwork in the post and shows a willingness to mix it on the glass. He flashes the ability to put the ball on the floor and get to the rim off the dribble from the mid-post as well even though he is a little heavy-footed and not a great athlete overall, missing a few easy shots around the rim. While "Wily" might not have the biggest NBA upside among our top 1994 prospects, his size and savvy are certainly impressive for a young player and should give him a chance to make some serious noise at the senior level and possibly the Spanish National Team down the road should he continue to improve steadily.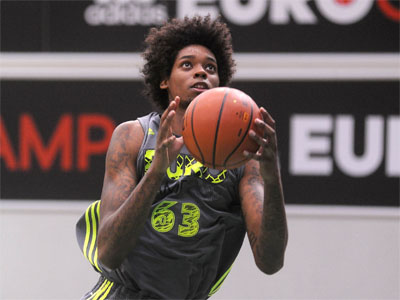 -Brazilian center
Lucas Nogueira
had a solid showing, having improved significantly from when he was here two years ago and essentially quit the last day after deciding to pull out of the draft and mentally checking out. The 7-footer made a huge impact on game on both ends for stretches, but faded in and out of the game as he tends to do, disappearing at times as well. On the offensive end he was able to make the most of his opportunities, scoring 13 points (6/7 FG) in 20 minutes of action using his soft hands and length to crash the boards and convert the shots created for him around the rim. Though he is not the most explosive leaper, his sheer size and wingspan allows him to dunk the ball effortlessly and making some incredibly impressive plays around the rim. Similarly, he is able to make his presence felt defensively as a shot blocker, using his tremendous wingspan to challenge would-be scorers. He's not a great defensive rebounder, as he'd sooner contest a shot that turn and box out, and grabbed just 3 total rebounds in 20 minutes, but he was the best player at the camp at times on Day One and likely helped his draft stock quite a bit by just showing up and putting his terrific talent on display.
-
Jusuf Nurkic
, a late addition to this year's event, had an impressive showing, scoring 12 points with 5 rebounds and 2 blocks in 24 minutes. One of the top-10 international prospects born in 1994, the 7'0 center showed a nice blend of size and skills. Joining Zadar mid-season after making his Euroleague debut with Cedevita earlier this year, Nurkic has had some strong performances in the Adriatic and Croatian Leagues for a player that just a year ago was competing exclusively at the junior level. He still has room to improve his conditioning and maximize his physical tools as it stands, but he has a massive frame and used that to his advantage on the block on both ends. Possessing solid shooting touch for a player his size, Nurkic is a player we'll be keeping an eye on both here and in the coming seasons.
-Alexandre Chassang had an impressive showing in the French U20 National Team's loss to the Serbian U19 squad, scoring 17 points including two 3-pointers. A 6'8 power forward who played a very small role for ASVEL's senior club in France while earning MVP honors at the junior level in the French Espoirs league, he's a competitive 1994-born prospect who can score from the perimeter with his jump shot and do the little things with his solid basketball IQ and high energy level. An average athlete who lacks great size, Chassang would benefit from getting stronger and becoming a big more rugged in the post, but is a gamer who could be a very good player in the French League down the road.
-For Serbia, Nikola Jankovic grabbed an impressive 14 rebounds, though many of them came on the offensive glass on his own misses. He converted just 3/13 two-point attempts, many of them chipees around the rim due to his average explosiveness finishing in traffic. The rest of the team was very balanced with a good amount of talent. We'll talk more about them as the camp moves on.
-Today was not a great showing for
Vitalis Chikoko
, who was forced away from what has made him effective this season in rotation minutes with TBB Trier in the German League--being asked to play all his minutes at small forward on a roster with far too much size. Forcing up tough shots from the perimeter, the Zimbabwe's native ouster to the perimeter is a strange decision to say the least considering he's played as a center for most of his career. Lacking a great foundation of perimeter skills and fundamentals, he struggled to say the least, looking lost on both ends of the floor and not showing any of the trademark shot-blocking, offensive rebounding or athleticism he's known for. It will be interesting to see if that decision is reversed and he's allowed to play to his strengths as an athletic, energetic big man as the event moves on--perhaps on a different team.
-
Oleksandr Lypovyy
, the MVP of this event last year, continued his season long struggles today, shooting just 3/9 from the field and committing four turnovers in 24 minutes of action. After impressing with his ability to play and defend multiple positions last year, the small forward is shooting under 40% from the field in a fairly significant role for Donetsk in the EuroCup, VTB United, and Ukrainian Superleague this year. Making questionable decisions playing point guard for much of the day, Lypovyy settled for a number of bad pull-up jump shots, struggling throughout and seemingly losing confidence later in the day.
Giannis Adetokunbo Competing for Greece U20 National Team
Taking a short trip to Jesolo with a hoard of NBA scouts (probably around 50), we were able to take in a U20 game between Croatia and Greece featuring highly touted Greek small forward
Giannis Adetokunbo
(name has sicne been changed to Giannis Antetokounmpo), playing in his first ever game outside of Greece after finally obtaining his passport (he in fact now has two after also receiving a Nigerian passport).
Starting at the power forward spot but regularly bringing the ball up the floor, he turned in a solid, albeit unspectacular performance, finishing with 11 points, 6 rebounds, and 4 assists by our count while putting many of his strengths and weaknesses on display for those in attendance.
Acting as a facilitator for his team in the half court and making a number of impressive plays in the open floor, Adetokunbo didn't look out of place competing with players one year his senior in most cases, but his lack of experience was evident. He had a number of rebounds ripped away from him, didn't always finish strong around the basket, and airballed a 3-pointer on one occasion--but later smoothly knocked down another. Directing his teammates as Greece ran its sets, Adetokunbo has a unique feel for the game considering his age and athleticism, and is undoubtedly a special talent, but is definitely still in the early stages of his development.
All in all Giannis probably didn't impact his draft stock significantly in either direction. People who liked him probably saw what they needed to see, while those that didn't surely weren't swayed by what he showed. A fairly substantial contingent of the 50 or so NBA scouts started to file out with 6-8 minutes left in the fourth quarter, which can't be considered a great sign. The stop and start nature of the game and overall poor officiating surely didn't help matters, but Adetokunbo will need to show more in the next two days if he wants to definitively boost his stock into the top-20.
Dario Saric's Decision to Withdraw
One main topic of conversation among scouts in attendance this morning was
Dario Saric
's
reported decision
to withdraw from the 2013 NBA Draft.
Raising the ire of many, one team picking in the teens opined, "[Saric was] not as accessible as he needed to be during the draft process; information hasn't been forthcoming outside of one draft blog. We can't draft a guy like that without getting him in our gym and without a physical or interview."
"He's really not even that good," says another NBA exec drafting outside the lottery. "He played in a terrible league and he was just average there. Which coach will play him as a point forward in the NBA? I don't see it unless he significantly improves his defense and shooting. He's not a guy that can create his own shot in the half-court in our league."
Most teams we talked to say that in all likelihood he did not like the information was receiving about being projected to be picked in the 20-30 range and that concerns about his buyout were the key factor in his decision to pull out considering his draft range.
His "rights" are owned by a shady third party in Croatia and they may prefer to sell him to a big team in Europe to get more money.
Saric reportedly made a commitment to a "security firm" in Croatia that he would give the company 25% of his rookie contract in exchange for paying his buyout from his former team last fall. Unfortunately for them, the lower he goes in the draft, the smaller that pie gets, which surely has caused some pressure.
Had Saric been projected to be selected in the lottery like some were reporting, he undoubtedly would have stayed in considering how much stronger next year's draft class is.
Some mentioned that the date of this announcement, 10 days before he needed to actually withdraw his name, may be a ploy for a team drafting in the top-20 to step forward and make a commitment that they will pick him and bring him over to the NBA right away after paying his buyout.
How good is Saric actually? Watch this video scouting report we released two days ago and decide for yourself.