Notes on the 2010 Atlantic 10 Men's Basketball Tournament
Beginning Friday, DraftExpress will be with you live from Atlantic City, NJ at the Atlantic 10 Men's Basketball Tournament taking a look at some intriguing prospects. Last time we were in Atlantic City,
Derrick Brown
,
Ahmad Nivins
, and
Dionte Christmas
impressed in a tournament that culminated in an epic Big 5 showdown between Temple and St. Joseph's.
The first round of the 2010 Atlantic 10 Tournament is over and the field has narrowed considerably going into the quarterfinals on Friday. Duquesne, St. Joseph's, George Washington, and Charlotte have fallen out of contention after losses on Tuesday. Fordham and LaSalle did not even qualify for the tournament.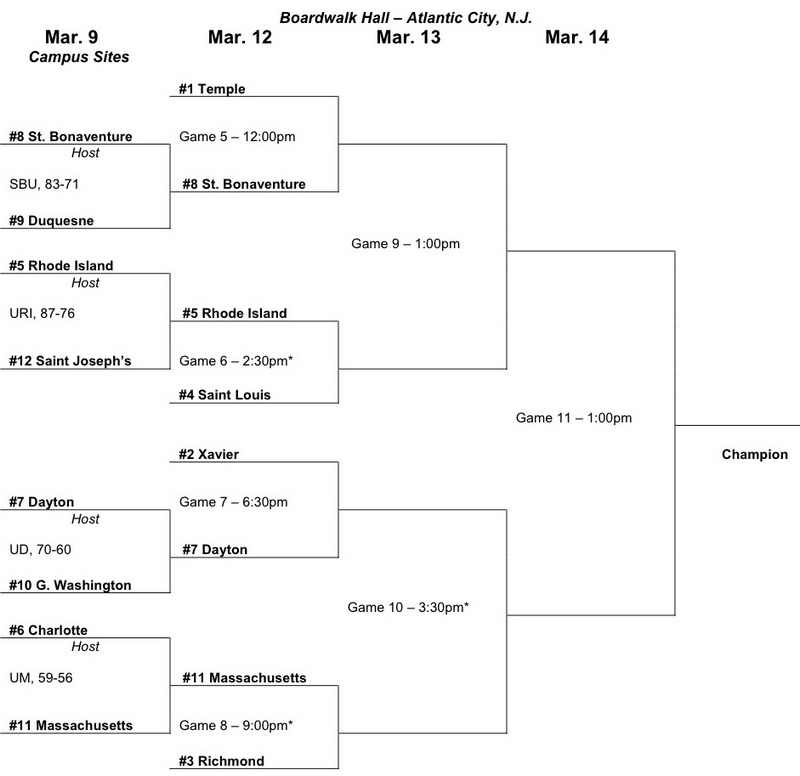 Therefore, talented prospects such as Duquense's 6'7 combo-forward
Damian Saunders
, LaSalle's 6'10 power forward
Aaric Murray
and 6'5 combo-guard
Rodney Green
, and Charlotte's promising 6'9 freshman
Chris Braswell
will not even have the opportunity to compete.
As is the case every year, however, the Atlantic 10 Tournament is highly competitive and should be a fantastic showcase for some of the nation's best mid-major prospects. We will provide daily updates beginning Friday afternoon, but in the meantime, here is a preview of Friday's games and who to keep an eye on during this Atlantic 10 Tournament weekend.
Quarterfinals: Friday, March 12
#1 Temple vs. #8 St. Bonaventure
(12 p.m. on CBS College Sports)
Though St. Bonaventure looks to be sufficiently overmatched by #17 Temple, this game is a great opportunity to watch a pair of legitimate prospects in
Lavoy Allen
and
Andrew Nicholson
.
Allen is a 6'9 junior power forward who has emerged as an outstanding rebounder in the Atlantic 10 with an intriguing face-up game and nimble footwork. He has a tendency to disappear on the offensive end, particularly against lesser competition. He cannot afford to shy away from
Andrew Nicholson
, St. Bonaventure's 6'9 sophomore center, on either end of the floor.
Nicholson has slid under the radar thus far, but is a talented and mobile big man with raw but developing offensive skills and an outstanding motor. He is the primary offensive option and absolutely must find a way to produce if the Bonnies stand a chance in this game.
On the perimeter, Temple combo-guard Juan Fernandez will match up against St. Bonaventure's multipurpose wing Jonathan Hall.
Fernandez, a 6'4 sophomore combo-guard, emerged as a fringe prospect this season because of his outstanding perimeter shooting and his ability to run Temple's offense. While he is flying under the radar at the moment, a series of standout post-season performances could thrust him into the NBA draft conversation.
Fernandez will have his hands full on both sides of the ball with St. Bonaventure wing Jonathan Hall. At 6'5, Hall has the ability to play a variety of roles for the Bonnies and can contribute in a variety of ways. Though the NBA is likely out of the picture, a good performance against one of the conference's best guards cannot hurt his professional stock.
#4 Saint Louis vs. #5 Rhode Island
(2:30 p.m. on CBS College Sports)
Outside of watching two bubble teams compete to keep their NCAA Tournament hopes alive, both teams have some interesting players from a scouting perspective.
This could be the last chance for NBA personnel to watch Rhode Island senior shooting guard
Keith Cothran
before Portsmouth. Though his numbers are not particularly interesting, Cothran has demonstrated the ability to run the point throughout his career and has the potential to transition into a combo-guard down the road. He must start hitting shots, however, and get to the line at a better rate if he wishes to get looks at the next level. A big tournament could help him build momentum going into the off-season.
Willie Reed
has improved steadily since arriving at Saint Louis, but the athletic 6'9 power forward still has a lot of work to do before solidifying himself as a legitimate NBA prospect. He has rebounded the ball well this year and emerged as a solid shot blocking presence, but he must be consistency on the offensive end. Dominating against weaker frontcourts on both sides of the ball will help his stock rise to match his potential and this is a perfect starting point.
Also worth a look is Saint Louis freshman power forward Cody Ellis, who had a very productive rookie season.
#2 Xavier vs. #7 Dayton
(6:30 p.m. on CBS College Sports)
Xavier is a lock for the NCAA Tournament, but Dayton has struggled down the stretch and must likely win the Atlantic 10 Tournament and claim an automatic bid to guarantee joining the field of 65.
Arguably the best player in the Atlantic 10, 6'4 shooting guard
Jordan Crawford
is an unstoppable force on the offensive end and is a legitimate NBA prospect.. He would be well served to use his athleticism to get to the foul line more and his shot selection needs work, but with his creativity on the offensive end and ability to knock down perimeter jump shots, he is a complete scoring guard at this level. He is reportedly interested in entering the draft this year, so he is definitely worth a look.
Another legitimate NBA prospect is Dayton combo-forward
Chris Wright
. Though 6'8 with outstanding athleticism, Wright has not improved as quickly as scouts hoped. That said, he is slowly developing a diverse offensive arsenal and is looking as though he could have a stellar senior season for the Flyers. In the meantime, it is essential that he make open shots while using his athleticism to attack the basket and crash the boards because he still has a lot of potential at the next level.
Also worth a look is Dayton's 6'6 sophomore shooting guard
Chris Johnson
. Despite the fact that he is a very good athlete, Johnson is extremely one-dimensional and has yet to find a way to expand his game. Improving his ball handling during the off-season will certainly help, but in the meantime, he is an interesting player to watch.
#3 Richmond vs. #11 Massachusetts
(8:30 p.m. on CBS College Sports)
Though there are not any legitimate prospects in this match up, this is a good opportunity to get a look at some very good college players.
Richmond's 6'0 point guard Kevin Anderson has proved himself as a very good scorer and offensive presence, but lacks the size, athleticism, and pure point guard mentality to play in the NBA. He is, however, a good oversees prospect and is one of the conference's best offensive players.
For Massachusetts, undersized shooting guard Ricky Harris may be the team's leading scorer and offensive focal point, but the player to watch is freshman combo-forward Terrell Vinson. At 6'7 with solid athleticism, Vinson has a long way to go before becoming a legitimate NBA prospect, but he has shown some potential this season to suggest that he might be worth a look in the future.